Bruce Banner Weed Strain: Effects, Reviews, & More
If you're a comic book fan, then you know the alter-ego of the mild-mannered Bruce Banner is none other than the Hulk himself.
But there's no need to sweat it. Nothing about the Bruce Banner strain will make you crazy or angry. Just the opposite, actually.
If you're looking for that perfectly chill — just like Bruce Banner — strain, this could be what you've been waiting for. Bruce Banner OG packs that perfectly euphoric punch to get you through the day, and we're pretty sure you're going to love it.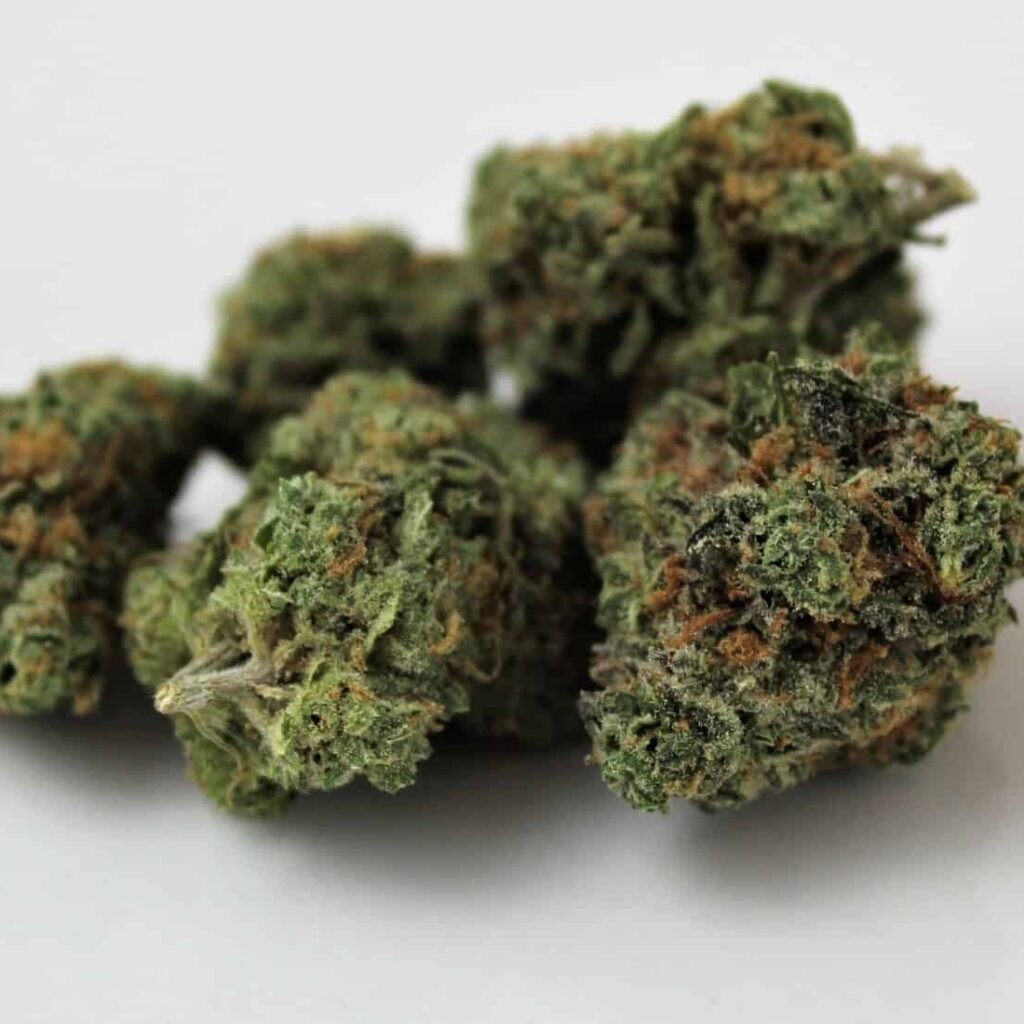 Everything You Need To Know About The Bruce Banner Strain
Some of the reported effects of Bruce Banner include:
Energetic

Euphoric

Creative

Happy

Giggly

Relaxed
Here's how we like to describe Bruce Banner strain effects:
You'll feel it in your cerebral region first, but it will quickly migrate into an energetic whole-body buzz. Its intensely euphoric and creative boost will have you feeling ready for almost anything, but you'll be relaxed enough to just chill and enjoy the head high.
Known for its respectable THC level, the Bruce Banner strain is perfect for daytime toking or medical marijuana that may help with:
Chronic pain

Anxiety 

Depression 

Insomnia 

Loss of appetite
Things to Do While Enjoying Bruce Banner Strain
Calling all daytime tokers! Bruce Banner kush will be your buddy for the day.
At first, it'll go straight to your head, but soon after you'll be pumped full of creative juices and ready to conquer your day. If you're an artist, this is the perfect strain to put you in the zone. Or maybe you're feeling sociable and want to have a few laughs with your friends.
Bruce Banner strain is literally for anyone and everyone who has ever needed a pick-me-up during the day.
But it's pretty potent stuff — so if you're a beginner, you'll want to ease into it one puff at a time.
Whatever you decide to do while enjoying Bruce Banner marijuana, just do us a favor and don't drive or attempt to operate heavy machinery. That's just not cool.
Bruce Banner Strain Terpenes
Terpenes drive experience and give richness to the flavor of cannabis. They also help determine the type of high you can expect.
The dominant terpenes in Bruce Banner are: 
Linalool – floral, spicy wood

Beta-Caryophyllene – woody, spicy, citrus

Alpha-Humulene – woody, clove

Alpha-Pinene – grassy, pungent 

Beta-Myrcene – musky, sweet, earthy
Bruce Banner strain can be described as having a sweet, citrusy flavor and a musky, pungent aroma.
Bruce Banner is a cross OG Kush and Strawberry Diesel and was originally bred by Dark Horse Genetics.
OG Kush is a stress-relieving hybrid known for a balanced body and head high. 

Strawberry Diesel is a well-balanced, fast-acting hybrid best enjoyed during the day for its intense energetic high.
Bruce Banner Strain Reviews
We sourced the internet for our favorite reviews. Here's what we found:
Excellent. Just tried it. Wonderful for pain relief & anxiety! Relaxing yet you feel energized to get things done…no fuss, no stress. You stay CALM.. Very dense pretty bud… smells sweet and tastes smooth Burns slowly. Overall I highly recommend this strain.

– Wikileaf user

Bruce Banner is a cross between OG Kush x Strawberry Diesel. Very pronounced strawberry diesel taste with notes of pungent spice and floral gas. Grabs you by the head as it sneaks up rather rapidly through your neck surging and hits you in the top of your head like a hammer as the whole body starts to slow down, relax and end up in a heavy couchlock that will easily put you out in dreamland. You will likely end up falling asleep if you partake of this strain enough in one sitting so it's best to partake in the evening or nights and weekends when you do not have to get anything done. This strain is the total experience, do not expect to get much done when blazing this strain.

– Allbud user

Looking for a nice hybrid? Well, I found it for you. Bruce Banner is a hybrid strain that will leave you feeling good all over. The Sativa and Indica balanced each other out which left a feeling of clarity and upper body relaxation. Took about 10 min for the full effects to kick in. Starts with a nice head high and a little boost of energy. Then it trickles down to the body. The high sat around my shoulders the whole time. This would be good for someone who needs pain relief and a little bit of a pick-me-up during the day

. – Leafly user
If you've tried Bruce Banner strain, please leave a review below:
Bruce Banner Strain Appearance
At first glance, you'll notice: 
Bright green nugs

Brassy orange hairs; and

A sugar-like coating of trichomes

#1: What Is the THC Content in Bruce Banner Strain Cannabis?
Bruce Banner weed THC content averages from a very high 20-30% (though this can vary). 
If you're looking for a strain with less THC, try one of these:
Star Tonic

Haze Berry Automatic

Blue Dynamite

Remedy

Red Pop; or

Any strains listed in the question below
Or if you're looking for other strains that are high in THC content, you can also try these:
Grease Monkey

The Toad

Gorilla Glue

Little Devil

Amnesia Haze

Jack's Girl

Pancake Ice

And more

#2: What Is the CBD Content in Bruce Banner Strain Cannabis?
Bruce Banner strain weed contains only trace amounts of CBD. 
Are you looking for a weed strain high in CBD? Try one of these strains:
Charlotte's Web

Sweet and Sour Widow

Lifter

Ringo's Gift

Stephen Hawking Kush

Elektra

Cherry Wine

Sour Space Candy; or

Harle-Tsu

#3: Is the Bruce Banner Strain Indica or Sativa?
Bruce Banner strain is a hybrid consisting of 60% Sativa and 40% Indica. The well-balanced strain allows users to enjoy the energy and creativity of Sativa while staying chill and calm thanks to the Indica.

#4: Does Bruce Banner Strain Have Any Hybrids or Crossbreeds?
Bruce Banner strain crossbreeds are as follows:
Driving Rain

Skittleberry

Angry Gorilla

Tillamook Strawberry

808 Mana

Banner's Revenge

Grand Daddy Banner
Where to Buy Bruce Banner Strain Near You
Enter your zip code below to find dispensaries that offer the Bruce Banner strain near you.
If you're on the hunt for Bruce Banner cannabis or any other strain of cannabis, let us know. We've been sourcing, trying, curating, and reviewing cannabis products for more than a decade. We're here to help you find exactly what you're looking for in a strain.