Butter Cake Weed Strain: Effects, Reviews, & More
Butter cake? Who doesn't like the sound of that?
Butter Cake weed strain? Even better!
If you're an Indica-loving smoker with a sweet tooth, then you won't want to miss Butter Cake in all its delicious glory.
We've compiled everything you need to know about this potent strain so that you know exactly what to expect from the effects, flavor, and genetics before you dive in.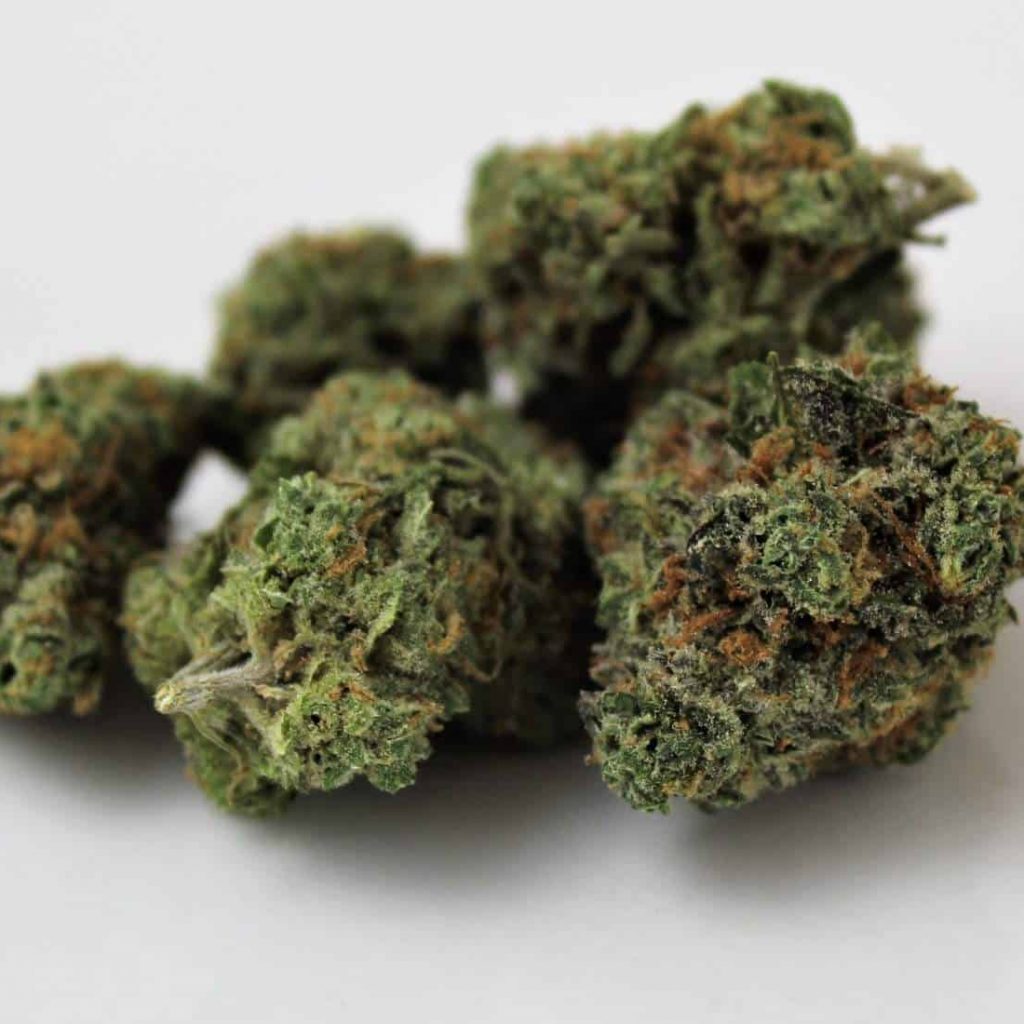 Everything You Need To Know About The Butter Cake Strain
Butter Cake Strain Effects
Some of the reported effects of Butter Cake include:
Calming 

Relaxed

Creative

Euphoric

Hungry

Sleepy
Here's how we like to describe Butter Cake strain effects:
Butter Cake strain puts users in a deep state of relaxation — we're talking, you won't want to get off the couch kind of relaxation. But first, and depending on how much you consume in the first round, you may feel temporarily uplifted and creative. This won't last long, so don't get too ambitious. 
It won't be long before you're totally couch-locked, losing focus, and possibly raiding the pantry before you pass out for a long, deep sleep.
With a respectable THC level, the relaxing Butter Cake strain is perfect for use as medical marijuana and ideal for daytime or evening toking.
Some medical conditions that may benefit from the effects of Butter Cake strain are:
Fibromyalgia

Chronic pain

Loss of appetite

Multiple sclerosis

Insomnia

Nausea
Things to Do While Enjoying Butter Cake Strain
Don't let that initial creativity fool you! The Butter Cake strain will soon knock you off your feet and into a state of complete stillness.
It's best not to smoke Butter Cake if you're feeling ambitious or have plans to conquer the day. It won't happen. However, if you're in the mood for binge-watching your favorite reruns, playing some soothing video games, or taking a long afternoon nap, then Butter Cake is your poison.
But remember — when under the influence of THC, including the Butter Cake strain, please don't get behind the wheel or try to operate heavy machinery.
Butter Cake Strain Terpenes
Terpenes are the ingredient that gives the richness in both flavor and aroma of the weed you're smoking. Next to the strain itself, terpenes are also responsible for the type of high you experience.
Terpenes give Butter Cake the sweet, dessert-like flavor and aroma that it's famous for. You'll notice earthy undertones in the smooth smoke hidden beneath the buttery, sugary, sweet taste of the delicious strain. 
The aroma will remind you of a bakery or cake shop. And ironically, Butter Cake will have you craving those same treats later on.
Butter Cake is a cross between Thin Mint GSC (originally called Thin Mint Girl Scout Cookies) and Grape Pie and was originally bred by Seed Junky Genetics. 
Thin Mint GSC is a phenotype of the famous GSC strain and is extremely popular with weed aficionados. 
Grape Pie is well-known as a happy and hungry strain, well-loved in the weed community.
Butter Cake Strain Reviews
We couldn't find any reviews for the Butter Cake strain, but we'd love to hear from you!
If you've tried Butter Cake strain, please leave your review below:
Butter Cake Strain Information & History
Butter Cake strain was first created by a California breeder, Seed Junky Genetics. 
It's a beautiful blend of Thin Mint GSC and Grape Pie, both of which are hybrid strains, though they lean toward Indica.  
When you first lay your eyes on Butter Cake, you'll see: 
A tightly packed bud 

Evergreen-shaped, lime green nugs 

Barely visible thin, orange hairs and purple speckles; and

A super frosty, dense, white crystal trichome coating 

#1: What Is the THC Content in Butter Cake Strain Cannabis?
The THC content in the Butter Cake strain averages from a potent 24-28% (though, this can vary). 
If you're looking for a strain with less THC, try one of these:
Easy Bud

Special Sauce

Harlequin

Bubba Kush

Catatonic; or

Any strains listed in the question below
Or if you're looking for other strains that are high in THC content, you can also try these:
Chemdog

Strawberry Banana

Godfather OG

Amnesia Haze

WiFi OG

The Toad

GG4

And more

#2: What Is the CBD Content in Butter Cake Strain Cannabis?
Butter Cake strain weed contains only trace amounts of CBD. 
Are you looking for a weed strain high in CBD? 
Try one of these strains:
Charlotte's Web

Sour Lifter

Cookies

Cherry Wine

Sour Tsunami

Ringo's Gift

Purple Gas

Tangie

#3: Is the Butter Cake Strain Indica or Sativa?
Butter Cake strain is a hybrid consisting of 70% Indica and 30% Sativa. Because this is an Indica-heavy strain, the effects of the Indica are dominant over the Sativa, but you can expect an initial feeling of energy or creativity.

#4: Does Butter Cake Strain Have Any Hybrids or Crossbreeds?
We're not aware of any hybrids or crossbreeds containing the Butter Cake strain at this time.
Butter Cake Strain Information & History
Enter your zip code below to find a dispensary that offers the Butter Cake strain near you.
Can't find the Butter Cake strain? Just let us know. 
At Hail Mary Jane, we have been curating the best cannabis products for more than a decade. We've happily tried and reviewed thousands of products over the years and we'd love to help you find the product that you're looking for.