Cake Batter Weed Strain: Effects, Reviews, & More
You're a fan of the sweet stuff, which sparked your interest in the Cake Batter strain after hearing just how good it is. 
Now you're looking for all there is to know about the Cake Batter Strain and whether it is best for you! 
Look no further! 
Hail Mary Jane is here to meet your needs — and we promise, this strain is one you won't regret trying.
Keep reading to learn everything you ever wanted to know about Cake Batter, where it can be purchased, and more.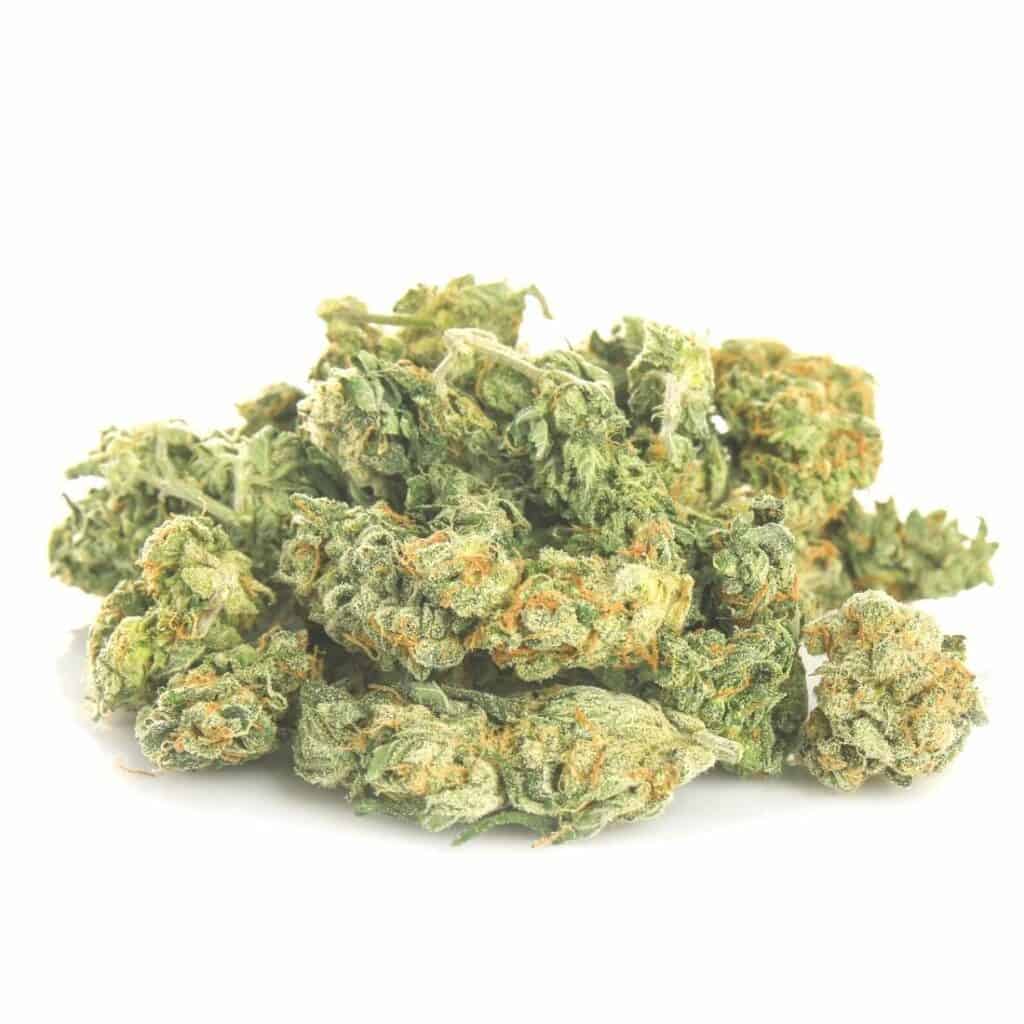 Everything You Need To Know About The Cake Batter Strain
Cake Batter Strain Effects
Some of the reported effects of Cake Batter include:
Calming 

Giggly

Happy

Enhanced senses

Tingly
Here's how we like to describe Cake Batter strain effects:
Aside from the delightful flavors that come from the cake batter strain, it is the perfect strain if you are looking for a high that provides euphoric effects that will get rid of any ill feelings or negative moods in no time. 
Almost as quickly as you inhale and exhale you'll be feeling giggly, tingly, and what some people may consider an aroused state. As the high spreads throughout the rest of your body, don't be surprised by the sense of calm and relaxation that comes over you — one that doesn't leave you stuck on the couch. 
The Cake Batter strain has super high levels of THC, making it ideal to treat conditions like: 
Insomnia 

Loss of appetite

Chronic stress; and 
Things to Do While Enjoying Cake Batter Strain
The fantastic thing about enjoying Cake Batter strain is that the activities you choose to do while high are endless. Many people claim that it makes them more talkative and creative, making it perfect for a toking session with your friends on a game night. 
Others claim the calming effects take over, making them feel more sleepy and hungry — which makes Cake Batter strain the ideal strain to watch a movie you've wanted to view differently or just veg out on the couch. 
Whatever you choose to do when under the influence of marijuana, including the Cake Batter strain, it's not recommended that you drive or operate heavy machinery.
Cake Batter Strain Terpenes
Terpenes are what give strains their rich flavors and influence the experience you have while under the influence of THC.  
The dominant terpenes in Cake Batter are: 
Beta Caryophyllene

Benta Myrcene; and

Linalool
These terpenes are what give Cake Batter the uniquely creamy, sweet, and fruity flavors that the strain is most known for — just like the cake batter you've tasted for years.
Cake Batter genetics are a cross between Girl Scout Cookies (also known as GSC) and Blue Diesel. It was originally developed in collaboration with Cookies Farm and Connected Cannabis Co.
Cake Batter Strain Reviews
Here are what some users are saying about the Cake Batter Strain: 
"This Cake Batter was a delightful strain that got us very baked. We felt a mild head buzz, but there was a very significant body buzz that felt like it just relaxed us all over. Our back muscles loosened up, and our stomach was instantly settled. This was a great feeling that provided a very blissful feeling of being truly blessed."
"The best bud I've ever smoked. It didn't take much at all to start feeling it. When I smoked enough my body became extremely hypersensitive and any touch set off my whole nervous system. Closing your eyes will cause you to feel like you're at sea and crashing on waves. This is the stuff that Jesus smokes." anonymous Leafly user
If you've tried Cake Batter strain, please leave a review below:
Cake Batter Strain Information & History
Cake Batter Strain is a balanced hybrid crossing of Girl Scout Cookies Strain and Cherry Pie strain. It's a perfectly balanced strain with 50% Indica and 50% Sativa. 
Cake Batter is considered one of the highest quality strains available. 
Cake Batter Strain nugs are: 
Small to medium in size

Forest green

Covered in light orange hairs; and

Coated in milky-white trichomes

#1: What Is the THC Content in Cake Batter Strain Cannabis?
The THC content in Cake batter is as high as 28%. If you're worried that the THC content is too much, or you are new to toking, consider one of these strains, which contain less THC:  
Remedy

Easy Bud

Haze Berry Automatic; or

Harlequin
Or maybe you're looking for other strains that also contain a high THC content, consider one of these strains:
Royal Gorilla

Green Gelato

Fat Banana 

Royal Highness

WiFi OG

And more

#2: What Is the CBD Content in Cake Batter Strain Cannabis?
The Cake Batter strain contains only trace amounts of CBD. 
Are you looking for a weed strain high in CBD? Try one of these strains:
Northern Lights

ACDC

Cherry Wine

Ringo's Gift

Grape Soda

Sour Space Candy

Hawaiian Haze

Harle-Tsu

Magic Bullet

#3: Is the Cake Batter Strain Indica or Sativa?
Cake Batter strain is a hybrid consisting of 50% Indica and 50% Sativa. Making it the perfect balance for those looking for the relaxing effects of Indica, mixed with the creative effects of Sativa.
Where to Buy Cake Batter Strain Near You
Ready to try the Cake Batter strain? Enter your zip code below and find dispensaries that offer the strain in your area.
Unable to find the Cake Batter strain in your area? Let us help! Our experts have spent over a decade trying, curating, and reviewing products for our customers — we're ready to help you find the right cannabis product for your unique needs, too!