Cherry Punch Weed Strain: Effects, Reviews, & More
You've been looking for a new strain of weed to liven up a Sunday afternoon. Something that floats your cares away, but still keeps you anchored down to earth.
If you're after a strain that not only does all that — plus looks and smells as good as it sounds — Cherry Punch strain may be just what you've been looking for.
Keep reading to learn everything you ever wanted to know about Cherry Punch strain, including where you can go to pick up some of this wake and bake bud for yourself.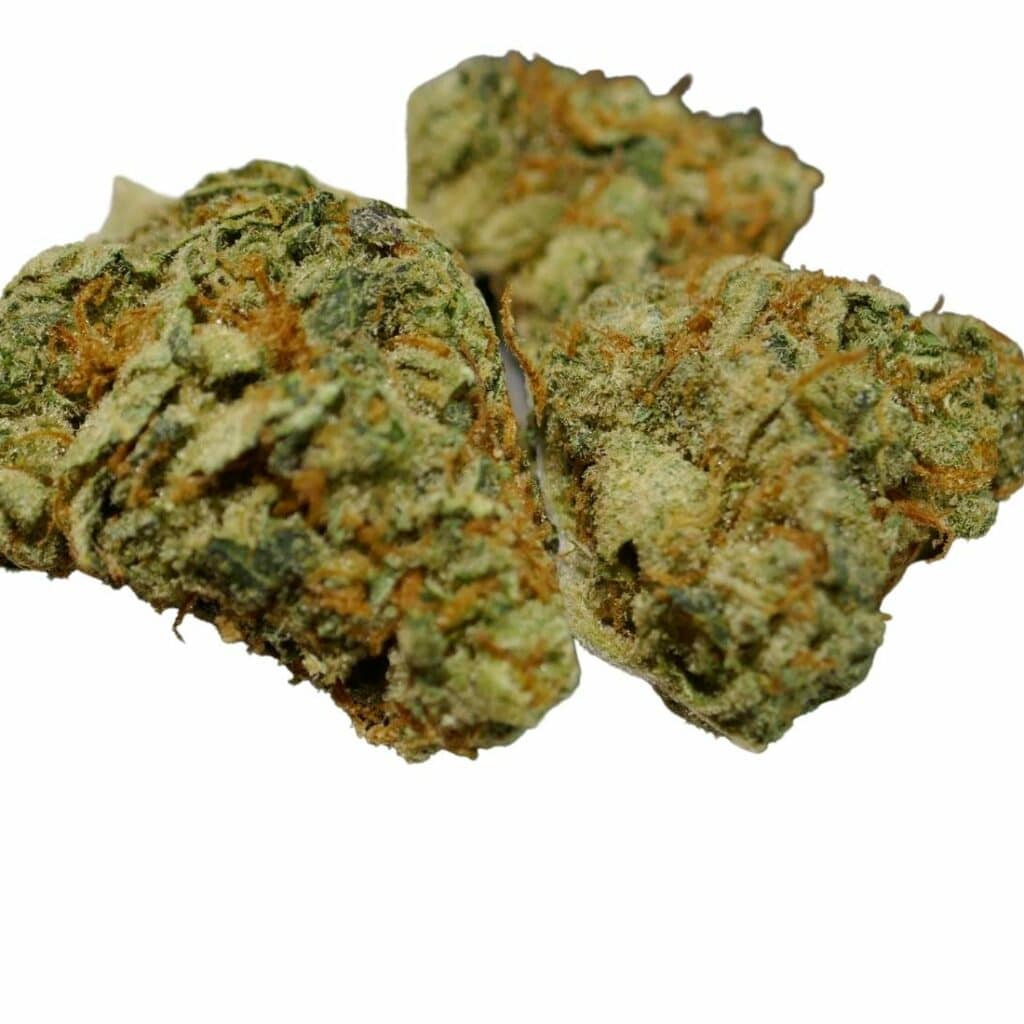 Everything You Need To Know About The Cherry Punch Strain
Cherry Punch Strain Effects
This power-packed bud boasts a super sweet cherry taste with just a hint of skunk. Some say it reminds them of Drinking Cherry Kool-Aid!
Also known as Black Cherry Punch, Cherry Punch strain brings on effects like:
Creative

Energetic

Euphoric

Focused

Happy

Hungry

Relaxed

Talkative

Uplifted
Here's our take on Cherry Punch strain's effects:
Since Cherry Punch is a well-balanced hybrid strain, you'll feel the effects from both the Sativa and Indica sides. 
From your very first toke, you'll be sent to a totally new level. A sense of euphoria will overwhelm your senses, trailed by a relaxing, light-body high to keep you anchored. 
If you've been looking for a serious medicinal strain, Cherry Punch weed strain may be just what the doctor ordered. With a high THC content, this strain is potent enough to take you from a medicinal high to a wiped-out couch lock session if your THC tolerance is low.  
Here are a few of the conditions Cherry Punch is helpful for:
Anxiety

Chronic Stress

Inflammation

Depression

Fatigue

Headaches and Migraines

Insomnia

Eye pressure

Glaucoma
Things to Do While Enjoying Cherry Punch Strain
From the start, Cherry Punch strain gives you a mildly uplifting high, making it the perfect weed choice for a social setting. 
Cherry Punch provides you with a one-way ticket to euphoria, with enough of a body high to keep you well-grounded. 
This strain is a master at clearing the tension from your whole body. With your body and mind in a state of total relaxation, you might want to think twice about making plans — unless your plans involve eating. Cherry Punch strain is known for bringing on a strong case of the munchies.
Of course, when under the influence of marijuana, including the Cherry Punch strain, it's not recommended that you drive or operate heavy machinery.
Cherry Punch Strain Terpenes
Terpenes are what drive the whole experience and provide richness in flavor. Next to the strain, terpenes are the determining factor in what kind of high you can expect from any given type of weed.
The dominant terpenes in Cherry Punch are: 
Limonene – Strong citrus with a bitter taste

Caryophyllene – Rich spicy odor with a peppery, spicy flavor

Myrcene – Peppery, with a piney, balsam flavor
Limonene gives citrus tones to the overall essence and helps to reduce the effects of anxiety and stress. It also provides a great boost of mental energy.
Caryophyllene supplies the spice and has a positive effect on your endocannabinoid system as no other terpene does. It is also great at lowering inflammation in the body.
Myrcene helps you relax, providing the calming physical effect of Cherry Punch weed.
These terpenes give Cherry Punch the flavor and aroma that it's famous for.
Created by Symbiotic Genetics, the Cherry Punch strain was made by breeding two well-known, popular weed strains:  Cherry AK-47 and Purple Punch.
Cherry AK-47 – This rare, cherry-flavored version of the ever-popular AK-47 strain is a powerful hybrid. Boasting a deep, reddish-purple color, Cherry AK-47 gives a slow and creeping high that stimulates your mind before it settles into your body, leaving you with a feeling of total relaxation. A well-balanced strain, Cherry AK-47 strain has a delightful sweet and fruity flavor.
Purple Punch – This sweet Indica strain is covered with a dense network of frosty trichomes. Known for its relaxation properties, Purple Punch strain has a fantastic grape candy flavored smell that is sure to remind you of blueberry muffins. Purple Punch packs a potent punch and is best used at night, as it can work wonders in treating insomnia, stress, and body aches.
Cherry Punch Strain Reviews
Here are a few opinions that were written by Leafly and Allbud users about the Cherry Punch strain:
"Smelled almost like cherry fruit punch Kool-Aid. The flavors were beyond what I thought they would be. You get a punchy taste on the inhale and the exhale is cherry with a hint of tart. Let's talk about effects, eye-watering on the inhale with a feel-good happy upon the exhale. Careful, if you burp up any smoke it has an awesome taste like cherry sours. I felt like I was going to space with this gorgeous flower." – Allbud

"Consumers who smoke this strain say it smells

fruity

and rich and a little skunk-like. The high you get from smoking Cherry Punch is uplifting and relaxing – perfect for jamming out to a new album or even taking care of a few errands. This strain is ideal for those seeking relief from anxiety and stress." – Leafly

"I tried this in has rosin form in a nice quartz banger in a matrix percolator bong with a worm percolator on the bottom. The strain itself is a myriad of effects, uplifting and euphoric. I'm also feeling creative to write a review lol definitely relaxing but not sedative, I will buy it again." – Allbud 
If you've tried Cherry Punch strain, please leave a review below:
Cherry Punch Strain Information & History
Cherry Punch strain was first created by Symbiotic Genetics and took 3rd place for Best Outdoor at the 2018 Emerald Cup Awards.
The balanced, 50/50 hybrid is becoming well-known for its delicious cherry flavor and chilling high.  
Cherry Punch strain tests out with THC levels that fall between 23 and 24%.
When you first lay eyes on this strain of weed, you'll notice: 
Rounded, dense buds

Minty green nugs, with deep purple undertones

Thin, elongated, bright orange hairs; and

A coating of tiny frosty white, sparkling crystal trichome

#1: What Is the THC Content in Cherry Punch Strain Cannabis?

#2: What Is the CBD Content in Cherry Punch Strain Cannabis?
Cherry Punch strain weed contains only trace amounts of CBD. 
But if you are after a weed strain that is high in CBD, you will want to try one of these:
Cherry Wine

Charlotte's Web

ACDC

Lifter

Ringo's Gift

Elektra

Sour Tsunami

Sour Space Candy; or

Harle-Tsu


#4: Does Cherry Punch Strain Have Any Hybrids or Crossbreeds?
Cherry Punch strain crossbreeds are as follows:
Starling Gloss = Cherry Punch + Dosidos

Cherry Pie = Cherry Punch + Skunk Special

Mars Hotel = Cherry Punch + Stardawg IX

Peach Maraschino = Cherry Punch + Peach Crescendo 

Royal Cherry Punch = Cherry Punch + Flora Kush
Where to Buy Cherry Punch Strain Near You
Enter your zip code below to find dispensaries that offer the Cherry Punch strain near you.
If you can't find the Cherry Punch strain near you, just let us know!
We've spent more than a decade trying, curating, and reviewing all varieties of weed products for our customers, and we'd love to help you find exactly what you're looking.