Garlic Sherbet Weed Strain: Effects, Reviews, & More
You're a fan of gassy, pungent hybrids with a taste that will knock you off your feet. You want to know if the terpenes and genetics of the Garlic Sherbet strain hit the mark.
You've come to the right place! 
Garlic Sherbet is the perfect strain for anyone looking for that skunky, diesel aroma and taste with a touch of sweetness.
Learn everything you ever wanted to know about the Garlic Sherbet strain with Hail Mary Jane.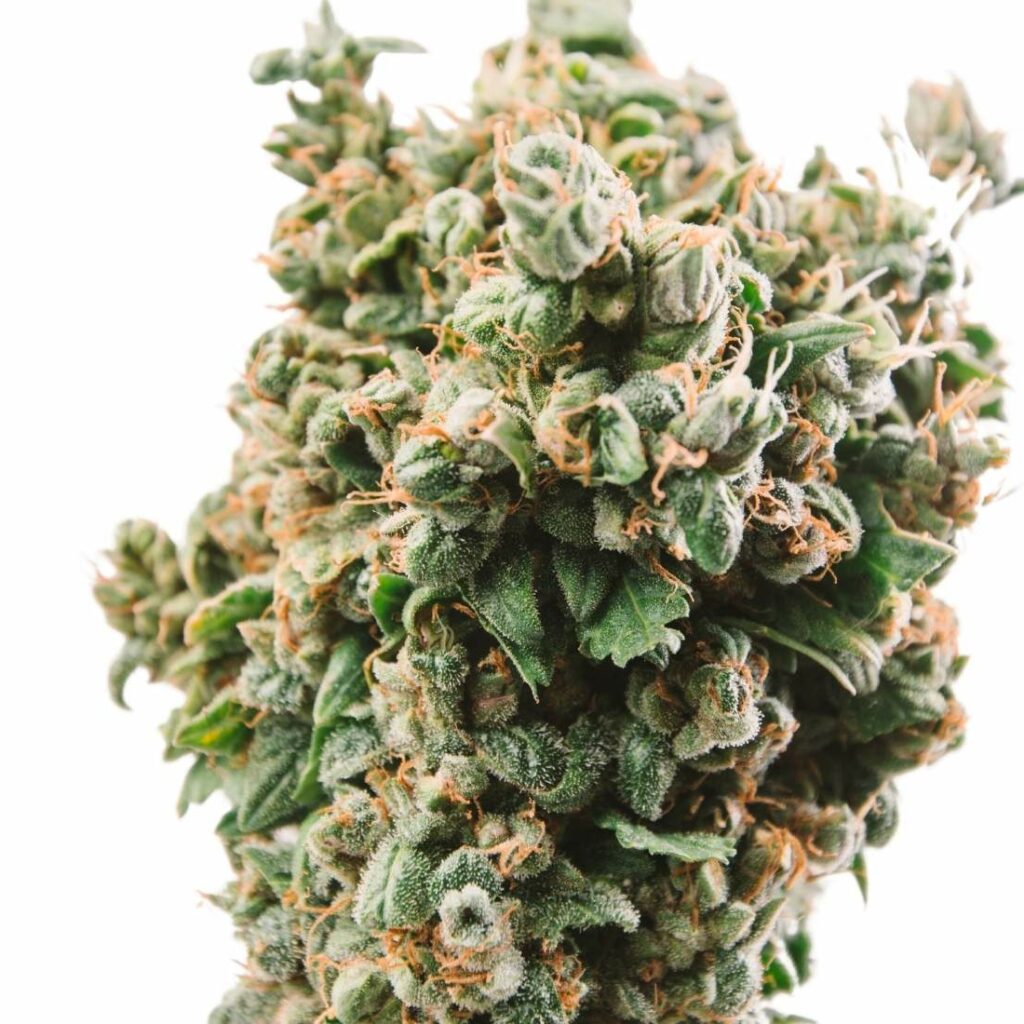 Everything You Need To Know About The Garlic Sherbet Strain
Garlic Sherbet Strain Effects
Some of the reported effects of Garlic Sherbet include:
Calming 

Happy

Focused

Hungry

Sleepy 
Here's how we like to describe Garlic Sherbet strain effects:
After just a few tokes, the Garlic Sherbet strain will begin with a wave of motivation allowing you to stay productive in the beginning stages of the high. You'll feel happily focused and feel no pain or pressure. Life is good! As you come down from the initial euphoria, you'll feel calm and possibly a little bit hungry. Prepare to be soothed into a good night's sleep after smoking Garlic Sherbet, but don't worry, this strain is still a great option for a daytime or nighttime high.
With a high THC level, the euphoric Garlic Sherbet strain is also perfect for use as medical marijuana to reduce anxiety and relieve pain.
Things to Do While Enjoying Garlic Sherbet Strain
That initial burst of clarity and motivation can be put to good use. The start of the high is a perfect time to tick off your creative task list, get some housework done, or go for a workout.
As you return to a state of calm and relaxation you may find yourself ready for a Netflix binge or a game of cards with friends — better yet, throw on your favorite tunes and hit the hammock for an afternoon nap. 
When under the influence of the Garlic Sherbet strain, or any THC products, it's recommended that you do not drive or operate heavy machinery.
Garlic Sherbet Strain Terpenes
Terpenes are responsible for driving the flavor profiles in a particular strain and following the strain itself, they are also what determines the type of high to expect.
The dominant terpenes in Garlic Sherbet are: 
Limonene – strong citrus and bitter taste

Beta Myrcene – peppery, spicy, and balsam

Beta-Caryophyllene – rosemary, cloves, black pepper, cinnamon, basil, and hops
These terpenes give Garlic Sherbet the funky garlic taste and aroma it's known for. You may even notice hints of onion and a sweet-berry musk in the taste. Overall, expect a gassy, chemical odor from this pungent strain.
Present in smaller amounts, these terpenes can also be found in the Garlic Sherbet strain:
Beta-Pinene – pine, green, woody

Humulene – earthy, woody, spicy
Garlic Sherbet is a cross between GMO (aka Garlic Cookies) and Blue Sherbet and was originally bred by In House Genetics.
GMO is a hard-hitting, long-lasting Indica-dominant hybrid with a strong diesel and earthy aroma that produces a euphoric mind and body high.

Blue Sherbet is a pretty purple and lime green bud with sweet citrus and blueberry notes with a high that will have you soaring.
Garlic Sherbet Strain Reviews
Here are opinions that were written by Reddit and Leafly users about the Garlic Sherbet strain:
Incredible terp profile on this one (at least the cut I have), major gas with pronounced sour chem, cookies, and spicy herbal notes. The high is very relaxing whilst giving tingly heady euphoria. Love it, would recommend.

The taste matched the smell perfectly. I smoked this in a joint and it literally coated my mouth with an essence of gas, rubber, garlic, and spices. Once I was done smoking I wanted more and more. It burned incredibly clean and produced a snow-white ash as well as a thick oil ring that started almost from the beginning and lasted all the way to the filter. It was incredibly smooth and had little to no harshness on my throat.

Garlic sherbet welcomes a skunky, full-bodied, and spicy smoke, with hints of Sherbet creating a cerebral high whilst calming my body, great for exercise or an outdoor activity.
If you've tried Garlic Sherbet strain, please leave a review below:
Garlic Sherbet Strain Information & History
Garlic Sherbet strain was bred by In House Genetics. 
It's an almost perfect balance of GMO and Blue Sherbet, both of which are Indica-dominant hybrids, making Garlic Sherbet a slightly Indica-dominant hybrid as well.  
Garlic Sherbet tests out at THC levels as between 25 to 28%.
The first things you'll notice about this bud are: 
Long, curly green and purple leaves

Short, yellow trichomes

Fuzzy, amber patches of hair; and

Orange pistils

#1: What Is the THC Content in Garlic Sherbet Strain Cannabis?
The THC content in Garlic Sherbet strain weed averages on the high side, from 25-28%. If you're looking for a strain with less THC, try one of these:
Chardonnay

Haze Berry Automatic

Harlequin

Pennywise

Catatonic; or

Any strains listed in the question below
Or if you're looking for other strains that are high in THC content, you can also try these:
Chemdog

Motorbreath

Godfather OG

Wedding Pie

Amnesia Haze

Gushers

GG4

And more

#2: What Is the CBD Content in Garlic Sherbet Strain Cannabis?
Garlic Sherbet strain weed contains only trace amounts of CBD. 
Are you looking for a weed strain high in CBD? Try one of these strains:
Northern Lights

ACDC

Lifter

Grape Soda

Cherry Wine

Catatonic

Sour Tsunami

White CBG; or

Harle-Tsu

#3: Is the Garlic Sherbet Strain Indica or Sativa?
Garlic Sherbet is a slightly Indica-dominant hybrid strain. Garlic Sherbet users will experience the calming, euphoric effects of Indica while also enjoying the uplifting, creative effects of Sativa.

#4: Does Garlic Sherbet Strain Have Any Hybrids or Crossbreeds?
The Garlic Sherbet strain has one crossbreed that we know of, as follows:
Garlic Sherbet x White Giant
White Giant is a hybrid, THC-dominant variety that is not available in feminized seeds.
Where to Buy Garlic Sherbet Strain Near You
Enter your zip code below to find dispensaries that offer the Garlic Sherbet strain near you.
If you're having a hard time finding the Garlic Sherbet strain near you, then give us a call. We've spent more than a decade testing, curating, and reviewing as many strains as possible for our customers. We're happy to help you find your next favorite strain or any other cannabis product you're interested in.