Gelato 33 Strain: Effects, Reviews, & More
You've heard about how people are enjoying the unique taste of Gelato 33.
Now you're interested in trying this particular cannabis strain, but researching its effects and user reviews can be overwhelming. 
Also, with so many different Gelato 33 dispensaries available, how do you know which are trusted sources?
In this article, you will learn everything you need to know about Gelato 33, including exactly where to purchase this delicious strain so you can try it for yourself.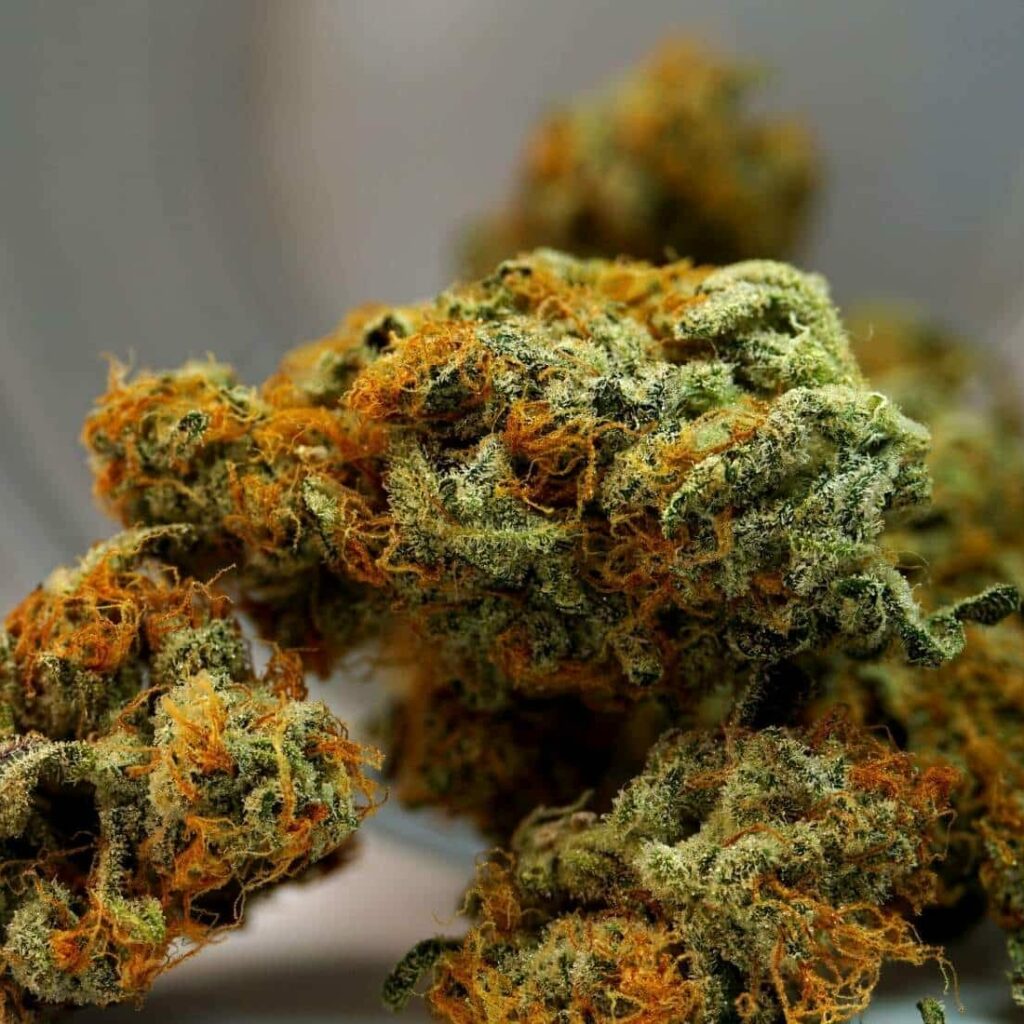 Everything You Need To Know About The Gelato 33 Strain
Some of the reported effects of Gelato 33 include:
Uplifted

Happy

Euphoric

Energetic

Focused

Relaxed

Creative
How do we like to describe Gelato 33 strain effects?
Gelato 33 can provide a gentle mental release from stress and worry and may help you sleep more soundly.
Some users have even said that this strain has helped them with:
Chronic pain

Anxiety

; and 

Depression
Overall, we have found that most people seem to enjoy the effects of Gelato 33 for its ability to help most people experience focused energy.
With a relatively low THC (tetrahydrocannabinol) level, the Gelato 33 strain is perfect for those new to cannabis or those who want a mellow experience.
Things to Do While Enjoying Gelato 33 Strain
If you're looking for something special to take your mind off of things, then Gelato 33 strain is the strain for you.
This strain is perfect for you if you want to enjoy a nice balanced high. You can experience relaxation without heavy sedation or couch-lock.
This strain can be a great option for daytime use.
Gelato 33 strain provides much more than just relaxation and euphoria. It may also increase creativity and productivity. Gelato 33 can also help make it easier for you to connect with others and have a great time.
Activities that you can enjoy while enjoying Gelato 33 Strain include …
Sitting around a fire with friends

Taking a leisurely walk in nature

Indulging in some delicious food and drinks; or

Whatever the activity you and/or your friends enjoy doing
Gelato 33 Strain Terpenes
Gelato 33 Strain is known for its unique flavor.
Terpenes are what make cannabis taste and smell different, and they're the main factor in determining the type of high you can expect from it.
The dominant terpenes responsible for the distinct smell and flavor of this strain include:
Caryophyllene

: a citrusy, herbaceous terpene

Limonene

: a bitter and strong citrus taste
These two terpenes give Gelato 33 its unique flavor and aroma, which has made it a popular choice among weed users. With hints of herbs and spices, this strain is perfect for anyone looking for a flavorful and refreshing scent. 
The aroma, similar to that of citrus fruits, is something you'll want to experience for yourself.
Some other terpenes in the Gelato 33 strain, present at very low levels, include:
Pinene

: a pine-like, green woody scent

Humulene

: a rich, Munich-style lager flavor
Gelato 33 is a cross between Girl Scout Cookies and Sunset Sherbert.
Girl Scout Cookies

is a strain known for its full-body buzz and euphoric effects. It's an award-winning, Indica-dominant hybrid that's great for relaxation and stress relief.

Sunset Sherbert

is a sweet, fruity Sativa-dominant hybrid that's known for its cerebral effects and uplifting mood. It's perfect for those looking for a happy, energetic high.
Thanks to its Girl Scout Cookies and Sunset Sherbert genetics, Gelato 33 is perfect for anyone looking for a uniquely pleasurable experience.
Reddit and Quora users seem to like the Gelato 33 strain. Read some of their opinions here:
"My first, but definitely not last time getting this. Cream, sweet fruit, and some slight tang punch your 👃when opening this stuff. Anytime strain for me, tension relief and subsided any negativity 👍 Really nice cure on this stuff compared to other purchases, very happy overall!" –

Reddit

"Gelato 33 is one of my favorites. Just all-around good…" –

Reddit

 "I suffer from severe anxiety among other GI issues, and I smoke cannabis every day. This morning, a strain that worked really well for me was Gelato #33." –

Quora
If you have tried the Gelato 33 cannabis strain, please leave a review below.
Gelato 33 Strain Appearance
At first glance, you will notice the Gelato 33's appearance as:
A circular arrangement of petals, similar to a sunflower

Bright and colorful buds that have a frosty sheen

Long, slender stalks covered in soft, downy hairs

#1: What Is the THC Content in Gelato 33 Strain Cannabis?
The THC content in Gelato 33 strain cannabis is around 18-25%; however, this range can vary.
If you're looking for more strains with less THC, try one of the following:
Easy Bud

Remedy

Harlequin

Haze Berry Automatic

Catatonic; or

Any strains listed in the question below
Or if you're looking to experience higher concentrations of THC, you can try the following more potent strains:
GG4

WiFi OG

Strawberry Banana

The Toad

Chemdog

Amnesia Haze

Godfather OG

And more

#2: What Is the CBD Content in Gelato 33 Strain Cannabis?
The trace amounts of CBD (cannabidiol) content in the Gelato 33 weed strain range from 0.1% to 1.7%.
Remember: The CBD content in the Gelato 33 strain and other forms will vary depending on the batch.
Try one of these strains if you're looking for a weed strain with a high CBD content:
Ringo's Gift

ACDC

Lifter

Elektra

Cherry Wine

Sour Tsunami

Harle-Tsu

Sour Space Candy; or

Charlotte's Web


#4: Does Gelato 33 Strain Have Any Hybrids or Crossbreeds?
Gelato 33 strain crossbreeds are:
Black Cherry Ice Cream

– Mimosa x Gelato #33
Auto Gelato #33 – Gelato #33 x Unknown Ruderalis
Where to Buy Gelato 33 Strain Near You
To find dispensaries that offer the Gelato 33 strain near you, enter your ZIP code below.
If you can't find the Gelato 33 strain near you, then please reach out to us. 
Our team has spent 10+ years sampling, curating, and reviewing various cannabis products for customers, like you.
We would be happy to help you find the best cannabis product for your needs.