Gelatti Weed Strain: Effects, Reviews, & More
You've heard about the hazy and happy high of the Gelatti strain and now you want to know about the terpenes, genetics, and more.
You've come to the right place! 
Reminiscent of the old-school favorite, OG Kush, the Gelatti strain is a top choice among weed enthusiasts and we're sure you'll love it too.
In this post, we'll cover everything there is to know about Gelatti and let you know where you can buy some of this musky strain to try for yourself.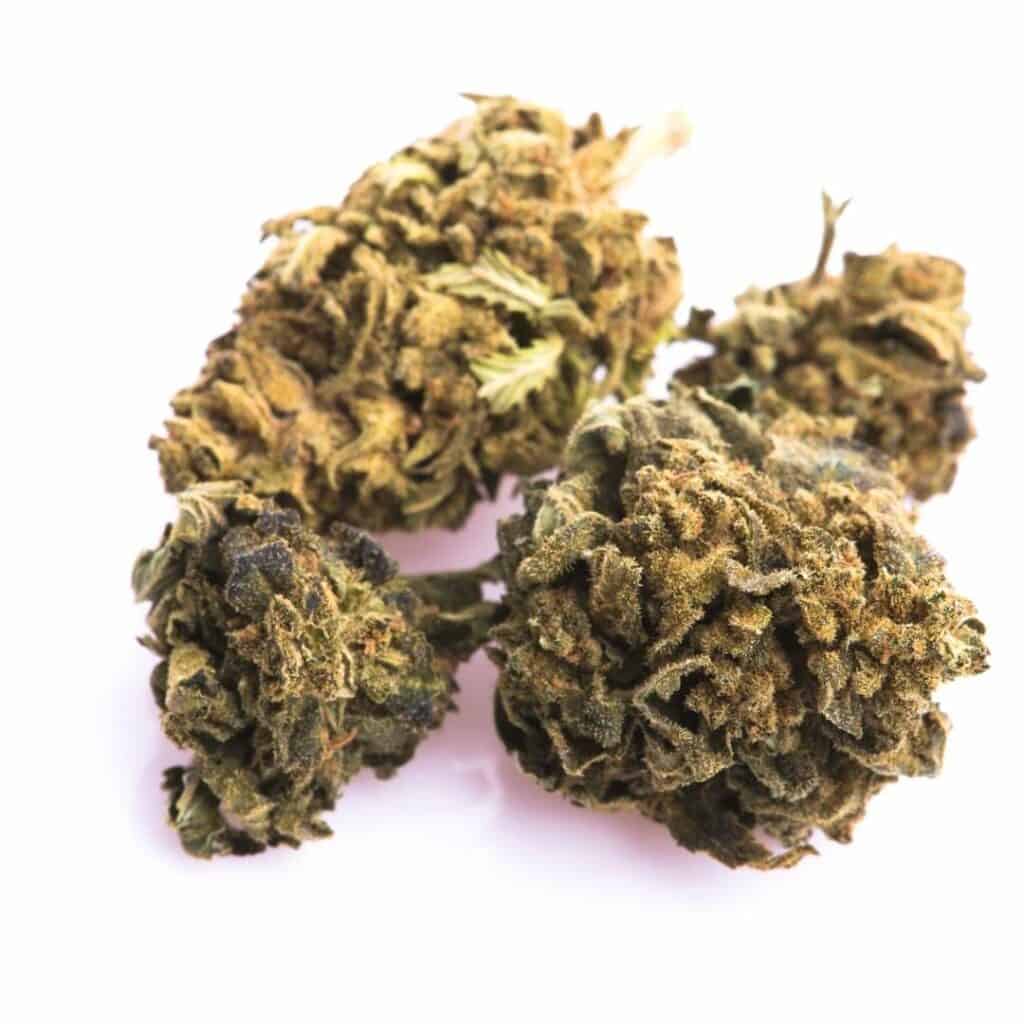 Everything You Need To Know About The Gelatti Strain
Some of the reported effects of Gelatti include:
Happy 

Euphoric

Relaxed

Energized

Focused

Creative

Hungry
Here's how we describe Gelatti strain effects:
The Gelatti high starts slow but quickly develops into a euphoric feeling that gives you a burst of clarity and creativity. You'll find yourself happily energized and ready to tackle the day, but don't worry, you'll be easily relaxed and uplifted at the same time.
With a relatively high THC level, the euphoric Gelatti strain works very well as medical marijuana and is ideal for daytime consumption.
Keep those eye drops on hand, as Gelatti is known to cause dry eyes — and it wouldn't hurt to have your preferred beverage close by as the strain can also produce that cottonmouth effect.
Things to Do While Enjoying Gelatti Strain
While you may feel a little head high at first, within 15-20 minutes, you'll probably feel a burst of energy, making Gelatti the perfect strain to knock off that to-do list.
You'll be feeling pain-free, but you won't be looking to take a snooze or veg out. Hunger may kick in, so at-home chefs will be ready to whip up a feast in the kitchen, while others may prefer to kick back with friends over a meal at their favorite restaurant.
Based on the overall energizing and euphoric effects of Gelatti, most people prefer to consume this hybrid during daytime hours to make the most of it.
When under the influence of marijuana, including the Gelatti strain, it's not recommended that you drive or operate heavy machinery.
Terpenes determine the experience as well as the richness in flavor of a given strain, and next to the strain itself, terpenes are the driving force behind the type of high you can expect from the cannabis.
The dominant terpenes in Gelatti are: 
Caryophyllene – rich spicy odor, pepper, spicy

Linalool – floral and spicy

Humulene – earthy, woody, spicy
These terpenes give Gelatti the aroma and flavor that it's well-known for — tastes of sour fruity berries, musky menthol, and a sweet exhale.
The aroma is similar to the taste, with a gassy pungency, musky essence, and a touch of sweetness. 
Present only in small amounts, the following two terpenes can also be found in the Gelatti strain:
Myrcene – balsam, musk, clove

Terpinolene – pine, floral, herbal
Gelatti is a cross between Gelato and Biscotti and was originally developed by the Cookies Fam. 
Gelato is an Indica-dominant cross between Thin-Mint GSC and Sunset Sherbert known for relaxing effects and euphoric high. 

Biscotti is an Indica-dominant hybrid cross between Sour Florida OG and Gelato 25. It produces a cerebral high and head-to-toe buzz, leaving consumers feeling creative and relaxed.
Here are opinions that were written by Reddit and Weedmaps users about the Gelatti strain:
If you've tried Gelatti strain, please leave a review below:
Gelatti Strain Information & History
Gelatti strain was first created by the Cookies Fam and can't be found in many dispensaries outside of the California market. 
The strain is an almost perfect balance of Biscotti and Gelato, both of which are Indica-dominant, however, Gelatti is an evenly balanced hybrid of 50% Indica and 50% Sativa.  
Gelatti weighs in at a potent 20-23% THC level.
Upon first glance at this attractive bud, you'll notice: 
Dense, frosty, and kushy nugs

Bright or olive green with thin orange hairs

Purple undertones; and

Coated with light purple, oily trichomes

#1: What Is the THC Content in Gelatti Strain Cannabis?
The THC content in Gelatti strain weed averages from a very high 20-23%, but if you're looking for a strain with less THC, you could try one of these strains:
Haze Berry Automatic

Easy Bud

Remedy

Harlequin

Catatonic; or

Any of the strains listed in the below question
Or if you're looking for other strains that are high in THC content, you can also try these:
Godfather OG

The Toad

Chemdog

Amnesia Haze

Strawberry Banana

GG4

WiFi OG

And more

#2: What Is the CBD Content in Gelatti Strain Cannabis?
Gelatti strain weed contains only trace amounts of CBD (about 1%). 
Are you looking for a strain that's high in CBD? Try one of these instead:
Ringo's Gift

ACDC

Lifter

Charlotte's Web

Elektra

Cherry Wine

Harle-Tsu

Sour Space Candy; or

Sour Tsunami


#4: Does Gelatti Strain Have Any Hybrids or Crossbreeds?
Gelatti strain crossbreeds are as follows:
Freshwater Taffy – Gelatti x Gushers

Apples and Bananas – Gelatti x (Platinum Cookies x Grand Daddy Purple) x Blue Power

Cocomero Gelatti – Gelatti x Watermelon Kush

Gelatti Pie – Gelatti x Georgia Pie

PraDuh – Gelatti x Cali Sunset

Georgia Pie – Gelatti x Kush Mints

Flavor Fuel – Gelatti x Unknown Strain
Where to Buy Gelatti Strain Near You
Enter your zip code below to find dispensaries that offer the Gelatti strain near you.
If you can't find the Gelatti strain near you, give us a call. We've spent over a decade testing, curating, and reviewing cannabis products for our customers and we'd be happy to help you find exactly what you're hoping for in a cannabis product.