Georgia Pie Weed Strain: Effects, Reviews, & More
If you've ever been lucky enough to sink your teeth into Georgia's famous peach cobbler, then you know just how addictive it can be. Now you can enjoy that sweet peach nectar whenever you want with a delicious hybrid strain known as Georgia Pie. 
But, first, you want to know more about the effects, terpenes, and genetics of the Georgia Pie strain.
You've come to the right place!
We'll cover everything you should know about Georgia Pie and tell you exactly where to buy some of this tasty strain and try it for yourself.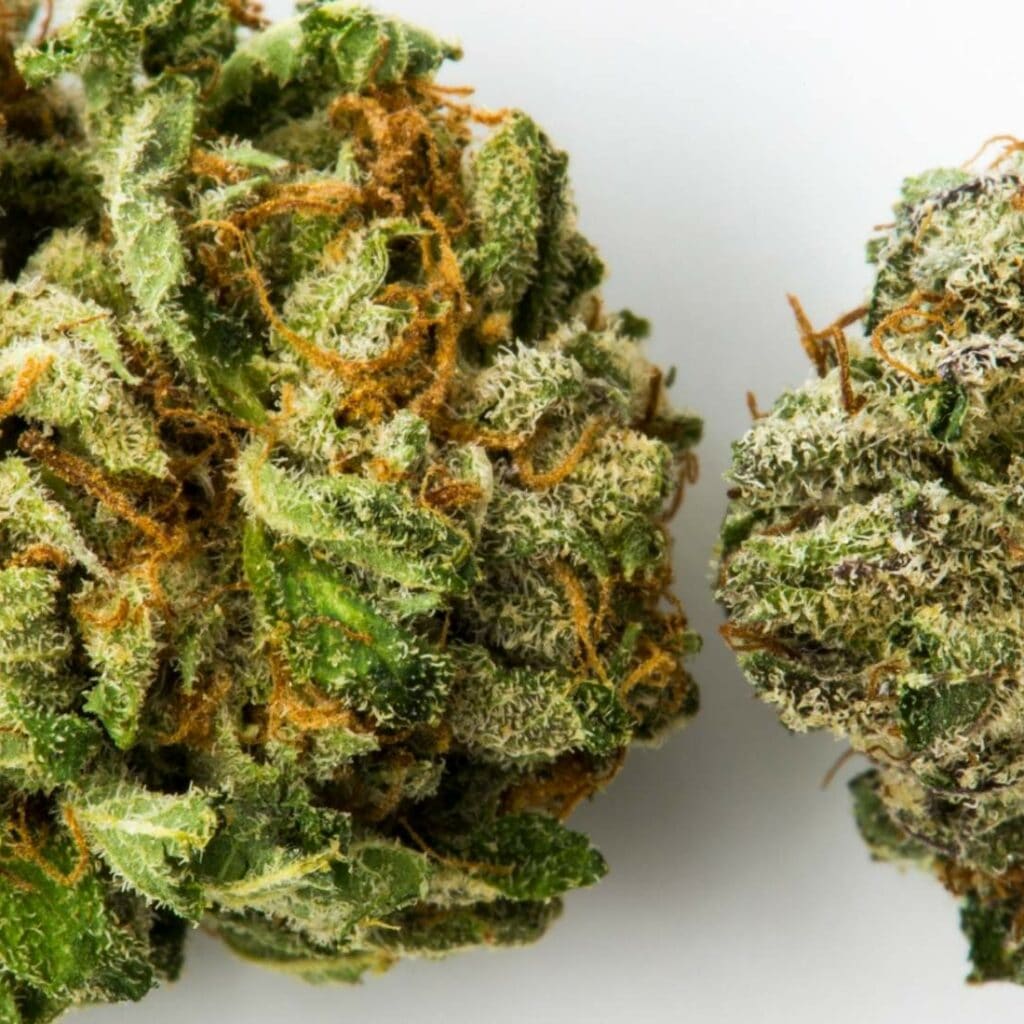 Everything You Need To Know About The Georgia Pie Strain
Georgia Pie Strain Effects
Some of the reported effects of Georgia Pie include:
Relaxed 

Uplifted

Creative

Euphoric

Happy

Tingly
And can also cause:
Here's how we like to describe Georgia Pie strain effects:
You can expect a full-bodied high with this strain, popular among consumers, patients, and breeders. 
The high doesn't take long to sweep over you, working its way through your mind, then the body, leaving you feeling somewhat hazy and tingly. This happy, euphoric strain will bring about a sense of calm — until the hunger sets in. Keep your favorite snacks on hand, and don't plan anything too ambitious. 
Sit back and enjoy the high.
With a super high THC level, the relaxing Georgia Pie strain is perfect for daytime toking and for medicinal uses.
Georgia Pie is popular among medical cannabis users to help with:
Pain

Depression

Stress

Insomnia

Nausea; and

Appetite loss
Things to Do While Enjoying Georgia Pie Strain
While Georgia Pie may leave you feeling uplifted, remember, you'll also be in a deep state of calm, so don't pull out that to-do list if you plan on partaking in this strain.
Think of your couch or a hammock as your best friend for the day. Marathons and all-day hikes can wait for another day. Watch a movie, play your favorite tunes, or dive deep into a chilled-out video game.
Based on the overall calming effects of the hybrid Georgia Pie strain, most people opt out of strenuous (or stressful) activities — but you do what works for you!
When under the influence of any marijuana, including the Georgia Pie strain, it's recommended that you refrain from driving or operating heavy machinery. 
Georgia Pie Strain Terpenes
Terpenes are the driving force behind your experience and the richness in flavor, and next to the strain, terpenes also determine what type of high you can expect from the strain.
The dominant terpenes in Georgia Pie are: 
Limonene:

Bright, citrusy, and uplifting. Reduces anxiety and depression and acts as a digestive aid. 

Beta-Caryophyllene:

Peppery, spicy, with notes of wood. Great for protecting the digestive tract.

Alpha Humulene:

Spicy, herbal, and acts as an anti-inflammatory.

B-Ocimene:

Sweet, herbaceous, and woody, this terpene is also what gives Georgia Pie its minty aftertaste.

Myrcene:

Earthy and clove-like, this terpene is also responsible for total relaxation known as couch-lock.
These terpenes give Georgia Pie the aroma and flavor that it's known for, with hints of cherry, baked fruity berries, and nutty dough. 
The aroma, similar to the taste, also shows hints of herbs — just like mama's peach cobbler.
Georgia Pie is a cross between Gelatti and Kush Mints and was originally bred by Seed Junky Genetics and now hails from Cookie Co. 
Gelatti is a hybrid strain bred by crossing Gelato and Biscotti and is known for producing a happy and euphoric high.

Kush Mints is another hybrid strain with a unique minty taste and an uplifting and happy high.
Georgia Pie Strain Reviews
Here are some online opinions that were written about the Georgia Pie strain:
That Georgia pie was a different beast. The white runtz is good. But that Georgia pie had me feeling like I was in an ocean and the high would come in waves. It would calm down but then when I thought it was over another wave would smash into me and I would be ripped beyond belief. Love that stuff.

–

Reddit

Georgia Pie legit smells beautifully and tastes exactly how it smells, it really relaxed me and I was barely halfway with the joint. I really recommend getting this strain if you're interested in some really amazing tasting tree.

–

iheartjane
If you've tried Georgia Pie strain, please leave a review below:
Georgia Pie Strain Information & History
Georgia Pie strain was first created by a breeder known as Seed Junky Genetics and is now predominantly grown by Cookies Co. 
It's a well-balanced Gelatti and Indica-leaning Kush Mints blend, making Georgia Pie slightly Indica-dominant (60/40).  
Georgia Pie tests out at respectable THC levels of between 23-27%.
When you first lay eyes on this bud, what you'll see is: 
A round, popcorn-like shape

Olive green nugs and purple undertones

Thin amber hairs; and

Purplish, frost-tinted, white crystal trichome coating

#1: What Is the THC Content in Georgia Pie Strain Cannabis?
The THC content in Georgia Pie strain weed averages from a potent 23-27% (though, this can vary). If you're hoping for a strain with less THC, try one of these:
Haze Berry Automatic

Harlequin

Easy Bud

Catatonic

Remedy; or

Any strains listed in the question below
Or if you're looking for other strains that are high in THC content, you can also try these:
Lemon Cake

The Toad

Silver Haze

Strawberry Banana

Grandfather OG

WiFi OG

Candyland

And more

#2: What Is the CBD Content in Georgia Pie Strain Cannabis?
Georgia Pie strain weed contains between 1-3% CBD. 
Are you looking for a weed strain high in CBD? Try one of these strains:
Charlotte's Web

Sweet and Sour Widow

Lifter

Ringo's Gift

ACDC

Elektra

Stephen Hawking Kush

Sour Space Candy; or

Canna-Tsu


#4: Does Georgia Pie Strain Have Any Hybrids or Crossbreeds?
Georgia Pie strain crossbreeds are as follows:
Southern Sugar – Georgia Pie x Rainbow Chip

Blue Slushie – Georgia Pie x Blueberry Cookies

Georgia Cry – Georgia Pie x Cali Sunset

Biscotti Pie – Georgia Pie x Biscotti

G-Code – Georgia Pie x Unknown Strain

Gelatti Pie – Georgia Pie x Gelatti

Peanut Butter Pie – Georgia Pie x Stuffed French Toast

Lemon Cherry Pie – Georgia Pie x Lemon Cherry Gelato

Payton's Pie – Georgia Pie x Gary Payton
Where to Buy Georgia Pie Strain Near You
Enter your zip code below to find dispensaries that offer the Georgia Pie strain near you.
If you can't find the Georgia Pie strain near you, then let us know. We've spent over a decade trying, curating, and reviewing marijuana products for our clients, and we'd love to help you find exactly what you're hoping for in a cannabis product.