Golden Tiger Weed Strain: Effects, Reviews, & More
Golden Tiger.
The name alone whets your curiosity — and now you want to know more about the effects, terpenes, and genetics of this ferocious sounding strain.
You're in the right place! 
We're here to tell you that Golden Tiger is one Sativa strain you won't want to miss out on.
We'll cover everything you ever wanted to know about Golden Tiger strain, including where you can to go to buy some of this delicious strain to try it for yourself.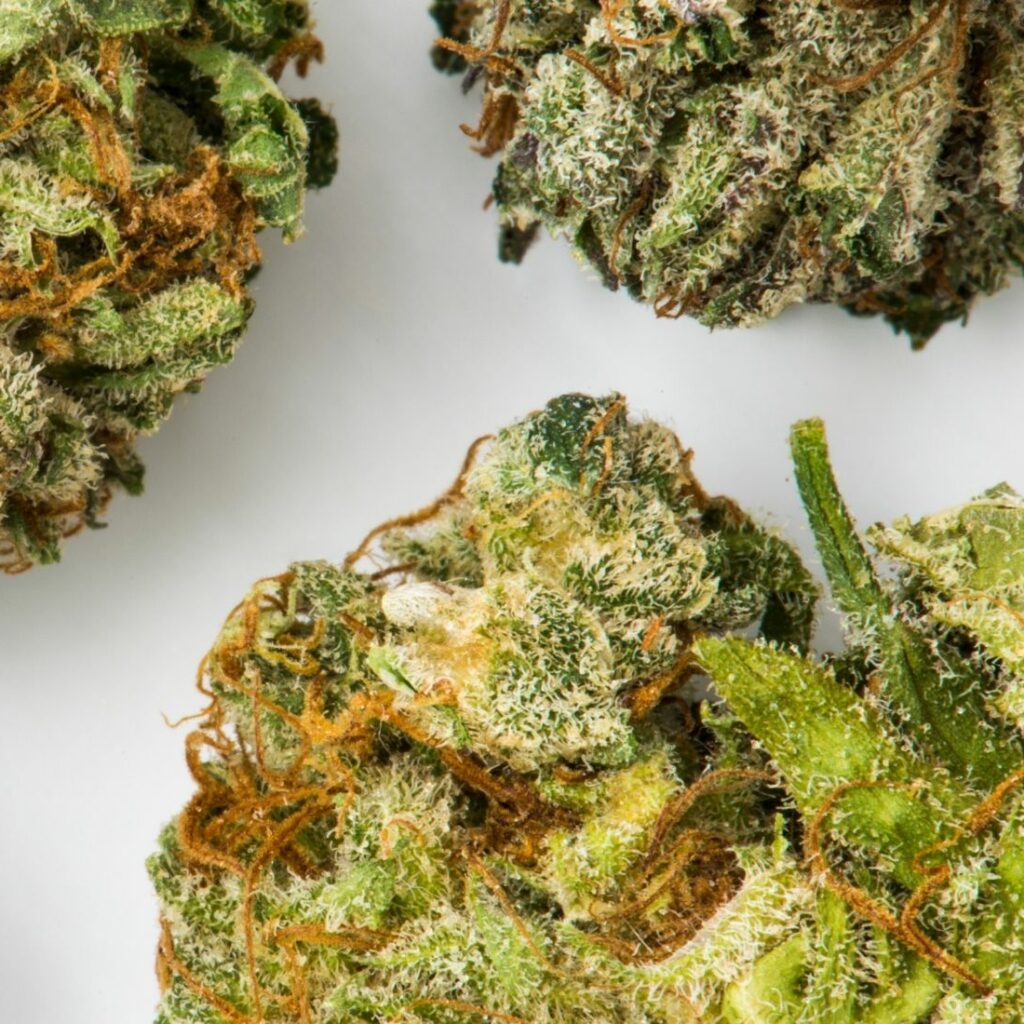 Everything You Need To Know About The Golden Tiger Strain
Golden Tiger Strain Effects
Some reported effects of Golden Tiger include:
Creative

Energetic

Happy

Talkative

Sociable

Uplifted
Here's how we like to describe Golden Tiger strain effects:
The energizing, lifting effects of Golden Tiger last for hours on end. You'll feel the effects come roaring in a few minutes after your last exhale, building behind your eyes with a soaring, lifted euphoria. 
With its super high THC level, Golden Tiger can be used to treat a variety of medical conditions, including: 
Depression

Anxiety

Chronic fatigue

Headaches or migraines; and 

Chronic stress 
Things to Do While Enjoying Golden Tiger Strain
The effects of Golden Tiger are extremely intense and can leave users totally stoned and unable to function. Largely euphoric and likely to cloud the mind, Golden Tiger strong potency is long-lasting and only recommended for individuals who are familiar with the high-flying effects of a Sativa.
When Golden Tiger nears the end of its two-hour run, you'll likely get a full night's rest — but you can almost be guaranteed a sluggish hangover the next morning.
One caveat… this powerful Sativa is not for beginners, since its long-lasting stimulating effects often come with a potent psychedelic bent.
When under the influence of marijuana, including the Golden Tiger strain, please do not drive or operate heavy machinery. 
Golden Tiger Strain Terpenes
Terpenes are what drive the experience and richness of flavor in a strain of weed, and next to the strain itself, terpenes are the determining factor in the kind of high you can look forward to.
The dominant terpenes in Golden Tiger are: 
Linalool – Sweet, floral scent

Limonene – Strong citrus and bitter taste

Myrcene – Peppery

Caryophyllene

– Warm and spicy
These terpenes give Golden Tiger the taste and aroma that it's famous for … a sweet vanilla, apricot flavor with a minty earthy exhale. 
The aroma is very earthy, with a citrus floral overtone, accented by sour lemons and sharp mint.
Golden Tiger is an extremely rare Sativa strain that was created by crossing (Hmong Thai X Koh Chang Thai) X (Malawi X 3rd Generation Malawi).
Golden Tiger Strain Reviews
Here are some Golden Tiger weed reviews:
O

n

e of my favorite strains now … tasty af, very buzzy. Like drinking coffee with more of a psychedelic edge.

– Allbud

This weed is too heady but very kind at the same time. Feels like I am running inside non-stop. Every puff increases the tempo and heart bpm. Definitely on the Thai side. Drives very positively as I go deeper into it. Highly enjoyable fast high.

– Growdiaries
If you've tried Golden Tiger strain, please leave a review below:
Golden Tiger Strain Appearance
When you first lay eyes on Golden Tiger's bud, you'll notice: 
Fluffy rounded long neon green nugs with bright amber undertones

Vivid orange hairs; and

Golden amber crystal trichomes

#1: What Is the THC Content in Golden Tiger Strain Cannabis?
The THC content in Golden Tiger strain weed averages a very high 18-24% (though, this can vary). If you're looking for a strain with less THC, try one of these:
Red Pop

Easy Bud

In the Pines

Remedy

Star Tonic; or

Any strains listed in the question below
Or if you're looking for other strains that are high in THC content, you can also try these:
Mother's Milk

Godfather OG

Bubba Fett

The Toad

Amnesia Haze

Light of Jah; or

GG4

#2: What Is the CBD Content in Golden Tiger Strain Cannabis?
Golden Tiger strain weed contains no CBD. 
Are you looking for a weed strain high in CBD? Try one of these strains:
Sweet and sour Widow

Charlotte's Web

ACDC

Sour Tsunami

Lifter

Stephen Hawking Kush

Cannatonic

Sour Space Candy; or

Harle-Tsu

#3: Is the Golden Tiger Strain Indica or Sativa?
Golden Tiger strain is 100% Sativa and provides users with a long-lasting kick.

#4: Does Golden Tiger Strain Have Any Hybrids or Crossbreeds?
Golden Tiger strain crossbreeds are as follows:
Golden Tiger x Panama: Golden Tiger x Panama

Zamaldelica:

Zamal x Golden Tiger

Lemontiger: Golden Tiger

F2

x

Double Lemon Pie
Baobob Lychee Haze: Golden Tiger x Banana Punch
Where to Buy Golden Tiger Strain Near You
Enter your zip code below to find dispensaries that offer the Golden Tiger strain near you.
If you can't find the Golden Tiger strain near you, then reach out to us. We've spent more than a decade trying, curating, and reviewing cannabis products for our customers, and we'd love to help you find exactly what you're looking for in a cannabis product.