Granddaddy Purple Weed Strain: Effects, Reviews, & More
You've heard about the flavorful taste of the Granddaddy Purple strain (also called Granddaddy Purp or GDP), but now you're interested in learning about its effects, genetics, and terpenes.
Now that legalization and acceptance are sweeping the nation, it can be hard to find a trustworthy source of information on GDP weed strains. From figuring out how much Granddaddy Purple marijuana you should buy for your first time, to choosing the many local dispensaries — it's no surprise that you may not know where to start.
If you're looking for some GDP for yourself and want to know more about this legendary bud, we believe this comprehensive guide on the Granddaddy Purple strain may be your best resource.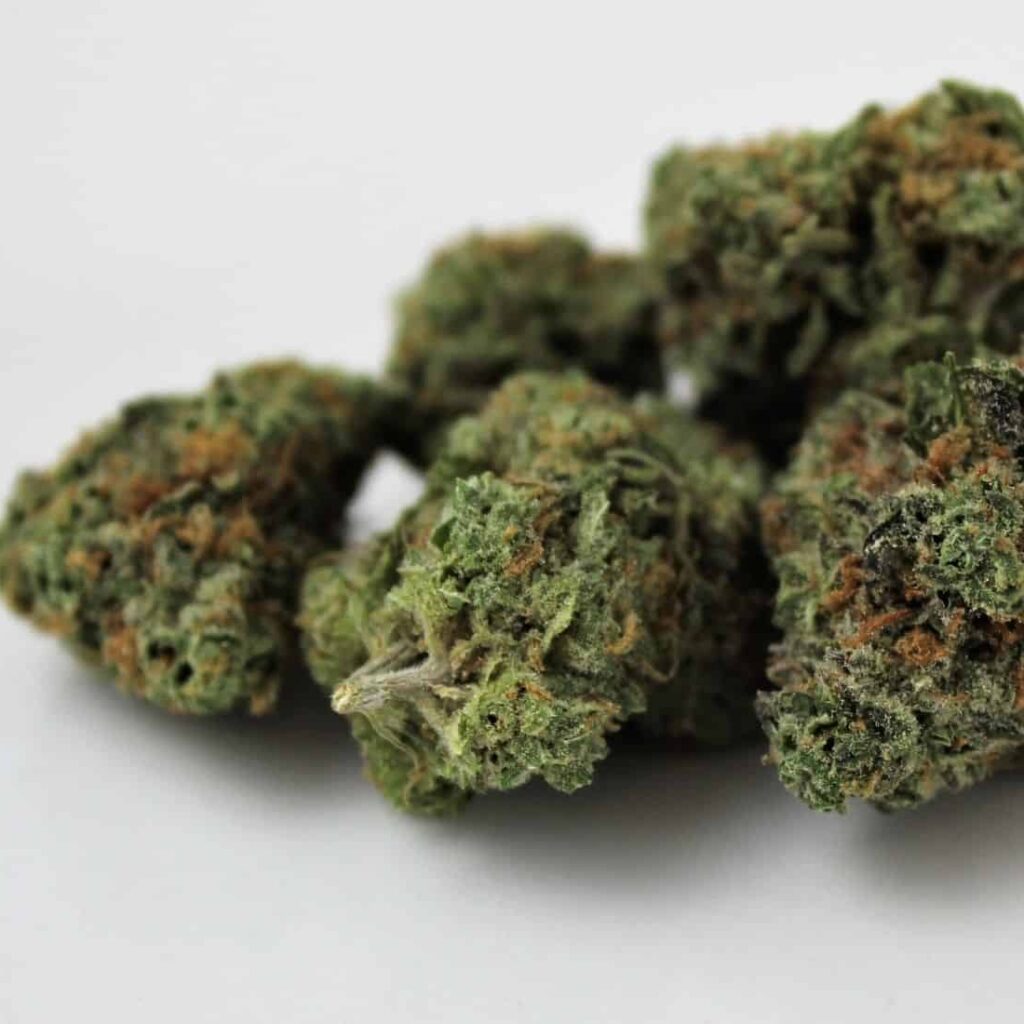 Everything You Need to Know About the Granddaddy Purple Strain
Granddaddy Purple Strain Effects
The effects of Granddaddy Purple are varied and include the feeling of being:
Sleepy

Relaxed

Hungry

Euphoric

Happy
Here's our description of Granddaddy Purple strain effects:
The Granddaddy Purple high hits you first with a cerebral rush that leaves you feeling euphoric and slightly numb. A feeling of meaningfulness will come over you, slowly filling your mind with a sense of hallucination as your body falls into a deep state of peace and relaxation.
The cerebral Granddaddy Purple strain is an excellent choice to manage:
Chronic pain

Appetite loss; and
Things to Do While Enjoying Granddaddy Purple Strain
Because you may likely experience a "body high" and be super relaxed when using the Granddaddy Purple strain, it's best not to plan too many exciting tasks.
Don't be surprised if you hear your couch calling out your name for a nice nap.
Creative types may want to be productive, while more outgoing people may want to go out for dinner or watch a movie with friends.
Granddaddy Purple is an Indica dominant variety, and this typically produces a relaxed and calm feeling. 
Typically, people avoid activities such as exercise or manual labor in the afterglow of smoking this strain.
However, as always, it's up to you because everyone is different.
When you're high on Granddaddy Purple strain, or any other marijuana, it's recommended that you stay away from driving or operating heavy machinery.
Granddaddy Purple Strain Terpenes
Terpene content creates the taste and the experience of cannabis. It's one of the most important factors in determining the type of high you can experience.
The predominant terpenes in Granddaddy Purple are:
These terpenes give Granddaddy Purple the flavor and aroma that it's famous for — a zesty, fruity flavor with hints of grapes and other juicy fruits.
The aroma is berry-like and earthy. You won't be disappointed if you choose to try this strain.
Some other terpenes present in smaller amounts in Granddaddy Purple are:
Granddaddy Purple Genetics
Granddaddy Purple is a cross between Purple Urkel and Big Bud:
Purple Urkel is a hybrid dominant strain known for its relaxing effect. 

Big Bud is a popular classic Indica strain that was brought to America from Afghanistan.
It was first created by a breeder named Ken Estes in San Francisco, California.
Granddaddy Purple Strain Reviews
Here are user opinions about the "Granddaddy Purp" from Reddit and Quora users:
"Granddaddy is one of my favorite medical strains. Especially at night time to help me sleep. And ease the pain away." –

Reddit

"Granddaddy Purple gives me complete couch-lock. It's also a great strain to treat insomnia and anxiety." –

Quora
If you've tried what Granddaddy Purple strain has to offer, please leave your thoughts below.
Granddaddy Purple Strain Appearance
When you look at the Granddaddy Purple bud, you'll notice:
Purplish leaves

Bright orange tendrils; and

Almost no green

#1: What Is the THC Content in Granddaddy Purple Strain Cannabis?
The THC content in Granddaddy Purple averages around 20-27%, which is a very potent strain — although the potency can vary.
If you don't need a high THC content, you can check:
Haze Berry Automatic

Harlequin

Easy Bud

Remedy

Catatonic; or

Any of the additional strains below
If you're looking for other types of strains that are high in THC content, you can try these:
Strawberry Banana

Godfather OG

Amnesia Haze

Chemdog

The Toad

WiFi OG

GG4

#2: What Is the CBD Content in Granddaddy Purple Strain Cannabis?
Granddaddy Purple contains only a negligible amount of 0%-1% CBD.
If you enjoy weed strains with high levels of CBD, here is a list of some for you to check out:
Sour Space Candy

Charlotte's Web

Sour Tsunami

Cherry Wine

Ringo's Gift

Harle-Tsu

Elektra

Lifter; or

ACDC

#3: Is the Granddaddy Purple Strain Indica or Sativa?

#4: Does Granddaddy Purple Strain Have Any Hybrids or Crossbreeds?
Here are a few of the GDP strain crossbreeds:
G-Funk:

Grape Funk x Grand Daddy Purp

Kendawg:

Chemdawg #4 x Grand Daddy Purp

Candyland:

Bay Platinum Cookies x Grand Daddy Purp

Purple Vapor:

Grand Daddy Purp x Grandpas Breath #7
Where to Buy Granddaddy Purple Strain Near You
Enter your zip code below to find dispensaries near you that offer the Granddaddy Purple strain.
If you can't find Granddaddy Purple near you, then get in touch with us. We've been around for over a decade and have helped many customers find the right cannabis product. We're happy to help you, too.