Green Crack Weed Strain: Effects, Reviews, & More
Are you looking for that perfect wake and bake strain to get you going in the morning? 
Green Crack strain — Green Cush or Green Crush if you prefer to avoid that stigma — could be what you need to get that invigorating lift you've been craving.
But, don't let the name fool you. This strain is all cannabis, all energy, all day.
Keep reading for more information about Green Crack weed, what you can expect from the high, and how to get some today.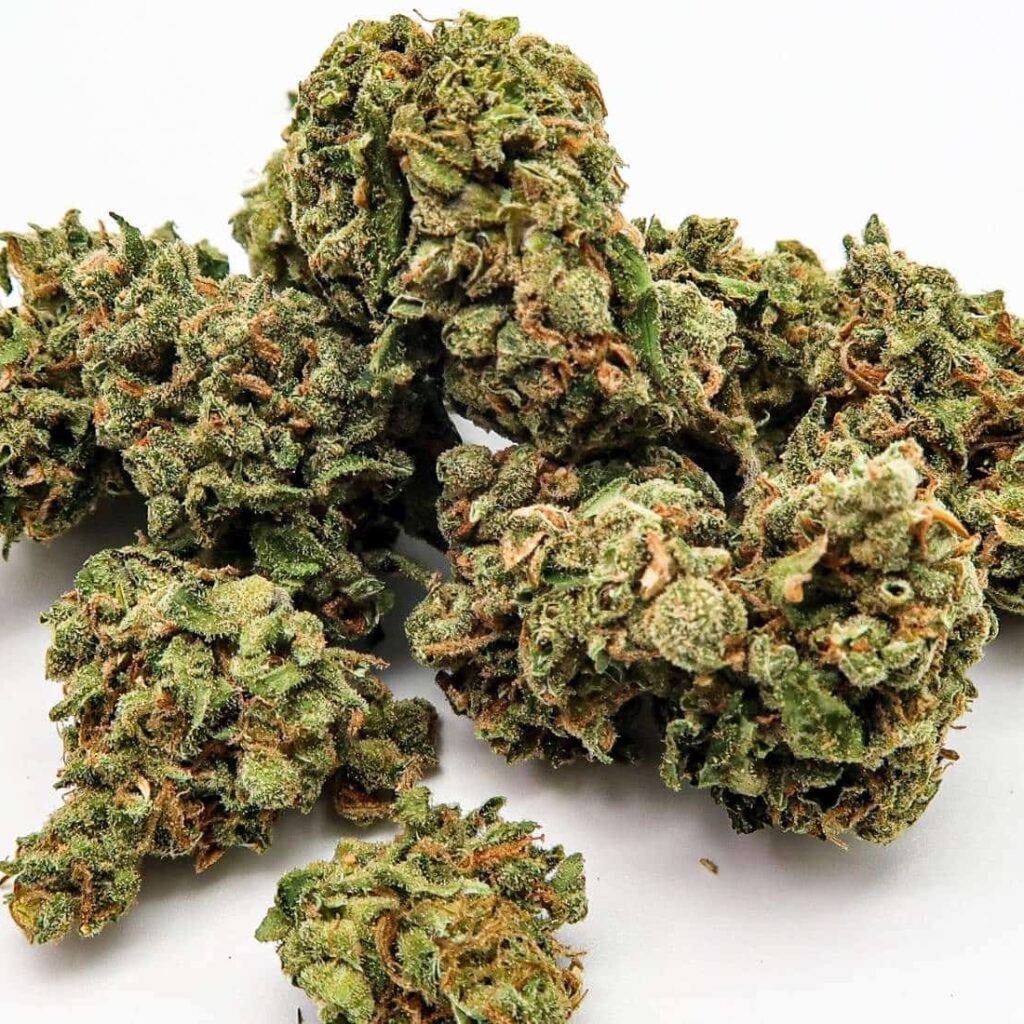 Everything You Need to Know About the Green Crack Strain
Green Crack Strain Effects
Some of the reported effects of Green Crack include:
Energizing

Focused

Cerebral

Uplifting

Creative

Happy 
Here's how we like to describe Green Crack strain effects:
Green Crack strain is a perennial favorite among long-time cannabis lovers, and for good reason. The high starts with a jolt of energy and an immediate mood lift. It's the kind of happy mental buzz that will help anyone through the day. The upbeat high won't come crashing down on you. The comedown is slow and easy and won't leave you feeling sluggish.
With a super high THC level, the Green Crack strain is perfect for daytime use and has been known to treat the symptoms of:
ADHD

Anxiety

Depression

PTSD

Migraines 
Things to Do While Enjoying Green Crack Strain
Legendary is one way to describe Green Crack weed. First of all, it was Snoop Dog who originally gave this strain the name it's famous for. Secondly, it's an award-winning strain that's been in circulation since the 70s and was the most desired weed on the black market for a very long time.
So, why all the hype? Because there's so much you can get done after a few tokes of this sweet, little bud. 
Feeling creative? Green Crack strain is for you. Need to tackle that work project you've been procrastinating on? Start the day with a little Green Crack and you'll be rocking your way through your task list.
You'll never feel jittery or dysfunctional, so it's the perfect party favor too. It'll give you fun, positive energy to socialize through the night, without the inevitable crash.
Hail Mary Jane never condones driving or operating heavy machinery when under the influence of Green Crack strain (or any strain, for that matter), so grab a Lyft or an Uber and keep us all happy. 
Green Crack Strain Terpenes
Terpenes are an important component of the cannabis plant. They provide each strain with its unique taste and aroma, and they even have some medicinal benefits. 
The dominant terpenes in Green Crack are: 
Myrcene — Spicy, earthy, musky

Caryophyllene — Rich spicy odor, pepper, spicy

Pinene — Sage and blueberry
The taste is sweet and earthy, with notes of tangy citrus, lime, and orange. 
Green Crack is a cross between Skunk #1 and an unknown Indica (possibly Afghani Landrace) and was originally bred in Athens, GA. 
Skunk #1 is a powerful Sativa strain that has influenced the entire cannabis culture with hordes of crosses all over the globe.
Afghani Landrace comes from the mountains of the Middle East and is one of the purest Indica genetics known to man. 
Green Crack Strain Reviews
We sourced various sites across the internet to bring you these Green Crack marijuana reviews:
Green Crack is hands down the best strain I've come across. It helps with my Rheumatoid Arthritis and it gives me the energy to get up and complete my workday. It even allows for enough energy to do something after work too! Definitely recommend this as one of the best Sativa strains out there! – Wikileaf user

Primo strain. The nugs are sparkling, sticky, and hairy. The odor is potent, but it's a sweet, uplifting smell and buzz. Zero munchies. Little to no paranoia or panic potential, even in the Sativa-dominant variety. Fruity smoke, happy energy, it's the perfect wake and bake. Great outdoor plant. – Leafly user

Great morning strain. Focused energy that settles into a relaxing body buzz. – American Marijuana
If you've tried Green Crack strain, please leave a review below:
Green Crack Strain Appearance
When you first lay eyes on the bud, you'll notice: 
Popcorn-shaped nugs

Dense, tightly packed buds

Amber hairs; and

A light, sugary coating of crystal white trichomes

#1: What Is the THC Content in Green Crack Strain Cannabis?
The THC content in Green Crack strain weed is a respectable 24% (though, this can vary). 
If you're looking for a strain with less THC, try one of these:
Easy Bud

Blue Dynamite

Harlequin

Pennywise

Catatonic; or

Any strains listed in the question below
Or if you're looking for other strains that are high in THC content, you can also try these:
Chemdog

Bruce Banner

Godfather OG

Original Glue

Amnesia Haze

The White

GG4

And more

#2: What Is the CBD Content in Green Crack Strain Cannabis?
Green Crack strain weed contains only trace amounts of CBD. 
Are you looking for a weed strain high in CBD? Try one of these strains:
Sweet and Sour Widow

ACDC

Stephen Hawking Kush

Ringo's Gift

Creme de la Creme

Elektra

Cannatonic

Sour Space Candy

Bubba Kush

#3: Is the Green Crack Strain Indica or Sativa?
Green Crack strain is a hybrid consisting of 60% Sativa and 40% Indica.

#4: Does Green Crack Strain Have Any Hybrids or Crossbreeds?
Green Crack strain is responsible for a bunch of crossbreeds, some of which include:
Critical Crack

Luke's Ghost

The Void

Green Crack CBD

Mother's Secret

Green Dream

Purple Crack

Holy Nana Crack

Girl Scout Cookies 

And more
Where to Buy Green Crack Strain Near You
Enter your zip code below to find dispensaries that offer the Green Crack strain near you.
If you can't find the Green Crack strain near you, let us know. We've been trying, reviewing, and curating cannabis products for more than a decade and we can help you find exactly what you're looking for.