Guava Cake Weed Strain: Effects, Reviews, & More
You've heard about the mood-enhancing cerebral high, and now you want to know more about the taste, terpenes, and genetics of the rare Guava Cake strain.
You've come to the right place! 
In this guide, we'll tell you everything you ever wanted to know about Guava Cake, exactly what to expect from this strain, and where you can get some for yourself.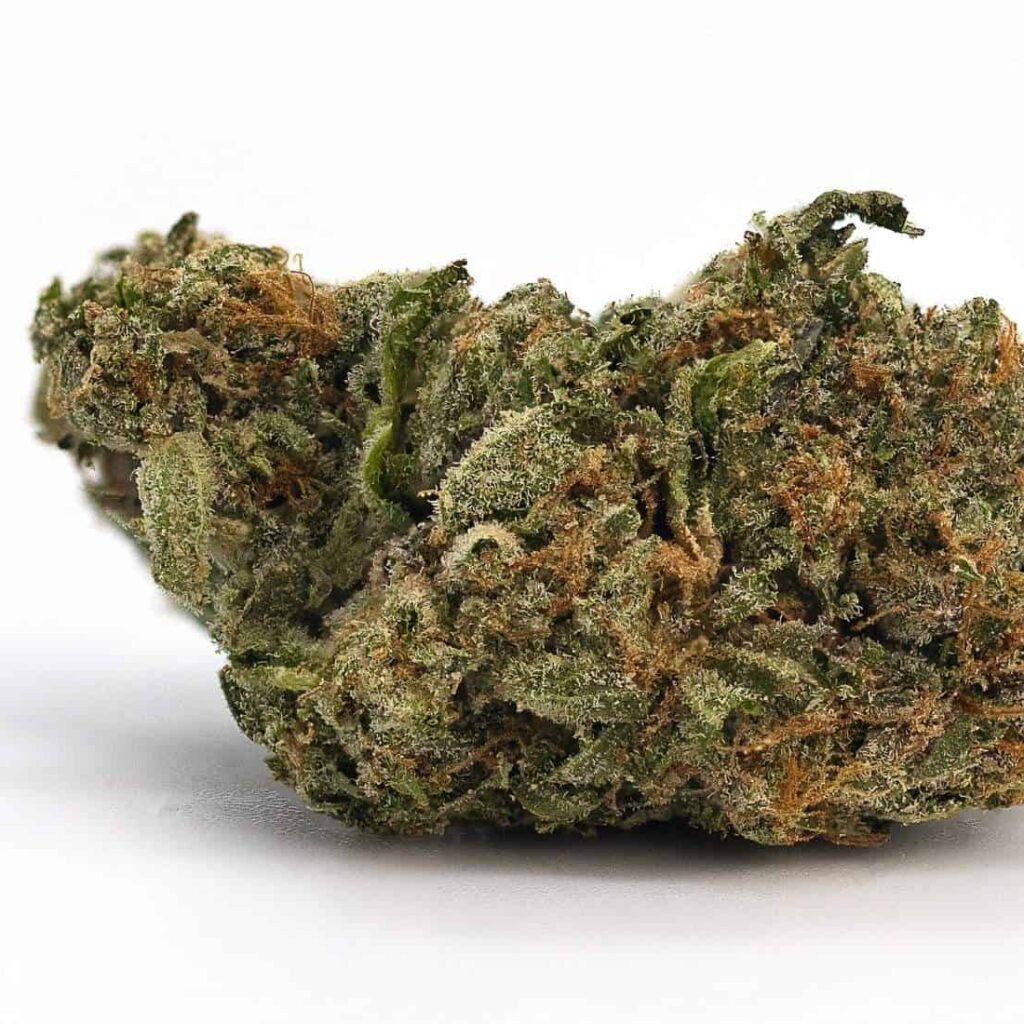 Everything You Need To Know About The Guava Cake Strain
Guava Cake Strain Effects
Some of the reported effects of Guava Cake include:
Calming 

Relaxed

Euphoric

Creative

Giggly

Happy

Tingly

Sleepy

Hungry
In less experienced users, Guava Cake can also cause paranoia and anxiety, so this bud is best reserved for the pros. 
Here's how we like to describe Guava Cake strain effects:
With an equally pleasing high and flavor, Guava Cake will have you feeling giggly, giddy, and oh so good, but won't leave you buzzed all night. 
You'll be ready for the best sleep of your life at the end of the high, but first, get ready for a kick of energy and creativity right after you smoke. But, don't plan for that to last too long, before you know it you'll lose your focus in a fit of giggles. Eventually, you'll fade away as you drift into a peaceful slumber without the fear of a weed hangover the next day.
With a deliciously high THC level, Guava Cake strain is often used as medical marijuana and is ideal for nighttime toking.
Guava Cake is perfect for anyone suffering from:
Depression

Insomnia

Stress

Appetite loss

Nausea

Chronic fatigue
Things to Do While Enjoying Guava Cake Strain
While you may feel an initial burst of creative energy, the giggly effects of the Guava Cake strain will soon take over, followed by a long and peaceful sleep. 
It's wise not to plan anything too ambitious, as that immediate creativity and energy won't last long. If you're looking for a creative outlet, you'll want to keep it short, the sedative effects of Guava Cake don't take long to wash over you.
Because of the overall sedative effect of the Indica-dominant Guava Cake strain, you'll want to steer clear of any activities that involve physical labor, given you'll quickly lose focus as the initial creative energy begins to fade.
When under the influence of THC, including the Guava Cake strain, please do not drive or operate heavy machinery.
Guava Cake Strain Terpenes
Terpenes are what drive experience and richness in flavor, and next to the strain, terpenes are the determining factor in the type of high you can expect from cannabis.
While it's uncertain what the true terpene profile of Guava Cake is, we've taken a guess based on what we know about the effects, taste, and aroma: 
Myrcene

– Known for its tropical, fruity, and herbal notes, this terpene is also known for its sedative effects.

Caryophyllene

– With a rich spicy odor and its ability to relieve anxiety and pain, it's a popular terpene for strains like Guava Cake.

Limonene

– A mood-elevating terpene with a sweet, citrusy taste.
We suspect these terpenes are just some of what give Guava Cake the effects, flavor, and aroma that users love. Guava cake has a sweet, tropical flavor with an herbal exhale. 
The aroma, similar to the taste, is herbal and earthy with hints of sweet fruits and a tropical overtone.
Guava Cake is an Indica-dominant hybrid strain made by crossing a Gold Leaf phenotype of Wedding Cake with itself to promote stronger flavors and a more balanced effect.
Wedding Cake was also created using special genetic techniques that give it a distinct taste and a very stable high. The taste is somewhat sour, slightly creamy, and shares the same earthy taste as Guava Cake.
Guava Cake Strain Reviews
Here are opinions that were written by Ask Growers and Allbud users about the Guava Cake strain:
I felt gradual high in the face and head, complete euphoria spread all over my body (I tried it in a glass bong).

This kush is very delicious but once I had a case of paranoia, so don't overdose.

This dope makes you laugh for hours at an end. Everything will be funny. I loved it, I hadn't relaxed this much in a long long time and I can't wait to get my hands on this again.

Very strong Indica that's perfect for evening smoke sessions

The berry gas will hit you instantly. But I'm still up off my ass happy to go. What a phenomenal terpene profile. Small, frosty, green nugs coated with the right amount of orange and purple.
If you've tried Guava Cake strain, please leave a review below:
Guava Cake Strain Information & History
Guava Cake strain is a rare crossbreed of the iconic Gold Leaf strain originally bred by Seed Junky Genetics.
Guava Cake is typically found with THC levels between 28-30%, though some have reported finding Guava Cake with lower levels of THC.
When you first lay eyes on the bud, you'll see: 
A spade-shaped nug

Dark forest green

Thin amber hairs

Purplish-white crystal trichomes; and

The sweet, sticky resin

#1: What Is the THC Content in Guava Cake Strain Cannabis?
The THC content in Guava Cake strain averages from 28-30% (though, this can vary). If you're looking for a strain with less THC, try one of these:
Easy Bud

Speedy Chile

Remedy

Royal CBG Automatic

Harlequin

Catatonic; or

Any strains listed in the question below
Or if you're looking for other strains that are high in THC content, you can also try these:
Lemon Cake

The Toad

Godfather OG

Amnesia Haze

Candyland

WiFi OG

Maui Wowie

And more

#2: What Is the CBD Content in Guava Cake Strain Cannabis?
Guava Cake strain weed contains less than 1% CBD. 
Are you looking for a weed strain higher in CBD? Try one of these strains:
Harlequin

ACDC

Sweet and Sour Widow

Ringo's Gift

Cherry Wine

Stephen Hawking Kush

Canna-Tsu

Sour Space Candy; or

Harle-Tsu

#3: Is the Guava Cake Strain Indica or Sativa?
Guava Cake strain is an Indica-dominant hybrid consisting of 70% Indica and 30% Sativa. The strain gives users a mix of the euphoric and sedative effects of Indica and the creative mind-high of Sativa.

#4: Does Guava Cake Strain Have Any Hybrids or Crossbreeds?
Guava Cake is a strain that we're still getting to know. At this time, it's uncertain if there are any crossbreeds that combine Guava Cake with any other popular strains.
However, we do know that Guava Cake feminized seeds are available for purchase on the Internet.
Where to Buy Guava Cake Strain Near You
Enter your ZIP code below to find dispensaries that offer the Guava Cake strain near you.
If you can't find the Guava Cake strain near you, give us a call. We've spent years testing, curating, and reviewing popular and lesser-known cannabis products for our customers. We'd love to help you find exactly what you need in a cannabis product.