Italian Ice Weed Strain: Effects, Reviews, & More
Whether you're looking for a new strain to try or you've heard about the effects of Italian Ice and want to do a little more research before you feel the effects for yourself … 
We're happy to tell you that we've got you covered. 
While Italian Ice isn't for everyone, there are many pot users who rave about the high they experience when smoking Italian Ice. 
In this guide, we're going over everything you need to know about the Italian Ice strain, including how and where you can get your hands on some to try it for yourself.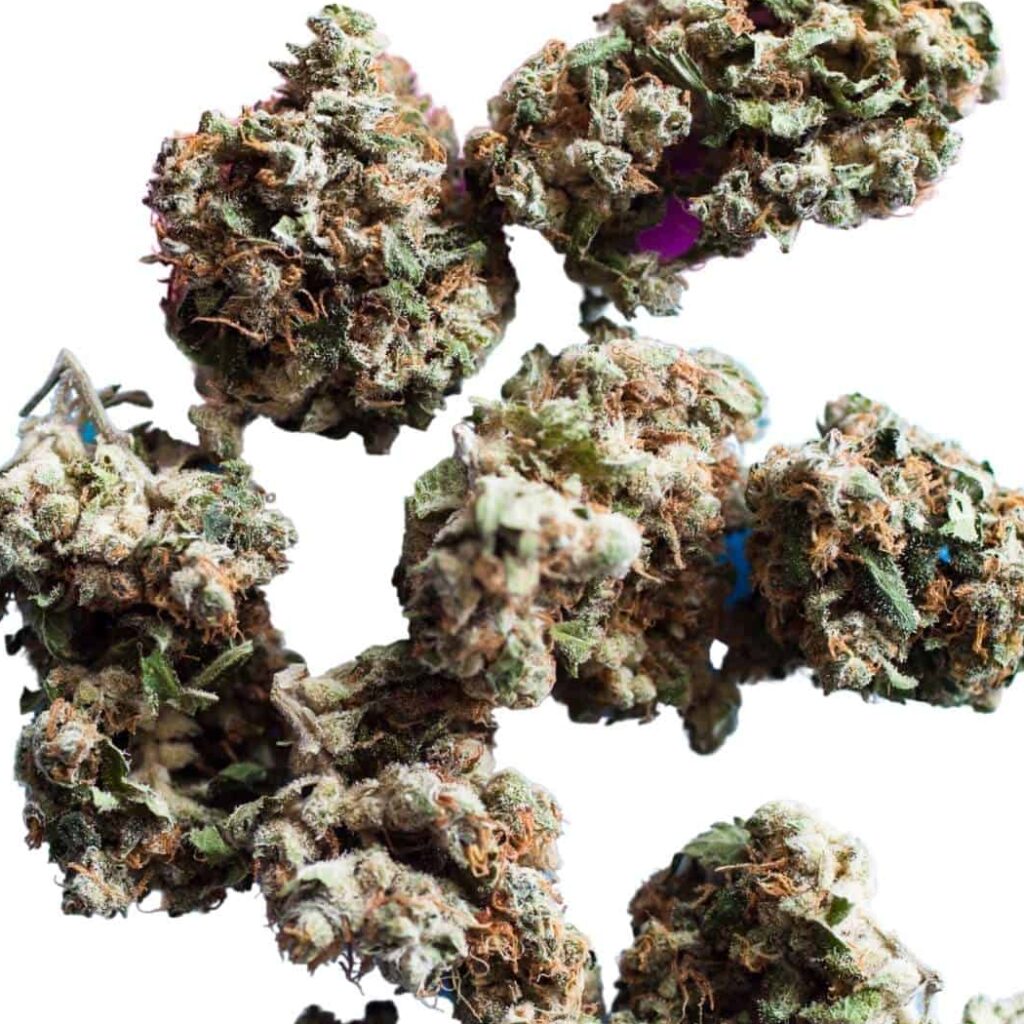 Everything You Need To Know About The Italian Ice Strain
Italian Ice Strain Effects
Some of the most commonly reported effects of Italian Ice include:
Calming 

Euphoric

Creative

Energetic

Uplifted 
We like to describe the Italian Ice strain's effects like this:
The high you get from Italian Ice is marvelously enjoyable yet relaxing, with an added touch of uplifting effects that many people describe as being able to dive into their creativity and happiness. 
Italian Ice is well-rounded, making it ideal for someone looking to chill on the couch, or share with friends for a good night hanging out together — but keep the eye drops handy, as dry eyes and dry mouth are among the negative side effects reported. 
It's also important to note that some weed users have reported feeling blissfully sleepy after toking Italian Ice.
Things to Do While Enjoying Italian Ice Strain
If you're looking for a strain that will help keep you zoned in and focused, Italian Ice is the right strain for you. 
The blend of Forbidden Fruit and Gelato 45 will have you flying high in no time — making it the perfect strain for those who want to get things done. 
But try not to do anything too drastic while enjoying Italian Ice. It's the ideal choice for someone who loves to draw, paint, or work on a craft. 
Looking for a way to toke with friends without feeling stuck on the couch? Getting together and enjoying some Italian Ice might be just what you're looking for. 
When under the influence of marijuana, no matter how "in the zone" you may feel,  driving or operating heavy machinery is not recommended.
Italian Ice Strain Terpenes
Italian Ice has a high terpene profile. It's evoking mid-notes of blueberry and musky, citrus flavors shine through from the moment you inhale — until your final exhale.
The lineage of Italian Ice is a cross between Forbidden Fruit and Gelato 45 — strains that were originally founded by The Cali Connection. 
Forbidden Fruit is an Indica dominant hybrid strain. It's a cross between Tangie and Cherry Pie and is named after its sweet flavor and even sweeter aroma. 

Gelato 45 is a hybrid of Girl Scout Cookies and Sherbert. It's known for having mood-boosting capabilities and the fun that comes with toking Gelato in a social setting.
Italian Ice Strain Reviews
Here are opinions that were written by Reddit and Allbud users about the Italian Ice strain:
"

If your looking for a mellow high then this is the bud for you. I was uber focused and relaxed was able to function never got me "lit'. The bud itself looks beautiful i was impressed but it wasn't the high I was looking for.

"

–

anonymous user
If you've tried Italian Ice strain, please leave a review below:
Italian Ice Strain Information & History
Italian Ice strain was first created by a Los Angeles, California, company known as 5 Points LA and bred by Cali Connection. 
It's an almost perfect balance of GSC and Blue Diesel, both of which are Indica-dominant, making Italian Ice slightly Indica-dominant as well (60/40).  
Italian Ice tests out at THC levels as high as 25%. With such a high THC content, it isn't an ideal blend for those just starting to smoke weed. 
Some defining features of the Italian Ice strain include: 
Dense nuggets

Dark purple mixed with lighter shades of green in color; and

Thin orange pistils sticking out all over

#1: What Is the THC Content in Italian Ice Strain weed?
Italian Ice has a THC content of around 25%. Because of its high THC content, it is a very strong and potent strain. If you're looking for a strain that contains a smaller amount of THC, consider: 
ACDC

Haze Berry Automatic

Remedy

Catatonic

Sour Tsunami; or 

Pennywise
Or if you're looking for more strains that are high in THC content, you can also try these:
ACDC

Gushers

Godfather OG

Cereal Milk

Amnesia Haze; and 

Apple Fritter

#2: What Is the CBD Content in Italian Ice Strain weed?
Italian Ice strain weed contains minimal amounts of CBD — less than two percent.  
If you're looking for a strain that is higher in CBD, consider trying one of these strains: 
Ringo's Gift

Sweet and Sour Widow

Cannatonic

Cherry Wine

Elektra

Charlotte's Web; or

Harle-Tsu

#3: Is the Italian Ice Strain Indica or Sativa?
Italian Ice strain is a hybrid strain that consists of 60% Indica and 40% Sativa. 
It's the perfect mix if you're looking for a toking session that leaves you feeling focused, but relaxed.
Where to Buy Italian Ice Strain Near You
Enter your zip code below to find dispensaries that offer the Italian Ice strain near you.
If you can't find the Italian Ice strain near you, we are here for you. 
We have spent more than a decade curating, reviewing and trying weed products so that our customers have the best experiences, and we'd love to help you find the weed product you're searching for.