Lemon Cake Weed Strain: Effects, Reviews, & More
You've been told about the unique taste and high that comes from the Lemon Cake strain, and now you're curious about the effects, genetics, terpenes, and more.
We've got the information you've been searching for. 
This unique strain is one that many of our readers thoroughly enjoy and we're excited to share more about it with you. 
We'll cover everything you ever wanted to know about the Lemon Cake strain and how you can try it for yourself. Keep reading to learn more.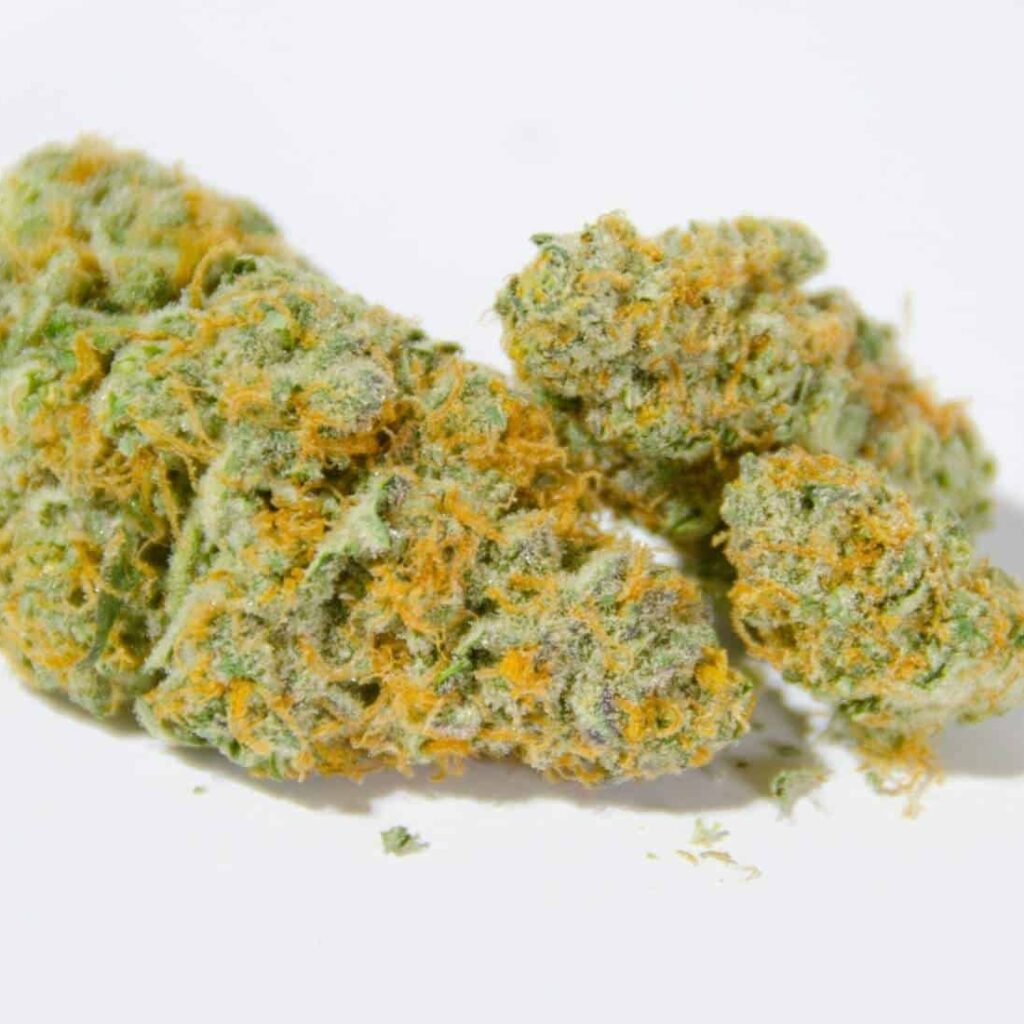 Everything You Need To Know About The Lemon Cake Strain
Lemon Cake Strain Effects
Some of the effects you may feel after toking Lemon Cake include being:
Focused

Relaxed

Calm

Creative

Happy

Head high
Users often describe Lemon Cake strain effects as:
A high that hits you quickly, with a surge of energy, but also a prickling sensation near your eyes. Lemon cake provides a buzzy sensation that may leave you feeling the jitters in your arms and legs. 
Mentally, users say that they are able to focus on both complicated and mundane activities, as it provides a head high for many. Slowly but surely the physically relaxing effects of Lemon Cake strain will come over you — providing a stress-free and mellow high. If you're using excessive amounts, you may even find yourself dealing with a case of couch-lock. 
We recommend using Lemon Cake when you have time to enjoy the relaxing effects of the strain. 
Lemon Cake is often recommended for those suffering from: 
Chronic stress

Nausea

Loss of appetite

Chronic fatigue

Depression

Headaches; and

Migraines
Things to Do While Enjoying Lemon Cake Strain
Initially, users get a big boost in energy and euphoria shortly after toking the Lemon Cake strain, followed by a body high that leaves some users in a state of couch-lock. 
While the effects from the Sativa may have you wanting to take on new creative projects, try not to take on anything too strenuous. The calming effects from the Indica will likely leave you too relaxed to finish anything that adventurous. 
Consider a paint night or a movie night while toking Lemon Cake with friends. 
When under the influence of marijuana, including the Lemon Cake strain, it's not recommended that you drive or operate heavy machinery.
Lemon Cake Strain Terpenes
Terpenes are what drive experience and richness in flavor, and next to the strain, terpenes are the determining factor in the type of high you can expect from cannabis.
The dominant terpenes in Lemon Cake are:
Myrcene 

Limonene

Caryophyllene 
These terpenes give Lemon Cake the flavor and aroma that it's known for. Although lots of users smell an initial overwhelming aroma of the potency of cheese, many also notice the sweet lemon aromas of the strain.
Created by Heavyweight Seeds, Lemon Cake is a cross between Lemon Skunk and Cheese.  
Lemon Skunk produces a mellow high and has a skunky, pungent aroma with zesty lemon undertones. 

Cheese, on the other hand, has a very uniquely sharp and sour aroma. 
Lemon Cake has bright citrus, earthy flavors with moderate levels of THC.
Lemon Cake Strain Reviews
Here are opinions that were written by Reddit and Allbud users about the Lemon Cake strain:
"Smoke it, enjoy it i love smoking the blunt you know one thing? yup, smoking it is the best thingy cos you feel so relaxed and after going through a bad day at work, just seat at your corner enjoying the cool evening breeze just puff out this skunk. god you will just feel so relaxed your nerve will be calm you will feel euphoric like an hero i cherish it" – Ask grower's user

"Lemon Cake strain. Sativa hybrid. Extremely pungent. Tastes like super lemon haze. Extremely happy, euphoric & creative on this one. Talk about uplifting! Def a keeper." –

Reddit
If you've tried Lemon Cake strain, please leave a review below:
Lemon Cake Strain Information & History
Breeder Heavyweight Seeds first created Lemon Cake strain. It is a Sativa dominant breed. 
Lemon Cake tests out at THC levels as high as 23% and as low as 19%, with buds shaped like typical Sativa buds, with a thick coating of trichomes.

#1: What Is the THC Content in Lemon Cake Strain Cannabis?
Lemon Cake strain contains between 19-23%. If you're looking for more strains with less THC, try one of these:
Remedy

Easy Bud

Haze Berry Automatic

Harlequin

Catatonic; or

Any strains listed in the following question
Or if you're looking for other strains that are high in THC content, you can also try these:
Strawberry Banana

Chemdog

WiFi OG

The Toad

Godfather OG

Amnesia Haze

GG4

And more

#2: What Is the CBD Content in Lemon Cake Strain Cannabis?
Lemon Cake strain weed contains as little as 1% CBD. 
Are you looking for a weed strain high in CBD? Instead of trying Lemon Cake, one of these strains may be a better fit: 
Charlotte's Web

Sour Tsunami

Lifter

Ringo's Gift

ACDC

Cherry Wine

Elektra

Sour Space Candy; or

Harle-Tsu

#3: Is the Lemon Cake Strain Indica or Sativa?
Lemon Cake Strain is a hybrid consisting of 70% Sativa and 30% Indica. This strain provides users with a wonderful mix of creative and focused effects thanks to the Sativa — and calming, relaxing effects caused by the Indica.
Where to Buy Lemon Cake Strain Near You
Enter your zip code below to find dispensaries that offer the Lemon Cake strain near you.
If you can't find the Lemon Cake strain near you, then reach out to us. We've spent more than a decade trying, curating, and reviewing cannabis products for our customers and we'd love to help you find exactly what you're looking for in a cannabis product.