Monster Cookies Weed Strain: Effects, Reviews, & More
You're looking for a weed strain that will deliver the ultimate euphoric experience.
You've come to the right source.
Buckle in and get ready to learn everything there is to know about the Monster Cookies strain in this guide.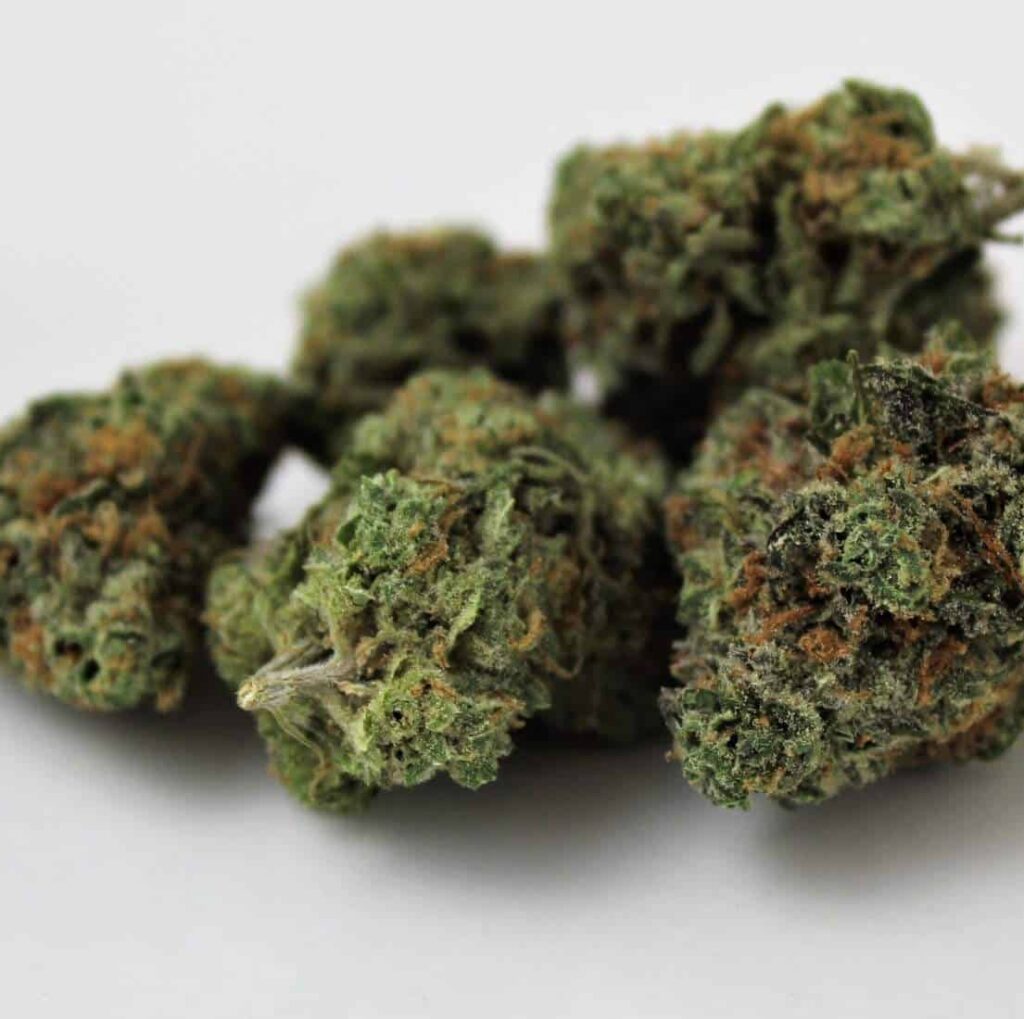 Everything You Need To Know About The Monster Cookies Strain
Monster Cookies Strain Effects
As an Indica-dominant hybrid (80% Indica, 20% Sativa), Monster Cookies is known to produce effects like:
Relaxation

Euphoria 

Happiness

Calmness

Uplifting sensations
The Monster Cookies strain creates a slow-building high that leaves your body feeling warm and relaxed. What's special about this strain is that as the high subtly builds, you transcend into a relaxing, spaced-out high without the feeling of being heavily sedated.
Due to its powerful effects, the Monster Cookie strain is popular among users experiencing:
Insomnia

Chronic pain

Stress

Anxiety; and

Mild to moderate depression
Things to Do While Enjoying Monster Cookies Strain
Due to its moderately high level of about 21% THC, don't expect to be running errands or doing much of anything while enjoying the effects of this strain.
With a spacey, euphoric high that will relax your body but not fully put you to sleep, many users like to find a comfy seat on the couch and chill. The uplifting effects of this strain can make you feel more social and chatty, making it a great experience to share with a friend.
Note: We do not recommend driving or operating heavy machinery while under the influence of the Monster Cookies strain or any other cannabis products.
Monster Cookies Strain Terpenes
The terpenes found in the Monster Cookies strain are responsible for this bud's unique flavor and aroma.
The main terpenes found in Monster Cookies include:
Caryophyllene, which is a primary terpene for most strains belonging to the

Cookies Family

and produces the spicy scent in this strain

Humulene, which can produce a "hoppy" taste

Limonene, which helps produce the sweet taste found in this strain
If you have a sweet tooth, the Monster Cookies strain may be the perfect bud for you. 
Its spicy, fruity scent almost has an incense-like fragrance while the Monster Cookies strain bud has a fruity, sweet taste with vanilla undertones. The Monster Cookies strain also produces a smooth-tasting smoke, making it perfect for beginner cannabis users.
The Monster Cookies strain is the love child of cross-breeding the Girl Scout Cookies strain and the Grand Purple Daddy strain.
This hybrid breed is Indica-forward, with an 80% Indica and 20% Sativa split.
Monster Cookies Strain Reviews
Are you looking for opinions from other cannabis users? Check out these Monster Cookie strain Allbud reviews:
"Um…yah dude. This strain is 🔥 put a gram in my grinder and smoked half in about 5 seconds. As another reviewer said, yes for sure these buds are super dense. A grinder was the only way for me to smoke this flower. The effects were almost instantaneous as far as the Sativa aspect. I quickly put down my piece and immediately started cleaning the house about 10 minutes ago. About a minute after smoking, the full-on head rush and body high hit HARD. immediately sat down to collect my thoughts to write this and I haven't moved since lol. It's not a lazy or sedating Indica couch lock. Sitting and relaxing just feels incredible. I feel like getting up again though for water. This strain is incredibly focused and vivid. Colors seem brighter and my son is making me laugh. This strain is amazing 10/10 fo sho."

"Love this strain. Incredibly dense buds that smell & taste delicious when you vape them. The high is cloudy and comfortable and great for chilling with friends or video games or a book."

"One of the better ones for pain I have in both hands and hip. I can lay on the bad hip side if I smoke before bed. Helps me sleep as well."
If you've tried the Monster Cookies strain, tell us about your experience below.
Monster Cookies Strain Info & History
Created by Cookies Enterprises, the Monster Cookies strain has a unique appearance, boasting features like:
An insanely large bud

Dense, oversized popcorn-shaped nugs that are lime green in color with a thick layer of orange and amber hairs

A frosty, white layer of trichomes; and

A sweet, sticky resin oozing out of the bud

#1: What Is the THC Content in Monster Cookies Strain Cannabis?
As an Indica-dominant strain, the Monster Cookies strain has an average level of about 21% THC.
Looking for more strains that are high in THC? Consider some of these popular weed strains:
Motorbreath

Chemdog

Girl Scout Cookies

Original Glue

Death Star

White Fire OG

Kosher Kush

And more

#2: What Is the CBD Content in Monster Cookies Strain Cannabis?
The Monster Cookies strain only has trace amounts of CBD. 
If you're looking for strains with a higher CBD level, check out:
Cherry Wine

Charlotte's Web

ACDC

Elektra

Sour Tsunami 

Harle-Tsu

Suzy Q

And more

#3: Is the Monster Cookies Strain Indica or Sativa?
The Monster Cookies strain is a hybrid strain consisting of 80% Indica and 20% Sativa. The dominance of the Indica is what creates the relaxing, euphoric experience of this strain.

#4: Does Monster Cookies Strain Have Any Hybrids or Crossbreeds?
The Monster Cookies Strain is partly responsible for producing the following crossbreeds:
Hulkamania

Double Tap
Where to Buy Monster Cookies Strain Near You
Are you ready to pull the trigger and try out the Monster Cookies strain for yourself? Enter your ZIP code below to browse dispensaries carrying the Cookie Monster Strain near you.
Can't find a dispensary near you that has the Monster Cookies strain in stock? Contact us for help.
As cannabis savants, we have tested hundreds of cannabis products for well over a decade to help keep our customers informed about the best products available.