Motorbreath Weed Strain: Effects, Reviews, & More
You're looking for a weed strain that is as flavorful as it is potent. 
You've come to the right place.
In this guide, we will discuss everything there is to know about the Motorbreath strain, from effects to genetics to terpenes, and more.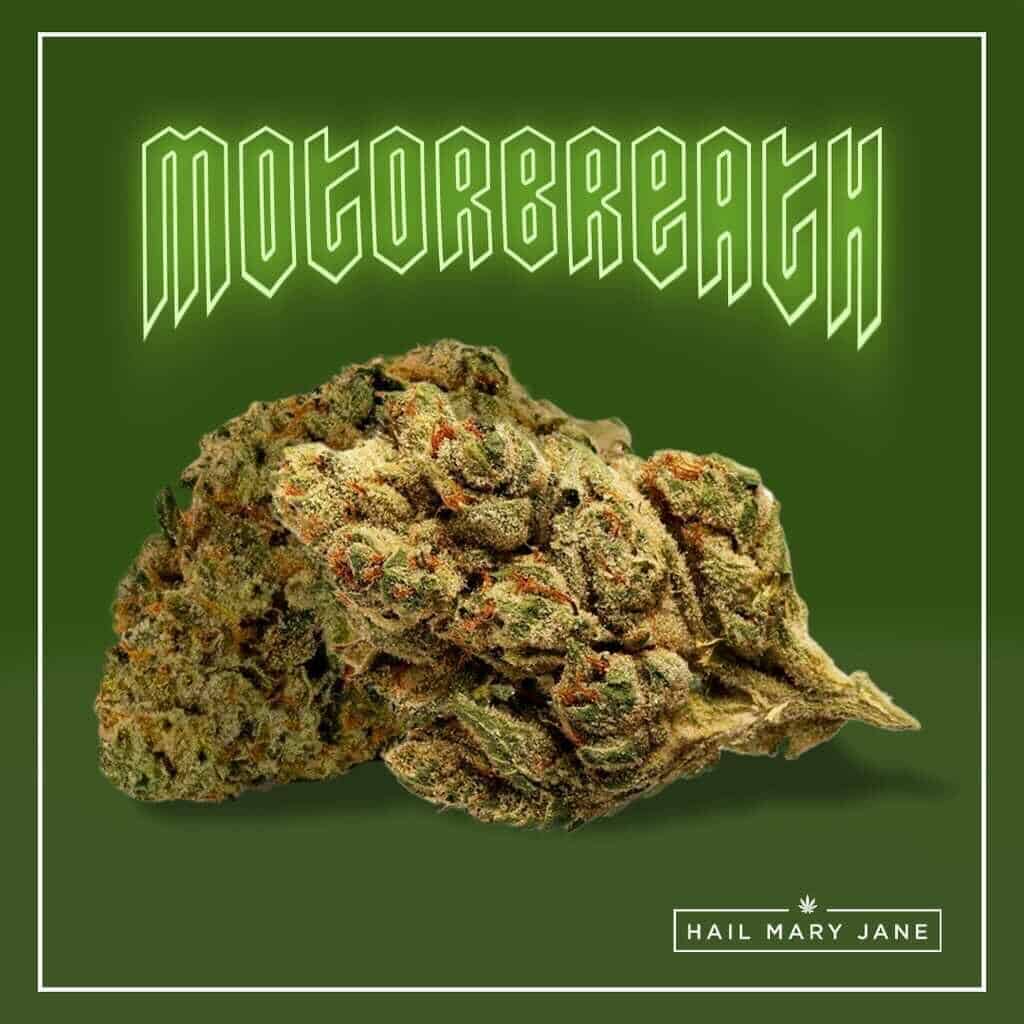 Everything You Need To Know About The Motorbreath Strain
Motorbreath Strain Effects
Also known as the Motorbreath #2 strain, Motorbreath is known to produce the following effects:
Euphoria

Happiness

Relaxation

Calming sensations

Uplifting feelings
In a nutshell, the effects of the Motorbreath strain can be described in this summary: 
The high from Motorbreath first creeps up on you, as a sense of euphoria and relaxation tickle your brain. As you continue toking, a numbing feeling comes over your body as you slump into a sedative state before succumbing to sleep.
You can thank this strain's average THC level of 28% for producing these effects, which make the Motorbreath strain a popular choice for people experiencing:
Insomnia

Depression

Chronic pain;

And nausea or appetite loss.
Things to Do While Enjoying Motorbreath Strain
Due to its potency, most users enjoy the Motorbreath strain before bed, making it the perfect nightcap alternative.
Change into some comfy clothes, grab a blanket, and get ready to sink into the euphoric sense of bliss and peaceful sleep that the Motorbreath strain has to offer.
Note: It is not recommended and strongly ill-advised to drive or operate heavy machinery under the influence of the Motorbreath strain or any type of marijuana product.
Motorbreath Strain Terpenes
The Motorbreath strain's unique flavor and aroma are produced by the terpenes present in this strain.
The dominant terpenes present in the Motorbreath strain include:
Limonene, which produces a citrus undertone and sharp, citrus aroma

Myrcene, which produces this strain's earthy flavor and pungent aroma

Caryophyllene, which produces the pungent diesel aroma in this strain
These terpenes create the ultimate aroma and taste that the Motorbreath strain is iconic for. 
As soon as you open the bag, expect the pungent scent of diesel to fill the room. While the smell leaves little to the imagination, the Motorbreath strain is surprisingly less heavy on the diesel flavor and matches beautifully with sharp citrus and earthy flavors.
True to the name, you can expect to experience motor breath after consuming.
The Motorbreath strain is the result of crossing Chem Dawgs and SFV OG Kush strains.
When it comes to the Motorbreath strain, the proof is in the potency. Thanks to this cross-breeding, the Motorbreath strain is 70% Indica.
Motorbreath Strain Reviews
Looking for more reasons to try the Motorbreath strain? Check out the reviews on Allbud.
"A very intelligent intense high for long a day, get you in the mood for the chill around the corner into zone freezes but come out of and but to reality very nice stash smoke because you know what you're going to get from each puff puff (chillaxing)" –

Allbud

"Have had this in flower and cart from the same grower (Klutch) and effects are the same with both. A kushy high, chilled, feel it behind the eyes a little, body became relaxed but my mind was good. There were times I zoned out a little with this one but overall excellent. I will say that the smell is excellent and taste on this one if u like kushy skunky strains. Enjoy" –

Allbud

"My roommate and I tried some of this the other day, and it is fuel! Following a little research, we decided to blend this Motorbreath with what our research revealed to us, is one of Motorbreath's siblings (their joint parent, pun intended, being from the "Chemdawg" family), good ole "Sour Diesel". Today I hit an ALL-TIME-HIGH, pun intended, for my THC percentage; I'd never used a strain with an amazing 25%-28% THC, but I have now! The taste was sweet and smooth and the effects were just the same. It's what I have now come to expect, from anything from the Chemdawg or Sour Diesel family." –

Allbud
Have you tried the Motorbreath strain? Tell us what you thought below.
Motorbreath Strain Info & History
Motorbreath isn't some new, hip strain that has cannabis review sites raving about its revolutionism. This strain has been around so long that its origins are questionable at best.
The most widely accepted origin story is that Pisces Genetics first developed the strain.
This classic bud's appearance is:
Spade-shaped with light green nugs

Thin, long orange hairs

A coating of minuscule frosty, amber crystal trichomes

#1: What Is the THC Content in Motorbreath Strain Cannabis?
Known for its potency, the Motorbreath strain has a staggering average THC level of 28%. If you're interested in different types of strains that also have a high THC, try these strains: If you're looking for more strains that are high in THC, consider trying a few of these strains: 
Chemdog

Kosher Kush

Bruce Banner

Ghost Train Haze

Original Glue

The White

Death Star

And more

#2: What Is the CBD Content in Motorbreath Strain Cannabis?
There is only a small amount of CBD in the Motorbreath strain.
If you are looking for strains that are high in CBD, consider trying:
Remedy

Charlotte's Web

ACDC

Lifter

Suzy Q

Ringo's Gift

Cherry Wine

Elektra

Sour Tsunami

Sour Space Candy; or

Harle-Tsu

#3: Is the Motorbreath Strain Indica or Sativa?
The Motorbreath strain is a hybrid consisting of 70% Indica and 30% Sativa. The heavy presence of Indica is responsible for the front-loaded effects of euphoria and relaxation.

#4: Does Motorbreath Strain Have Any Hybrids or Crossbreeds?
The Motorbreath strain has two crossbreeds: 
Pie of the Tiger

Motor Cake
Where to Buy Motorbreath Strain Near You
Are you ready to load up your bowl with some Motorbreath strain? Enter your ZIP code below to search for dispensaries near you that are stocked with Motorbreath.
If you can't find a dispensary near you that is selling the Motorbreath strain, contact us. 
We are self-proclaimed weed connoisseurs, having tested hundreds of cannabis products for over a decade to make sure our customers know where to get the best. We can help you find exactly what you're looking for.