Peanut Butter Breath Weed Strain: Effects, Reviews, & More
It's the end of a long day. You're stressed and your mind is racing. It's seriously time to turn it off.
Enter Peanut Butter Breath strain. The hybrid with the nutty aftertaste and the ability to lift your worries away.
Want to know more?
We thought so. That's why we gathered all the info, from effects to genetics and all the stuff in between, so you don't have to wonder any longer.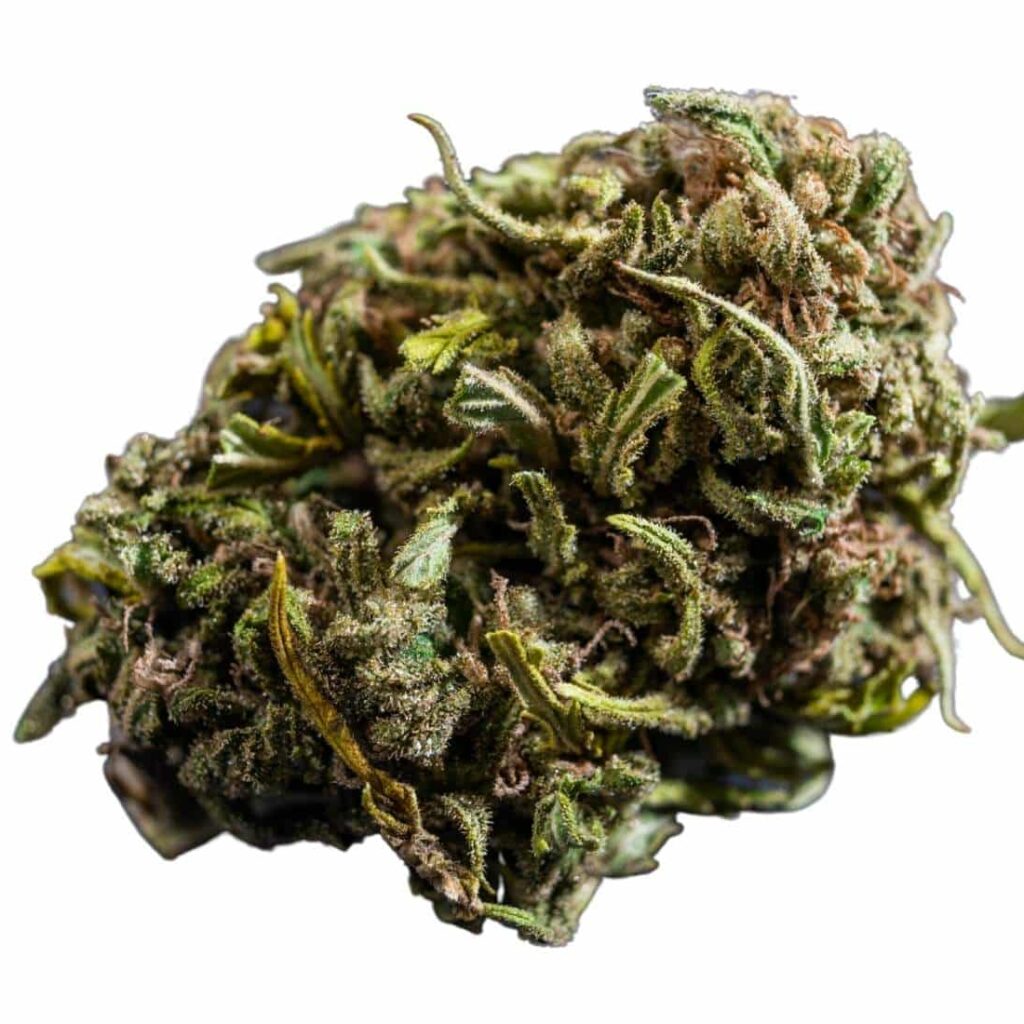 Everything You Need To Know About The Peanut Butter Breath Strain
Peanut Butter Breath Strain Effects
Some of the reported effects of Peanut Butter Breath include:
Calming 

Relaxed

Sleepy 

Aroused

Giggly

Happy

Hungry 
Here's how we like to describe Peanut Butter Breath strain effects:
The Peanut Butter Breath high starts with a cerebral buzz that melts into a full-body tingling sensation. This stress-busting high may start out in the back of your neck and move its way down your body until you're feeling the need to kick back on the couch with friends to share a few laughs.
Peanut Butter Breath strain is perfect for evening use and can be used as medical marijuana to help with:
Loss of appetite

Nausea

Depression

Chronic stress

Chronic pain
Things to Do While Enjoying Peanut Butter Breath Strain
Thanks to the Sativa, you may feel an immediate rush of energy, but don't get too excited — actually, cancel all your plans — because it won't be long before you're totally couch-locked. 
Some prefer to sit back and relax into their buzz, while others prefer to chill with friends. Throw a comedy on Netflix or solve all the world's problems, hey, we all have our thing. But whatever you do, keep those munchies on hand because it's not likely you'll want to get up to scrounge for anything once the high settles in. 
Just remember, we here at Hail Mary Jane don't think it's cool to drive or operate heavy machinery (not that you'll want to) when under the influence of Peanut Butter Breath strain or any other strain.
Peanut Butter Breath Strain Terpenes
Terpenes are what give cannabis the variety of flavors and aromas you've experienced and they also add to the high. They're pretty awesome!
Here's what you can expect from the terpenes in Peanut Butter Breath strain: 
Flavor

– true to its name, you can expect a nutty aftertaste with an herbal and earthy overtone.

Aroma

– similar to the taste, the aroma is piney, skunky, and leaves a hint of nuttiness in the air.
The dominant terpene in Peanut Butter Breath strain is Limonene. 
Peanut Butter Breath Genetics
Straight from ThugPug Genetics, Peanut Butter Breath is a cross between Do-Si-Dos and Mendo Breath. Not to be confused with Peanut Butter Cup, an identical cross, but bred by Clout King.
Do-Si-Dos – an Indica-dominant strain known for its medical-grade body effects and sedative qualities.

Mendo Breath – an Indica with a euphoric high that's best smoked before bed.
Peanut Butter Breath Strain Reviews
We sourced the internet for reviews on Peanut Butter Strain. Here's what some users are saying:
I'm a true stoner & here to tell ya that this strain is amazing. Its got a good "couch-lock" kick to it & the buzz lasts. The buds are tight & break up nicely. I highly recommend this strain. – Allbud 

Brothers, I chiefed down a half a bowl and then it took me 7 attempts to log in to write this including a password reset twice. I'm gonna go finish the bowl as a reward for my efforts. Stay safe. – Leafly

This weed gave me a pleasant punch in the face maybe 3 minutes after taking a bong hit and Gave me that nice 50/50 hybrid high, The hit left me in a daze with a bit of a head high but accompanied by a strong body high. I found the high kept building up for about 45 minutes before it started to die down it was definitely a good buy and I usually only purchase these "premium" or "craft" products once to try but I would definitely get this one again. – Reddit
If you've tried Peanut Butter Breath strain, please leave a review below:
Peanut Butter Breath Strain Appearance
When you first lay eyes on the bud, you'll notice: 
Elongated, segmented bud

Dark, forest green nugs

Blood orange hairs; and

A heavy coating of purple-white, crystal trichomes
Peanut Butter Breath FAQs

#1: What Is the THC Content in Peanut Butter Breath Strain Cannabis?
The THC content in Peanut Butter Breath strain weed hovers around the 28% mark (though this can vary). If you're looking for a strain with less THC, try one of these:
Easy Bud

Red Pop

Harlequin

Blue Dynamite

Star Tonic; or

Any strains listed in the question below
Or if you're looking for other strains that are high in THC content, you can also try these:
Chemdog

Gorilla Glue

Godfather OG

Gold Leaf

Amnesia Haze

GSC Extreme

GG4

And more

#2: What Is the CBD Content in Peanut Butter Breath Strain Cannabis?
Peanut Butter Breath strain weed contains only trace amounts of CBD. 
Are you looking for a weed strain high in CBD? Try one of these strains:
Charlotte's Web

Skywalker OG

Lifter

Ringo's Gift

Sweet and Sour Widow

Elektra

Stephen Hawking Kush

Sour Space Candy; or

Harle-Tsu

#3: Is the Peanut Butter Breath Strain Indica or Sativa?
Peanut Butter Breath strain is a hybrid consisting of 50% Indica and 50% Sativa. The balanced strain gives users a mix of the calming effects of Indica and anxiety-reducing effects of Sativa.

#4: Does Peanut Butter Breath Strain Have Any Hybrids or Crossbreeds?
Peanut Butter Breath strain has helped produce the following crossbreeds:
Butterfingaz 

GooberZ 

Nutta Butta

Ice Age

Stinkphace

TagalongZ

Michigan Princess

Spock's Brain

And more
Where to Buy Peanut Butter Breath Strain Near You
Enter your zip code below to find dispensaries that offer the Peanut Butter Breath strain near you.
Are you hoping to get your hands on Peanut Butter Breath strain? Give us a call! We've spent the better part of our lives curating the best in cannabis products just so we can share them with you. Let us know what you're searching for and we would love to help.