Pineapple Express Weed Strain: Effects, Reviews, & More
If you've seen the movie Pineapple Express, you may think you have an idea of the type of experience Pineapple Express strain has to offer. 
Spoiler alert: You're wrong.
In fact, this strain was cultivated after the movie was released. While the identical name popularized the Pineapple Express strain, it has also created a lot of misconceptions about this unique strain.
In this guide, we will give you the inside scoop on exactly what you can expect when it comes to this strain's flavor, genetic makeup, and effects.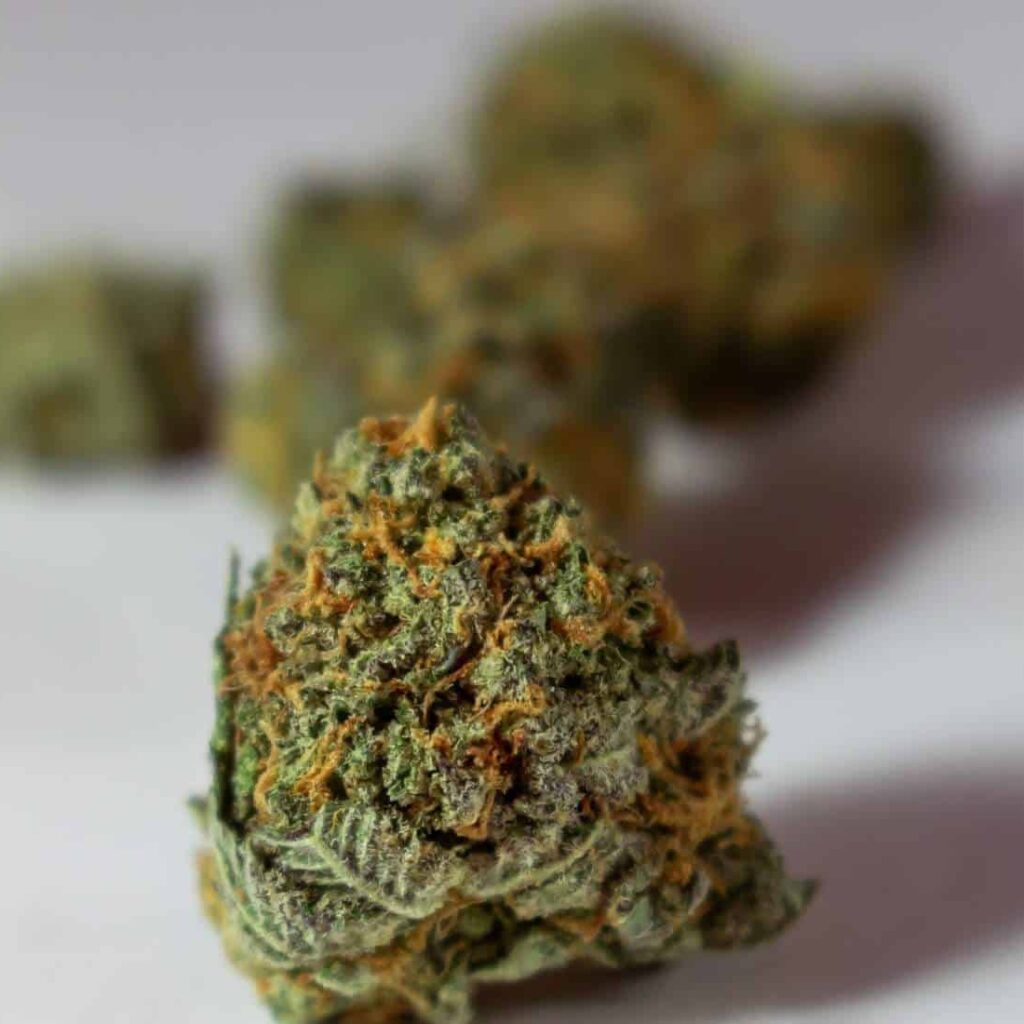 Everything You Need To Know About The Pineapple Express Strain
Pineapple Express Strain Effects
The effects of the Pineapple Express weed strain are much less intense than the movie doppelgänger bud. 
Users report the following effects when enjoying this strain: 
Happiness

Bursts of energy

Uplifting feelings

A mild, body-numbing buzz
The Pineapple Express strain has the unique ability to make you feel calm and energized at the same time.
Things to Do While Enjoying Pineapple Express Strain
Because this strain heightens your senses while boosting your mental focus and creativity, a lot of weed users like to experiment with art while enjoying this strain. 
Some users prefer to utilize the energy boost to spend more time in nature and enjoy taking hikes and nature walks while experiencing the Pineapple Express strain. 
Note: Hail Mary Jane does not recommend or condone driving or operating heavy machinery under the influence of the Pineapple Express strain or any other weed product.
Pineapple Express Strain Terpenes
The terpene profile of the Pineapple Express weed strain is diverse. The wide variety of terpenes contributes to this strain's signature taste and aroma. 
The most dominant terpenes in this strain include: 
Limonene

Beta-caryophyllene

Linalool

Myrcene

Beta-pinene

Alpha-pinene
Based on the name, inexperienced users may expect this strain to taste sweet. However, its aroma is deceptively funky with citrus overtones. The taste of this strain is extraordinarily unique, with a citrusy exhale that leaves just a hint of pineapple taste lingering in your mouth.
Pineapple Express Genetics
The Pineapple Express weed strain was originated by G13 labs and cultivated by crossbreeding the following strains:
Pineapple Express Strain Reviews
If you base your expectations for this strain on the Pineapple Express movie, you will be disappointed. Instead, check out these realistic and legit reviews from Allbud and Leafly users:
"After 30 years of not smoking weed, I stopped by a dispensary in Colorado to pick out weed for my first high in ages. The helpful budtender pointed me to Pineapple Express, which he said would be a great return to weed. Boy, was he right! Being a hybrid, it was a perfect sativa/indica blend of mellow and alertness. It had an awesome taste and smoked from my new pipe so smoothly! After taking it slow with a few deep tokes, I instantly got that familiar sweet high I last experienced 30 years ago! A pleasant laid back chill with absolutely no paranoia. A fantastic choice I won't forget, and I am so glad this strain was my reintroduction to getting high again! Can't wait for my next high with this." – Leafly User

"

Stinks of delicious pineapples! Decent flavor. It leaves you feeling energetic, yet calm. There is a happy, euphoric clear-headed high. Quite strange. It's peaceful energy. Leaves your body feeling warm and fuzzy. There is a cerebral head high. INCREASES your appetite for sure! Make sure you get some good snacks or drinks. This strain could be used for studying as you're still focused after smoking this weed."

– Allbud User

"Pineapple Express: took a while to get this strain so the anticipation was intense, nonetheless, nice strain. Didn't blow me away, however, I did feel both awake but EXTREMELY relaxed. Functional, but slow. Feels almost indica till you get up and stretch; and what's wrong with a nice stretch? Little munchies, nice mood booster, giggly, & pretty level-headed. The only big downside I saw was my eyes drooped (I literally laughed at that word for 20 seconds) & made me appear higher than I actually was. But, hey, I'm that kind of stoner that likes to go around pretending I'm not half baked."

– Leafly User
If you've tried the Pineapple Express strain, we would love to hear your thoughts below!
Pineapple Express Strain Appearance
The Pineapple Express bud has a striking appearance, boasting features like:
Dark green, dense, curly buds

Popcorn-like nugs; and

Fiery-orange amber hairs

#1: What Is the THC Content in Pineapple Express Strain Cannabis?
The average THC content of the Pineapple Express strain is 20-25%.
If you are interested in more strains with similar THC content, check out the following strains:
Twisted Citrus

White Buffalo

Mimosa

Strawberry Lemonade

Sour Diesel

#2: What Is the CBD Content in Pineapple Express Strain Cannabis?
The Pineapple express weed strain has a CBD concentration of 0%.
If you're interested in weed strains with high CBD content, check out these strains instead: 
Sweet and Sour Widow

ACDC

Cherry Wine

Ringo's Gift

Lifter

#3: Is the Pineapple Express Strain Indica or Sativa?
The Pineapple Express strain is a sativa-dominant hybrid strain, consisting of 60% sativa and 40% indica.

#4: Does Pineapple Express Strain Have Any Hybrids or Crossbreeds?
The Pineapple Express strain currently has 27 descendants. The ten most-popular descendant strains include:
Pineapple Kush:

Pineapple Express x Hindu Kush

Prism:

Pineapple Express x Huckleberry Soda

Purple Pineapple Express:

Pineapple Express x Huckleberry Hound

Sour Pineapple:

Pineapple Express x Pink Dream

Rose Gold:

Pineapple Express x MoonBow

Pineapple Express:

Pineapple Express (selfed)

Puddy:

Purple Mayhem x Pineapple Express x Downriver #12

Freedom Express:

Pineapple Express x Purple Jar

MM7:

Pineapple Express x C4 IBL

Tsunami Express:

Pineapple Express x Sour Tsunami
Where to Buy Pineapple Express Strain Near You
If you're ready to experience the Pineapple Express strain for yourself, enter your ZIP code below to find dispensaries near you with this iconic strain in stock.
Having trouble finding this strain near you? Reach out to us! As weed experts that have spent over ten years curating, trying, and reviewing weed products, we can help point you in the right direction.