Pink Cookies Weed Strain: Effects, Reviews, & More
Pink Cookies weed strain has been described to you as a delectable treat with a sweet taste and that has intrigued you to give it a try. But before you jump in on tasting Pink Cookies, you want to know more about how it might affect you plus anything else there is to learn.
We can help!
The hybrid strain commonly referred to as Wedding Cake, is not only sweet but earthy and tangy, too. 
There's plenty more to know about Pink Cookies — we cover it all for you so you're fully equipped with what to expect before giving it a try.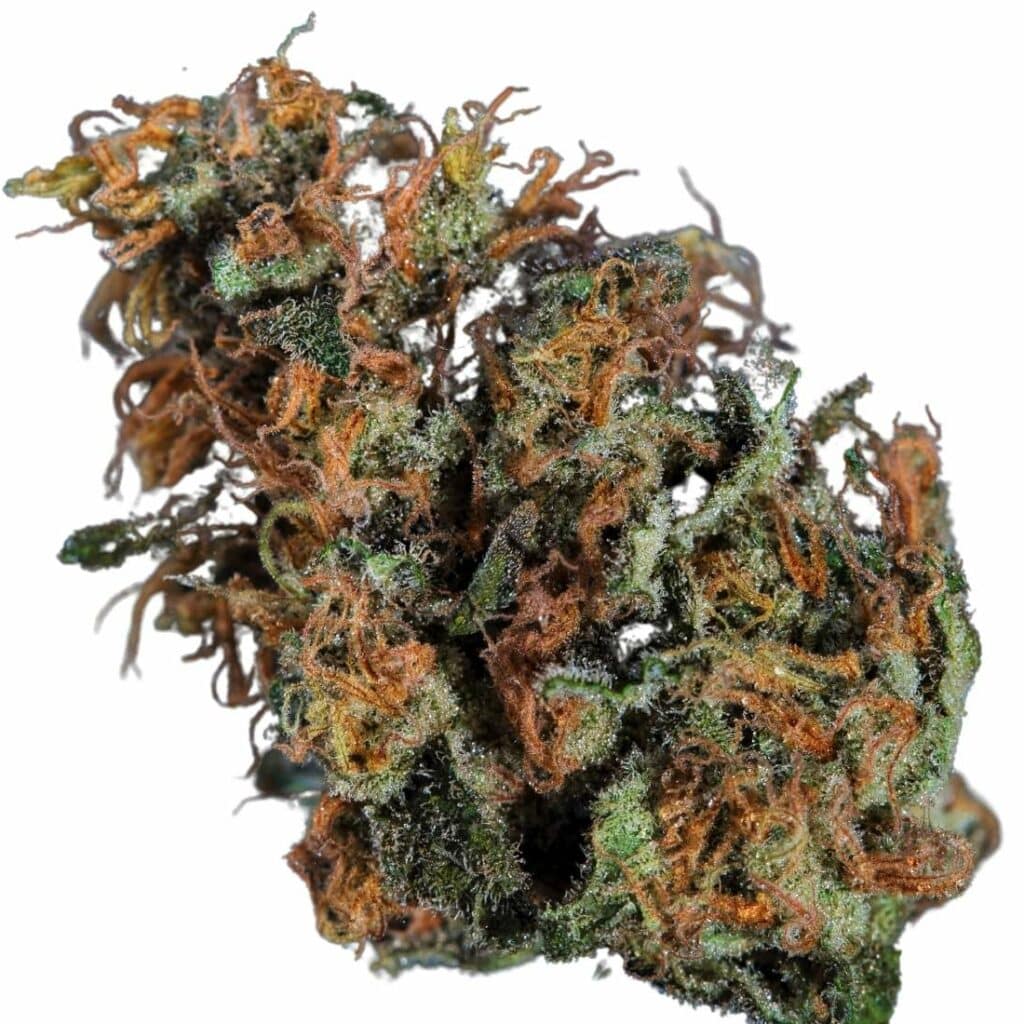 Everything You Need To Know About The Pink Cookies Strain
Pink Cookies Strain Effects
Pink Cookies strain is known to have side effects such as: 
Relaxed

Happy

Uplifted

Euphoric

Tingly
In addition to these side effects, users of Pink Cookies should always be aware of typical cannabis effects, including:
The potent strain has a high THC level and leaves you feeling …
Energetic

Happy; and

Social
… so consuming before a party might be beneficial.
However, after a few hours, Pink Cookies strain leaves you wanting to quickly get to bed.
Things to Do While Enjoying Pink Cookies Strain
Before the sleepiness sets in, Pink Cookies will have you feeling:
Creative

Energetic

Uplifted

Happy; and

Social
You might choose to enjoy Pink Cookies before:
Heading to a social event or party

Facing an uncomfortable situation; or

Needing creative inspiration
But remember, after a few hours of enjoying the hybrid Pink Cookies strain you'll begin to feel tired, so don't be too far from a couch or a bed (or the floor if that's okay with you, too!).
And most importantly, remember that it is never recommended to operate heavy machinery or drive while under the influence of marijuana, including Pink Cookies and other strains.
Pink Cookies Strain Terpenes
Pink Cookies has three main terpenes:
Limonene (3.10mg/g) – a strong citrus and bitter taste

Myrcene (2.92mg/g) – an herbal and fruity taste

Caryophyllene (11.6mg/g) – a rich spicy odor and peppery, spicy taste
What are terpenes? They are the dominating factor in the taste and experience you receive from a specific weed strain.
Pink Cookies also has traces of:
Linalool

Beta-Pinene

Alpha-Humulene

Alpha-Pinene

Alpha-Bisabolol
Together, these terpenes give Pink Cookies the sweet, spicy, hoppy taste.
Sometimes called Wedding Cake, Pink Cookies is an indica-dominant weed strain that can be hard to come by for growers.
No wonder Pink Cookies has such a delectable taste — it's a cross between two tasty, aromatic strains, Cherry Pie and Girl Scout Cookies.
Cherry Pie strain is known for its blueberry and cherry aromatics and flavors. It has a higher THC level (24%) and has relaxing benefits.

Girl Scout Cookies strain lends to the social feeling you experience when consuming Pink Cookies weed strain. Girl Scout Cookies has a THC level of 28% and tastes of both lemon and cherry.
Pink Cookies Strain Reviews
Some users have left the following opinions about the Pink Cookies (Wedding Cake) weed strain:
This marijuana allows me to fall into a peaceful slumber… –

AskGrowers

This strain is ideal for those who know their way with weed. I am an experienced smoker and hence can bear its effects. It gave me a deep relaxation and I also felt much more spiritually awake. –

AskGrowers

This indica dominant hybrid strain is now in my top 5 strains to smoke… –

Reddit
If you've tried Pink Cookies strain, please feel free to leave a review below:
Pink Cookies Strain Information & History
Pink Cookies weed strain has become popular thanks to its flavorful and aromatic genetics handed down from both Cherry Pie and Girl Scout Cookies strains. So popular, even growers have a hard time coming by its seeds.
Commonly referred to as Wedding Cake strain, Pink Cookies was created by Seed Junky Genetics.
Despite its tastiness, Pink Cookies is highly potent and has a THC level that ranges between 20-25%.
After consuming Pink Cookies, you might begin to feel creative, chatty, and giggly. As you reach your euphoric threshold, you suddenly feel relaxed throughout your body, lending to sleep.
Pink Cookies is known for helping with medical conditions like:
Arthritis

Chronic pain

Depression

Insomnia

Loss of appetite

Inflammation

Menstrual cramps

Nausea; and

Stress
At first glance, Pink Cookies strain appears colorful, sporting dark and light green tones and covered with orange hairs. Sometimes, hints of purple can be seen.
You might also notice:
Dense, teardrop-shaped buds

Shades of pink and red

A dusting of

trichomes

#1: What Is the THC Content in Pink Cookies Strain Cannabis?
The THC content in Pink Cookies weed strain tops out at 25% — a high THC level. However, the THC level varies and can sometimes be as low as 20%.
If you can't get your hands on Pink Cookies and want to try a strain similar in THC level, you could try:
OG Kush 

Girl Scout Cookies

Sensi Star

Sour Diesel

And

others

#2: What Is the CBD Content in Pink Cookies Strain Cannabis
An extremely minimal amount of CBD is present in Pink Cookies strain cannabis — 1% or less.
If you're looking for a weed strain higher in CBD, we suggest you try one of these:
Cherry Wine

Charlotte's Web

Sour Space Candy

ACDC; or

Sour Tsunami

#3: Is the Pink Cookies Strain Indica or Sativa?
When it comes to species, Pink Cookies strain is an almost perfect hybrid of 40% sativa and 60% indica.
Because of this, Pink Cookies offers users both the creative and anxiety-reducing effects of sativa along with the relaxing and calming effects of indica.

#4: Does Pink Cookies Strain Have Any Hybrids or Crossbreeds?
We know Pink Cookies is a hybrid of two flavorful weed strains, Cherry Pie and Girl Scout Cookies.
Found under the name Wedding Cake, Pink Cookies has the following crossbreeds:
Banana Runtz Cake – (Runtz x Wedding Cake) x Banana OG

Pre Nup – Wedding Cake x (GG4 x Triangle Mints)

TwinkieZ – Wedding Cake x Oreoz

Hollywood – Wedding Cake x Cherry Cupcake

Matty Cakes – Wedding Cake x Matanuska Thunderfuck

Strawberry Tree – Wedding Cake x (Dosidos x Orange Tree)

Dosi-Cake – Wedding Cake #2 x Peanut Butter Breath

Peanut Butter Cake – Wedding Cake #1 x Peanut Butter Breath
Where to Buy Pink Cookies Strain Near You
Enter your zip code below to find dispensaries that offer the Pink Cookies strain near you.
No luck locating the Pink Cookies strain nearby? Reach out to us at Hail Mary Jane. For more than a decade, we've taken the time to curate, try, and review different cannabis products for our customers. We are happy to help you find exactly what you're looking for.