Pink Starburst Weed Strain: Effects, Reviews, & More
If the pink Starburst candies have always been your favorite, then you'll want to know more about the effects, terpenes, and genetics of the Pink Starburst weed strain.
We're here to tell you that this is one hybrid strain you won't want to miss out on.
We'll cover all the Pink Starburst strain info you'll need and tell you exactly where you need to go to find Pink Starburst strain for sale and try it for yourself.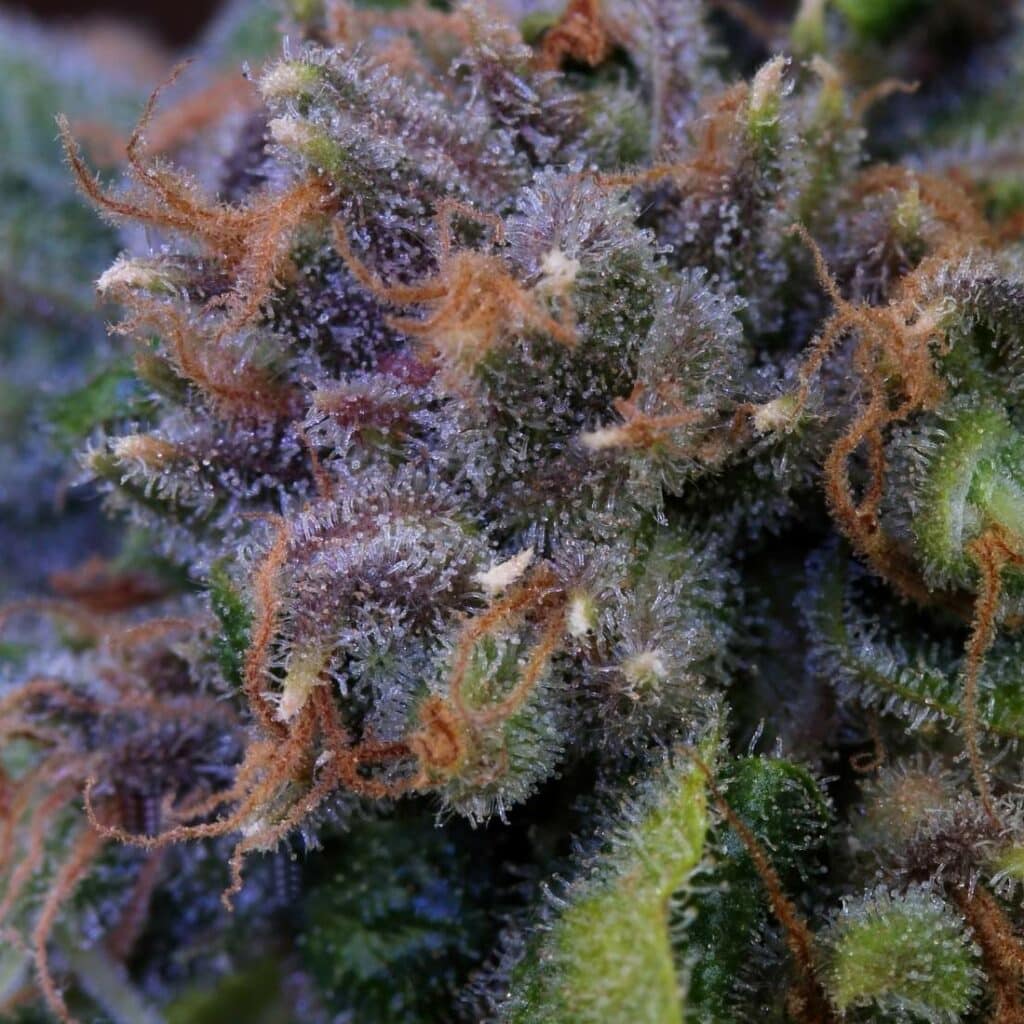 Everything You Need To Know About The Pink Starburst Strain
Pink Starburst Strain Effects
Some of the reported effects of Pink Starburst strain include:
Creative

Euphoric

Focused

Happy 

Hungry

Uplifted

Calm
Here's how we like to describe Pink Starburst strain's effects:
The Pink Starburst high comes on quickly and fills you with the perfect combination of calm and happiness. Its light-hearted and creative effects are long-lasting and will keep you coming back for more.
With a moderately high THC level, the euphoric Pink Starburst strain is great for a wake and bake experience since it is known to provide focus and clarity for everyday tasks.
Things to Do While Enjoying Pink Starburst Strain
Pink Starburst strain is great for when you have a lot to do in a day. It can make mundane tasks seem more fun and can help you find creative solutions to any special job.
This strain gives you a boosted mood and positive energy that lasts all day, so it's great to enjoy when you'll be hanging with friends as well.
When under the influence of marijuana, including the Pink Starburst strain, it's not recommended that you drive or operate heavy machinery. 
Pink Starburst Strain Terpenes
Terpenes are what drive the experience and richness in flavor of any strain. Besides the genetic makeup, terpenes are the next determining factor in the type of high you can expect from cannabis.
The dominant terpenes in Pink Starburst are: 
Myrcene – herbal

Limonene – citrus

Linalool – floral
These terpenes give Pink Starburst the aroma and flavor you know and love. People describe it as flowery, sweet, and a little bit earthy.
Pink Starburst strain tends to have an intense taste, and you'll get notes of sweet, fruity candy followed by an earthy aftertaste with each hit.
Pink Starburst is made from combining the cross of DJ Short Blueberry and Headband strains with AJ Sour Diesel BX3. It was created for its potency, among other things.
DJ Short Blueberry is an Indica-dominant hybrid that gives an extremely happy head-high with an intense rush of energy.

Headband is a smooth and creamy strain that is great for relaxation and dealing with elevated stress and pain.

AJ Sour Diesel BX3 is a rare, Sativa-dominant hybrid that gives you a cerebral, energetic high.
Pink Starburst Strain Reviews
Here are opinions that were written by Reddit users about the Pink Starburst strain:
It's a really good sativa It's for sure a get up and go strain taste fruity and gassy I would definitely buy again 8/10 –

Reddit

Smokes nice … real gassy –

Reddit

Its smells exactly like a pink starburst looool –

Reddit
If you've tried Pink Starburst strain, please leave a review below:
Pink Starburst Strain Information & History
Pink Starburst is a deep cross created for potency — it's a mix of a cross and an additional strain.
It is Sativa-dominant at 70% Sativa/30% Indica. 
Pink Starburst's THC levels are moderately high, with an average of around 20%, though some may run as high as 30%.
When you first see Pink Starburst, you'll notice: 
Fluffy bright green nugs

Pinkish undertones

Bright orange hairs; and

A golden crystal trichome coating

#1: What Is the THC Content in Pink Starburst Strain Cannabis?
The THC content in Pink Starburst strain usually comes in around 18-20%, although it is known to go as high as 30%. If you're looking for a strain with less THC, try one of these:
Easy Bud

Haze Berry Automatic

Harlequin

Remedy

Catatonic; or

Any strains listed in the question below
Or if you're looking for other strains that are high in THC content, you can also try these:
Chemdog

The Toad

Godfather OG

Strawberry Banana

Amnesia Haze

WiFi OG

GG4

#2: What Is the CBD Content in Pink Starburst Strain Cannabis?
Pink Starburst strain weed only has about 1% CBD. 
Are you looking for a weed strain high in CBD? Try one of these:
Charlotte's Web

ACDC

Lifter

Ringo's Gift

Cherry Wine

Elektra

Sour Tsunami

Sour Space Candy; or

Harle-Tsu

#3: Is the Pink Starburst Strain Indica or Sativa?
Pink Starburst strain is a hybrid consisting of 70% Sativa and 30% Indica. While it is somewhat potent, it can be enjoyed by novice and veteran smokers alike.
Where to Buy Pink Starburst Strain Near You
Enter your zip code below to find dispensaries that offer the Pink Starburst strain near you.
If you can't find the Pink Starburst strain near you, then reach out to us. We've spent more than a decade trying, curating, and reviewing cannabis products for our customers — and we'd love to help you find exactly what you're looking for in a cannabis product.