Pinkman Goo Weed Strain: Effects, Reviews, & More
You may be thinking — whoever named this strain was definitely high.
Named after the character Jesse Pinkman from Breaking Bad, this rare strain is one experience you don't want to miss.
In this guide, we will share everything you need to know about the Pinkman Goo strain.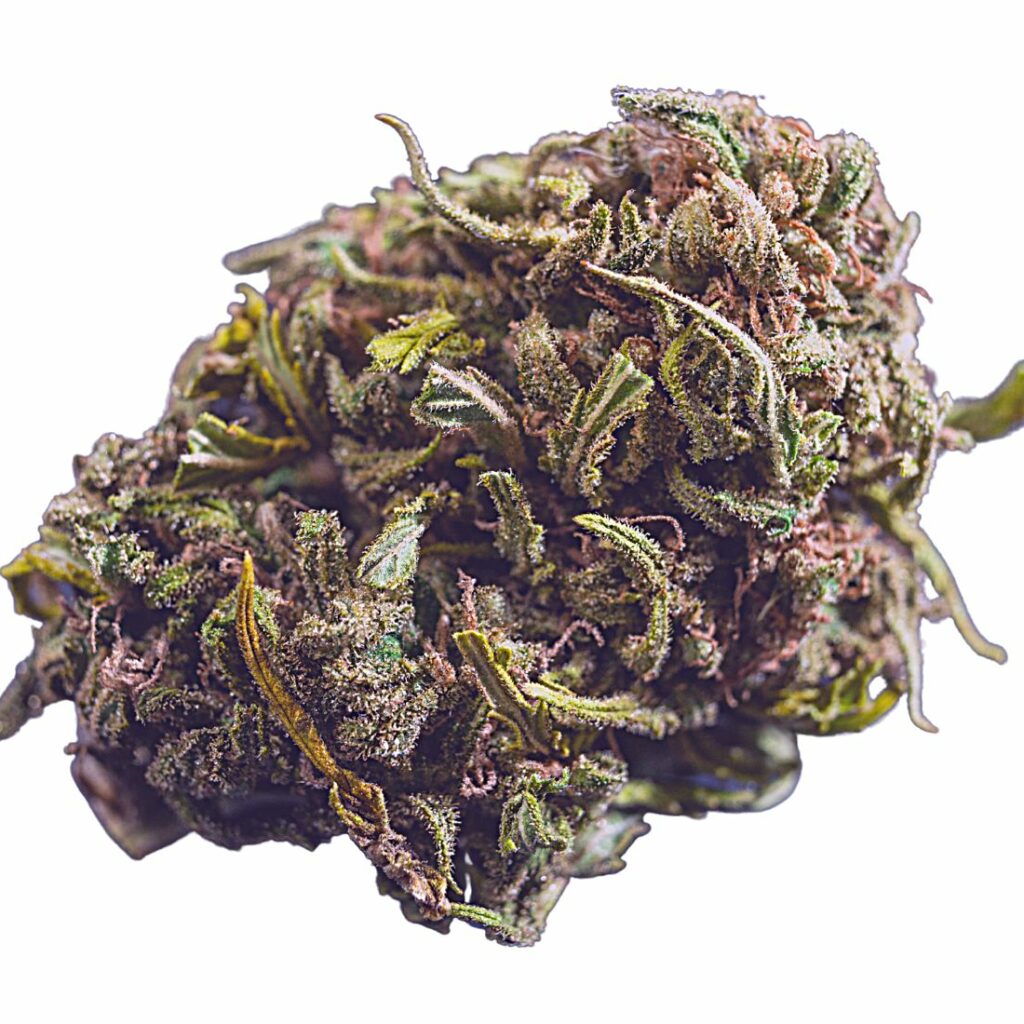 Everything You Need To Know About The Pinkman Goo Strain
Pinkman Goo Strain Effects
Some of the highlight effects that weed users report experiencing with this strain include:
Happy

Euphoric

Relaxed

Focused
Here's a breakdown of what you can expect while enjoying this strain:
After a few puffs, you'll begin to feel a light, lifting sensation paired with a euphoric feeling and touch of cerebral energy. As the high settles in, a calmness washes over the body, leaving you in a relaxed state. There is a light feeling of couch-lock and sedation with this strain.
Things to Do While Enjoying Pinkman Goo Strain
Due to its relaxing effects, this strain is perfect for "chilling in your own private domicile", as Jesse Pinkman himself would say. 
The Pinkman Goo is a great strain to enjoy with company for some laughs and interesting conversations. Due to its cerebral effects, it can also enhance the experience of creating art or enjoying hobbies.
Note: We do not condone the use of the Pinkman Goo strain or any other weed product while driving or operating heavy machinery.
Pinkman Goo Strain Terpenes
The main terpenes in the Pinkman Goo strain create an aroma and flavor that can only be described as … well … delicious.
The Pinkman Goo strain has a classic berry flavor that is sweet and slightly spicy upon exhaling. You'll get notes of grape and floral herbs that keep you coming back puff after puff. The aroma is spicy, herbal, and has this really interesting berry/coffee overtone with a slightly earthy smell.
The main terpenes in this strain are:
The Pinkman Goo strain was created by Twompson Praeter, the founder of a cannabis skincare company called Rx Canna Care.
The Pinkman Goo strain was actually a happy accident. Praeter's sister happened to find the seedstock in an Altoid can behind a stove while helping her brother with a house move.
The genetics of this strain has remained a well-kept secret to this day. There is speculation that the Pinkman Goo strain genetics may be a cross between the following strains:
Grandaddy Purps

Grape Ape

Northern Lights #5
This crossing would explain the strong grape flavor associated with this strain.
Pinkman Goo Strain Reviews
Looking for opinions from other weed users? Here are what some fellow Leafly users have to say about the Pinkman Goo strain:
"Yoooo at first I thought this shit was gonna make me sleep and it got me and all my friends talking so much and we were laughing so hard bro Lmaoo, this is some good weed tbh and the weed was so sticky" – Leafly User
"Hands down the best strain I have ever smoked. The fruity aftertaste is great and very unexpected. very clean high with no negatives. very weird Indica. I was more uplifted and functional than any other indica that I have smoked." – Leafly User
"OMG, I feel like a cloud. This is hands down the best weed I have ever had. Had 2 other friends get this too and all agreed NOT A SINGLE NEGATIVE EFFECT, never have I said that. No dry eyes, dry mouth anxiety, only calm painless bliss. We all want more." -Leafly User
If you've tried the Pinkman Goo strain, tell us about your experience below.
Pinkman Goo Strain Appearance
As the name suggests, Pinkman Goo is a gooey, sticky bud, sporting features like: 
Ultra sticky, grape-shaped nugs

Dark, olive leaves with orange-brown hairs

A coating of frosty, white crystal trichomes

What Is the THC Content in Pinkman Goo Strain Cannabis?
The average THC content for the Pinkman Goo strain is 18%. If you're interested in more strains with a similar THC content, check out the following:
Frisian Dew

Opium

Grape God

Tokyo OG

Chemdawg

#2: What Is the CBD Content in Pinkman Goo Strain Cannabis?
The Pinkman Goo strain has an average CBD content of 1%. 
If you're interested in weed strains with a high CBD content, you may be more interested in one of the following:
Lifter

Cherry Wine

Northern Lights

Papaya Lights

Apple Pie

#3: Is the Pinkman Goo Strain Indica or Sativa?
The Pinkman Goo strain that we know and love today is a hybrid strain consisting of 80% Indica and 20% Sativa.

#4: Does Pinkman Goo Strain Have Any Hybrids or Crossbreeds?
The Pinkman Goo strain does not have any hybrids or crossbreeds. It's also not available as feminized seeds due to its proprietary nature.
Where to Buy Pinkman Goo Strain Near You
Are you looking to get your hands on the Pinkman Goo strain? Enter your ZIP code below to find dispensaries near you with the Pinkman GOo strain in stock.
If you can't find the Pinkman Goo strain in a dispensary near you, don't fret. With over 10 years in the business of trying, reviewing, and curating weed products, we know a thing or two. We can help you find Pinkman Goo weed products or the next best thing available.