Sherblato Weed Strain: Effects, Reviews, & More
You're looking for a strain with a flavor profile and high that packs a punch.
You've heard of the Sherblato strain, but want to learn more about it first so you don't experience buyer's remorse.
In this guide, we will cover everything there is to know about this rare strain, including:
Strain effects

Main terpenes

Genetics

Reviews from consumers

And more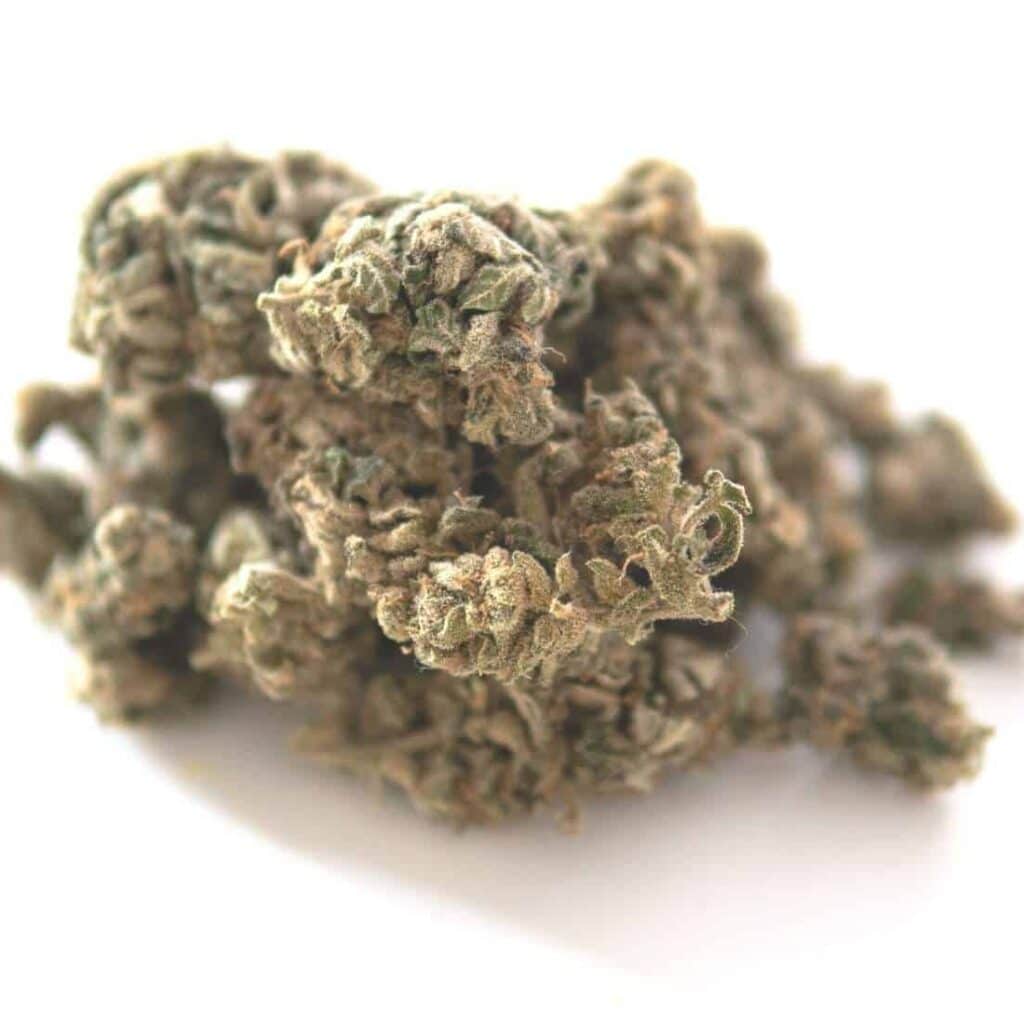 Everything You Need To Know About The Sherblato Strain
If you're looking for a weed strain that will leave you stoned and happy, the Sherblato strain is a great choice.
Sherblato strain effects include: 
A tingling out-of-body experience type of high

Relaxation

Intense mental focus

Increased creativity

A sense of euphoria
The Sherblato strain is popular among users that suffer from:
Chronic migraines or headaches

Stress

Anxiety

Chronic pain
Things to Do While Enjoying Sherblato Strain
By providing a burst of creativity and euphoria, the Sherblato strain is best enjoyed when you are doing activities that you are passionate about.
Many cannabis users enjoy the following activities while consuming the Sherblato strain:
Creating art

Participating in craft hobbies

Reading a book

Chatting with friends

And more
This strain is perfect for enhancing the experience of activities that you enjoy whether you're stoned or not. Consider trying out this strain and seeing where your burst of creativity takes you.
Note: As with any cannabis product, we do not endorse driving or operating heavy machinery while under the influence of the Sherblato strain.
Sherblato Strain Terpenes
The main terpenes in the Sherblato strain are responsible for its iconic flavor and aroma.
The main terpenes found in the Sherblato strain include:
This combination of terpenes produces a flavor profile that is heavy on fruity flavors with a slightly sour and tropical citrus finish.
The aroma of this strain has a similar profile to its taste but carries a pungent, gassy overtone that is slightly nutty.
As the name suggests, the Sherblato strain is the product of crossbreeding the following strains:
The Gelato strain, which is known for its powerful effects and THC potency

The Sherbert strain, which is known for its sugary, fruity flavor
Combined together, the Sherblato strain offers the best of both worlds with a flavor and high that both pack a punch.
Looking for opinions on this strain for fellow cannabis users? Check out these Sherblato strain Leafly and Allbud reviews:
"

It has a very mellow head high. It kind of hits you all at once after toking in it for a bit. But it's a smooth ride through and through. Helps anxiety and tension headaches." – Anonymous Leafly User

"

I smoked this strain before going to a trampoline park and let me just say the high was remarkable. Not only was I delighted with the fruity sensations whilst I smoked, but I was also extremely happy and felt like I was flying when I jumped on the trampolines. On top of that, the smell itself gave me a nosegasm. I would recommend greatly." – Anonymous Allbud user

"I'm an avid smoker. 😊 This strain has the flavor and the kick. Tasty and smooth it creeps up on you in a relaxing way. Not the knock-out kind, this will leave you functional and happy. I "highly" recommend it if you are lucky enough to come across it." – Anonymous Allbud user
Have you tried the Sherblato strain? If so, share your experience below.
Sherblato Strain Information & History
The Sherblato strain is a rare find and is a Sativa-dominant hybrid strain (70% Sativa, 30% Indica).
If you're lucky enough to get your hands on some buds, you'll notice features like:
Small, popcorn shaped nugs with dark, olive-green leaves

Deep, amber hairs; and

A coating of small, white crystal trichomes with a purple tint

#1: What Is the THC Content in Sherblato Strain Cannabis?
The Sherblato strain has a high THC potency, with THC levels averaging from 21% to 23%.
If you're looking for more strains with similar THC levels, check out these strains:
Gushers

Cereal Milk

Animal Mints

OGKB

Pink Rozay
If you're looking for a strain with a slightly higher THC content, you may be interested in the following strains:
Banana Cream OG

Han Solo Burger

Fatso

Bio-Jesus

Cake Mix

Rainbow Chip

GMO Cookies

#2: What Is the CBD Content in Sherblato Strain Cannabis?
The Sherblato weed strain contains less than 1% CBD.
If you're looking for a weed strain that has a heavy emphasis on CBD, you may want to check out:
Ringo's Gift

Cherry Wine

Electra

ACDC

Charlotte's Web

Suzy Q

Critical Mass

#3: Is the Sherblato Strain Indica or Sativa?
The Sherblato strain is a rare Sativa dominant hybrid, consisting of 70% Sativa and 30% Indica.
The effects of this strain are very Sativa-forward, producing mental focus and creative energy. The Indica in this strain helps produce relaxing effects that don't leave you couch-locked.

#4: Does Sherblato Strain Have Any Hybrids or Crossbreeds?
The Sherblato strain is the product of crossbreeding the Sherbert strain and Gelato strain, but has not yet been used to develop more hybrids or crossbreeds.
Where to Buy Sherblato Strain Near You
Convinced that your buyer's remorse risks are low? We make it easy to find and purchase this delectable strain. Simply enter your ZIP code below to find dispensaries carrying the Sherblato strain near you.
Can't find a nearby dispensary with the Sherblato strain in stock? We can help. With over a decade's experience testing and reviewing cannabis products on behalf of our customers, we can help you find exactly what you are looking for, or better.