Smarties Weed Strain: Effects, Reviews, & More
You've heard about the incredible taste, and now you want to know more about the effects, terpenes, and genetics of the Smarties strain.
You're in the right place!
We're here to tell you that this is one hybrid strain you won't want to miss out on.
We'll cover everything you ever wanted to know about Smarties and tell you exactly where you need to go to buy some of this delicious strain and try it for yourself.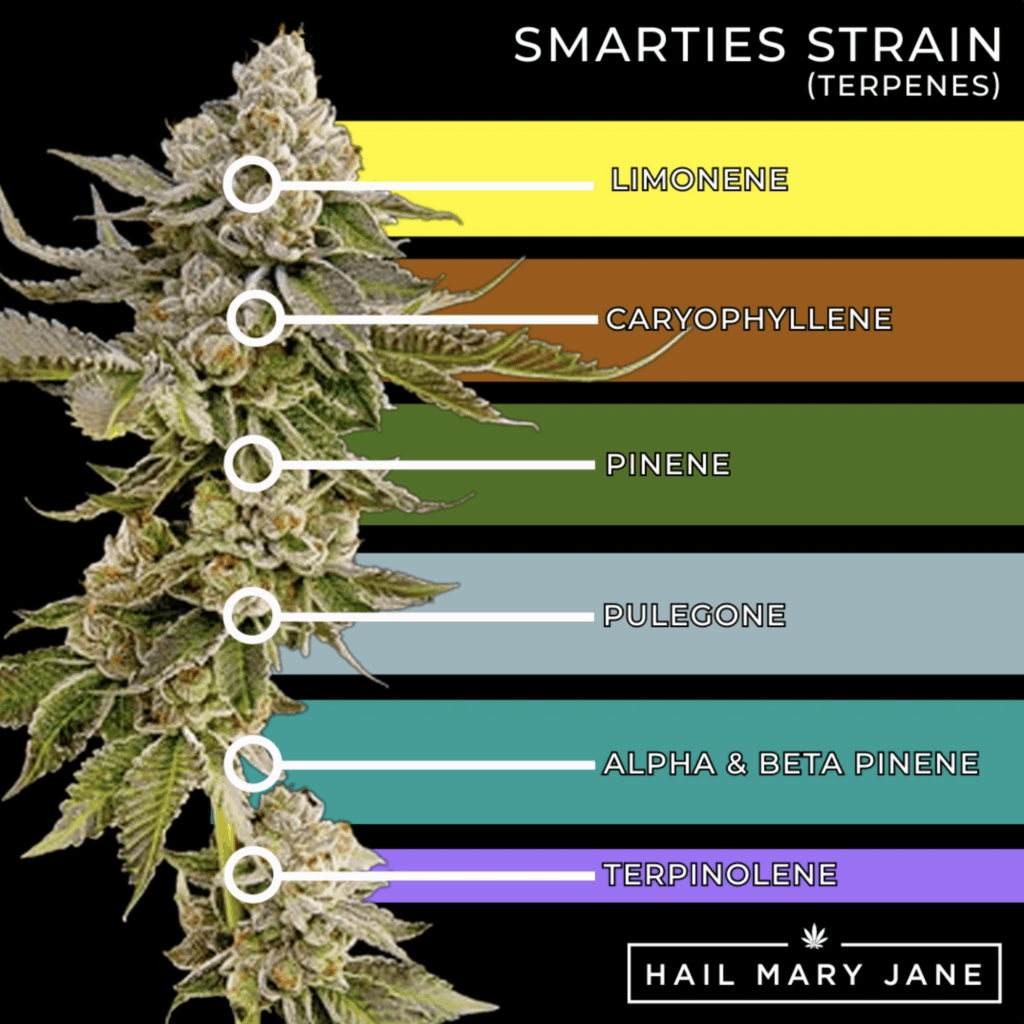 Everything You Need To Know About The Smarties Strain
Some of the reported effects of Smarties include:
Calming

Euphoric

Creative

Talkative

Happy

Body high

Giggly

Tingly
Here's how we like to describe Smarties strain effects:
The Smarties high starts out with a tingly feeling that develops into a sense of total calm and sociable relaxation. You'll be happily couch-locked, but not feeling completely sedated, and ready to chat the day away, without feeling like your head is in the clouds.
With a super high THC level, the euphoric Smarties strain is perfect for use as medical marijuana and ideal for daytime toking.
Things to Do While Enjoying Smarties Strain
While you may feel an immediate burst of energy (thanks, Sativa!), the eventual euphoria of the Smarties strain will have you feeling body high and totally relaxed.
It's best not to plan anything too ambitious, as your couch or a hammock will be calling to you soon enough. Creative types may find themselves engaging in their craft, while sociable people will likely prefer to chat, play video games, or grab a movie with friends.
Based on the overall calming effects of the Indica dominant Smarties strain, most people choose to avoid strenuous activities, such as exercise or physical labor — but, as always, you do you!
When under the influence of marijuana, including the Smarties strain, it's not recommended that you drive or operate heavy machinery.
Terpenes are what drive experience and richness in flavor, and next to the strain, terpenes are the determining factor in the type of high you can expect from cannabis.
The dominant terpenes in Smarties are:
Limonene – strong citrus and bitter taste

Caryophyllene – Rich spicy odor, pepper, spicy

Pinene – sage and blueberry

Pulegone – chemical
These terpenes give Smarties the flavor and aroma that it's famous for. With hints of blueberries and citrus, the palate is tangy, sweet, and a little tart.
The aroma, similar to candy, is pungent and fruity with an earthly overtone that is a favorite among anyone who takes a toke.
Some other terpenes (only present in small amounts) in Smarties strain, are:
Beta-Pinene – pine, green, woody

Alpha-Pinene – zest, crisp, pine

Terpinolene – pine, floral, herbal
Smarties is a cross between GSC (originally called Girl Scout Cookies) and Blue Diesel and was originally developed in collaboration by Cookies Fam and Connected Cannabis Co.
GSC is an award-winning, Indica-dominant hybrid strain that's known for its full-body buzz and euphoric effects.

Blue Diesel is a hybrid strain that produces a fast-acting, long-lasting buzz with no increase in appetite or fatigue, making it an excellent option for daytime users.
Here are opinions that were written by Reddit and Allbud users about the Smarties strain:
Maaan you're not kidding it actually did [taste like Smarties]! One Of My Favorite Strains💯 –

Reddit

I've had this strain before! Smells just like Smarties candy! –

Reddit

Another great descendant of the great GSC strain. I got a FIRE 🔥 Batch –

Allbud
If you've tried Smarties strain, please leave a review below:
Smarties Strain Information & History
Smarties strain was first created by a breeder in the Pacific Northwest region known as Kush4Breakfast.
It's an almost perfect balance of GSC and Blue Diesel, both of which are Indica-dominant, making Smarties slightly Indica-dominant as well (60/40).
Smarties tests out at THC levels as high as 31% and as low as 19%.
When you first lay eyes on the bud, you'll notice:
A round, popcorn-like shape

Dark green nugs

Thin orange hairs; and

A purplish, frosty, white crystal trichome coating

#1: What Is the THC Content in Smarties Strain Cannabis?
The THC content in Smarties strain weed averages from a very high 24-27% (though, this can vary). If you're looking for a strain with less THC, try one of these:
Easy Bud

Haze Berry Automatic

Harlequin

Remedy

Catatonic; or

Any strains listed in the question below
Or if you're looking for other strains that are high in THC content, you can also try these:
Chemdog

The Toad

Godfather OG

Strawberry Banana

Amnesia Haze

WiFi OG

GG4

And more

#2: What Is the CBD Content in Smarties Strain Cannabis?
Smarties strain weed contains only trace amounts of CBD.
Are you looking for a weed strain high in CBD? Try one of these strains:
Charlotte's Web

ACDC

Lifter

Ringo's Gift

Cherry Wine

Elektra

Sour Tsunami

Sour Space Candy; or

Harle-Tsu


#4: Does Smarties Strain Have Any Hybrids or Crossbreeds?
Smarties strain crossbreeds are as follows:
Moonlight Sonata – Smarties + CaliSunset

HighQ – Smarties + BlowPops Bx1
Both are unknown, THC dominant varieties that are not available in feminized seeds.