Snowman Weed Strain: Effects, Reviews, & More
You want to get high, soooo high … but you don't want to be buried so deep into the couch cushions that you fear you may never recover.
We hear ya. While that couchlock feeling is good some days, other days you're looking for something a little more uplifting.
Snowman strain is the ticket.
In this post, we're going to give you the good, bad, and the ugly, where Snowman strain is concerned (just kidding, it's not bad or ugly at all), and let you know where you can find some of this delicious bud to try for yourself.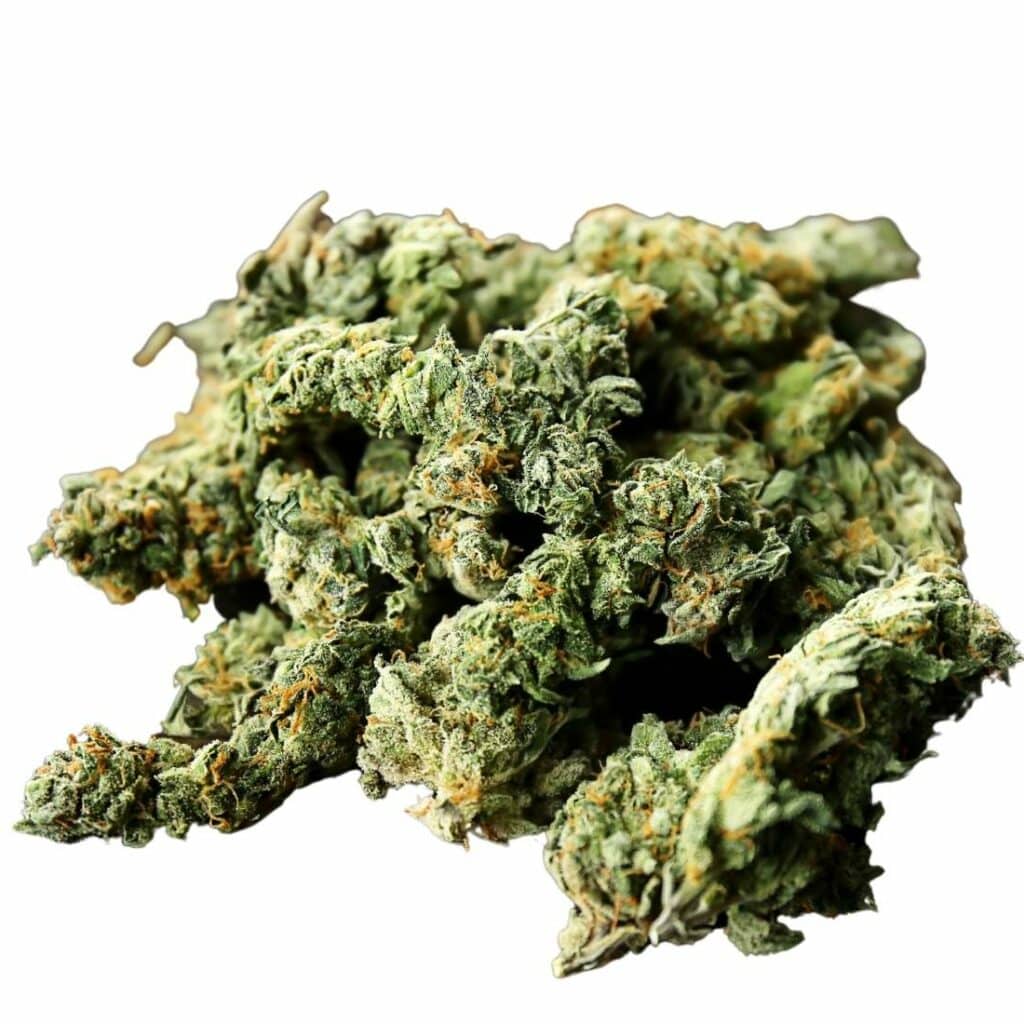 Everything You Need To Know About The Snowman Strain
Some reported effects of Snowman include:
Relaxed

Happy

Talkative

Uplifted

Creative

Head high

Hungry
Here's how we like to describe Snowman strain's effects:
After the first puff or two, you'll be flying with a high that leaves you feeling relaxed and uplifted at the same time. Snowman tends to zap away stress and anxiety, and may spark creativity in some users. As you start to come down, the high gets a little heady, leaving some users feeling pretty hungry and ready for sleep, but not completely sedated.
With a super high THC level, Snowman weed strain is perfect for daytime use or can be used as medical marijuana for these conditions:
Depression

Anxiety

Migraines

Appetite loss; and

Chronic pain
Things to Do While Enjoying Snowman Strain
This one hits you right in the cerebral center and affects people in different ways.
You may find yourself lost in thought or diving into creative projects, while others may prefer to socialize while chilled out in their favorite hangout spot. 
It's not an overly energetic high, so most people don't hit the trails or head to the gym after smoking Snowman strain, but a walk on the waterfront or stroll downtown to do some people watching may appeal to you.
When under the influence of marijuana, including the Snowman strain, please don't drive or operate heavy machinery.
Terpenes, the hydrocarbons responsible for the richness and flavor of your favorite bud, can also determine the type of high you can expect.
The dominant terpenes in Snowman weed are: 
Limonene – strong citrus and bitter taste

Caryophyllene – Rich spicy odor, pepper, spicy

Linalool – lavender, spicy
These terpenes give Snowman a hint of sweetness and fruitiness. With the flavors of lime, citrus, and vanilla, the palate is tangy and sweet with spicy overtones. 
The aroma is pungent, starting with a kush-like gassiness, followed by herbal overtones, and turns sour toward the finish. 
Snowman is a phenotype of the wildly popular GSC strain (formerly known as Girl Scout Cookies, and was bred Emerald Family Farms.
GSC is an award-winning, Indica-dominant hybrid strain that's known for its euphoric effects and full-body buzz.
Here are opinions that were written by Allbud and Leafly users about the Snowman strain:
One of the best. My body definitely interprets this as Indica. I'm glued.
One of my new faves!!! Hopefully, I will see more of it around. As a creative, this is the perfect strain to enhance my creativity … great euphoria-type high, yet focused, very heady.
A strain that definitely lives up to its name! Very frosty buds that definitely pack a punch. Was smoking a joint of this, and it hits you back whenever you take a hit of it. I highly recommend it to my veteran smokers.
If you've tried Snowman strain, please leave a review below:
Snowman Strain Information & History
You may have heard the rumors that Snowman weed strain was first created by the rapper Berner, but more popular is the breed that comes from Emerald Family Farms
When you first see the bud, it's hard not to notice how white the trichomes are (hence the name Snowman), but what you'll also notice is: 
The lumpy, green nugs

Thin orange hairs; and

A sticky resin throughout

#1: What Is the THC Content in Snowman Strain Cannabis?
The THC content in Snowman strain weed averages out at about 23% (though, this can vary). If you're looking for a strain with less THC, try one of these:
Haze Berry Automatic

Harlequin

Easy Bud

Catatonic

Remedy; or

Any strains listed in the question below
Or if you're looking for other strains that are high in THC content, you may want to try these:
The Toad

Godfather OG

Chemdog

Amnesia Haze

GG4

Strawberry Banana

WiFi OG

And more

#2: What Is the CBD Content in Snowman Strain Cannabis?
Snowman strain weed contains only trace amounts of CBD. 
If you're looking for a weed strain that is high in CBD, give one of these strains a go:
Charlotte's Web

Elektra

Lifter

Cherry Wine

Sour Tsunami

ACDC

Sour Space Candy

Ringo's Gift; or

Harle-Tsu


#4: Does Snowman Strain Have Any Hybrids or Crossbreeds?
Snowman strain is responsible for a few crossbreeds, including:
Snow Cone – Snowman x 707 Chem

Olaf – Snowman x CaliSunset

Yellow Snow – Snowman x LemonHeads

Big Bird – (Snowman x Lemon Tree) x (Plum Wine x GMO)

And a few more
Where to Buy Snowman Strain Near You
Enter your ZIP code below to find dispensaries that offer the Snowman strain near you.
If you are having trouble finding the Snowman strain near you, then let us know. We've spent more than a decade sourcing, trying, curating, and reviewing cannabis products for our customers. We may be able to help you find exactly what you're hoping for in a cannabis product.