Space Cake Weed Strain: Effects, Reviews, & More
If you want to learn about the Space Cake strain, including taste, effects, and terpenes — you've come to the right place.
The Space Cake strain has much to offer, and you don't want to be left out of the experience.
We'll give you all the info you need about the delicious and relaxing Space Cake strain, including where you can go to buy it.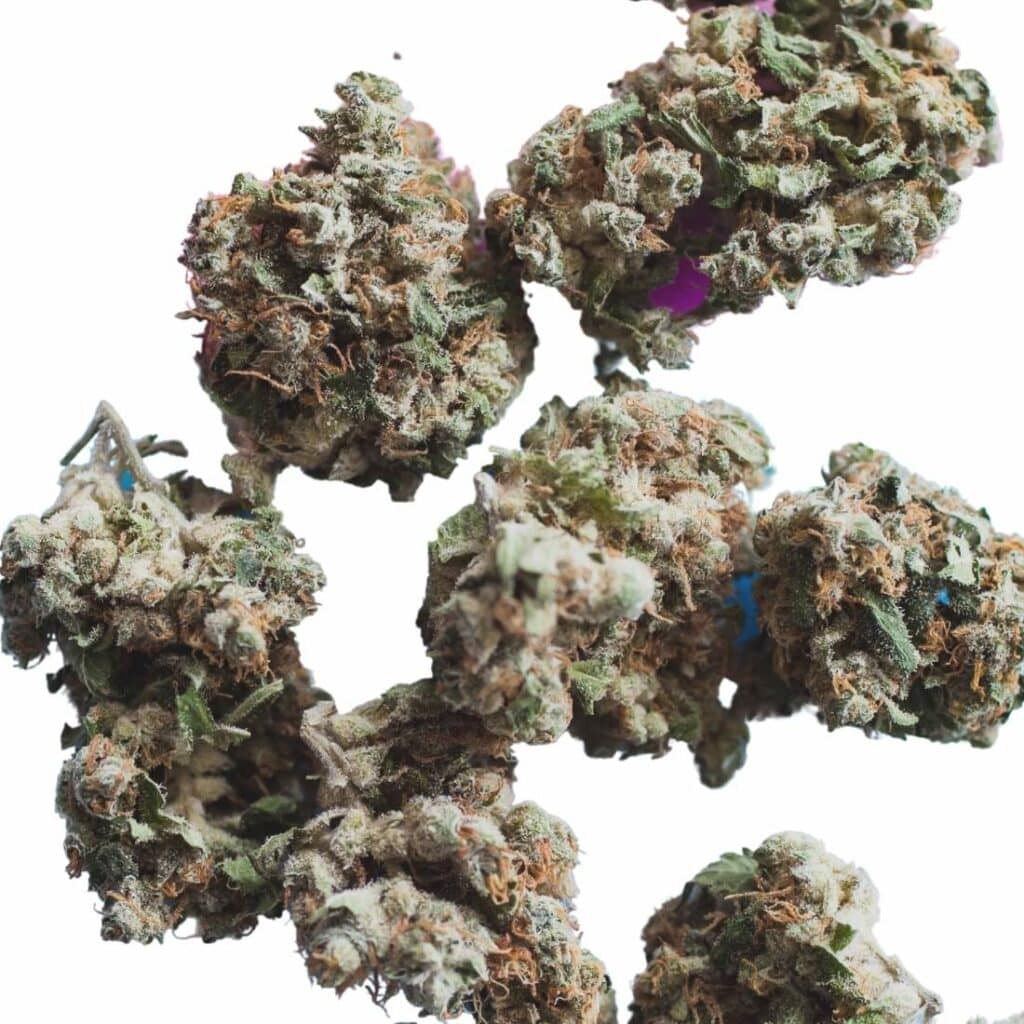 Everything You Need To Know About The Space Cake Strain
Space Cake Strain Effects
Space Cake effects that have been reported include:
Relaxed

Euphoric

Sleepy

Hungry

Contemplative

Energizing

Talkative
What's the Space Cake strain like? It's been described in the following way:
The Space Cake high starts off with effects that soar through your brain, filling you with both a feeling of energy and relaxation at the same time. As you sink into the feeling of peace and contemplation, you begin to feel a sedated sensation.
With higher THC levels, the euphoric Space Cake strain can be helpful with soothing aches and pains and may have positive effects for those dealing with: 
Anxiety

Stress; and 

Depression
Things to Do While Enjoying Space Cake Strain
Thanks to the dominance of Indica in the Space Cake strain, you may experience a general sense of relaxation mixed with some small bursts of energy.
The Space Cake strain is the perfect addition to an afternoon or late-night chilling out with friends. You may enjoy this strain to complement …
Conversation

Movies; and

Video games
… as long as you take it easy and don't get too drowsy.
Because of the relaxation and sleepy effects, it's a good idea to plan on staying in, just in case the sedating effects are strong. Some users have also reported dry mouth and dry eyes, so staying hydrated is recommended.
When using the Space Cake strain and other forms of marijuana, it's not recommended that you drive or operate heavy machinery. 
Space Cake Strain Terpenes
Terpenes are responsible for giving plants, including marijuana, their aroma. They also play into the flavor and determine the type of effect you may receive from cannabis —  also known as the entourage effect. 
The dominant terpenes in Space Cake are: 
Beta myrcene

– Spicy and earthy scents and mildly sweet flavors

Limonene

– Citrus aromas (lemon, grapefruit, lime)

Beta Caryophyllene

– Floral and earthy aromas

Linalool

– Floral aromas (lavender) with a hint of spice
These terpenes give Space Cake the flavor and aroma of sweet cookies and cream, with notes of fruit and berries.
Some other terpenes (only present in small amounts) in Space Cake strain, are:
Alpha Humulene – Earthy, woody with hints of spice and herbs

Alpha-Pinene – Zest, crisp, pine
Space Cake is a cross between GSC (originally called Girl Scout Cookies) and Snow Lotus and was originally bred by Bodhi Seeds. 
GSC is an Indica-dominant hybrid strain known for its full-body buzz and euphoric effects. 

Snow Lotus is a mostly-Indica variety known for its energetic high.
Space Cake Strain Reviews
Reddit and Leafly users give the following opinions about the Space Cake strain:
Some Space Age Cake to unwind. Pretty good dialed in strain. –

Reddit

Last nug of blueberry space cake last night. Was in love with every toke with this strain! –

Reddit 

Super fun hybrid. Great for hanging with friends or any time where you don't mind not being completely clear-headed. I feel uplifted, chatty, and happy. – Leafly
If you've tried Space Cake strain, please leave a review below:
Space Cake Strain Information & History
Space Cake strain was first bred by Bodhi Seeds, a well-known breeder of marijuana seeds.
It's an ideal balance of GSC and Snow Lotus, which are both Indica-dominant, making Space Cake slightly Indica-dominant as well (65/35).  
Space Cake tests out with THC levels between 15 to 23%.
Looking at the bud, you'll notice: 
Grape-shaped buds

Forest green nugs

Thin orange hairs; and

A coating of amber crystal trichomes

#1: What Is the THC Content in Space Cake Strain Cannabis?
The Space Cake strain THC level averages from 15-23% (averaging around 20%). If you're looking for a strain with less THC, try one of these:
Sour Tsunami

Harlequin

CBD Mango Haze

Dancehall

Cannatonic
Other strains that are high in THC that you may want to consider include:
Lemon Meringue

Laughing Buddha

Hawaiian

Thai

Silver Haze

And more

#2: What Is the CBD Content in Space Cake Strain Cannabis?
Space Cake strain weed contains low amounts of CBD (0.09%). 
If you are searching for weed that's high in CBD? Try one of these strains:
Harlequin

Ringo's Gift

Sweet and Sour Widow

Stephen Hawking Kush

ACDC

Canna Tsu; or

Harle-Tsu

#3: Is the Space Cake Strain Indica or Sativa?
Space Cake strain is a hybrid consisting of 65% Indica and 35% Sativa. This balance delivers a nice combination of the relaxing effects of Indica and the stress-reducing effects of Sativa.

#4: Does Space Cake Strain Have Any Hybrids or Crossbreeds?
Space Cake strain crossbreeds are as follows:
Space Jam – Space Cake + Wedding Cake

Space Center – Space Cake + TK BX

Astronaut Ice Cream – Space Cake + Cupcake

I Scream Sandwich – Space Cake + Cookies and Cream
Where to Buy Space Cake Strain Near You
To find a dispensary in your area that offers the Space Cake strain, enter your zip code below.
Having trouble finding the Space Cake strain near you?  Reach out to us. 
We've spent more than a decade trying, curating, and reviewing cannabis products for our customers, and we'd be happy to help you find what you're looking for in a cannabis product.