Super Skunk Weed Strain: Effects, Reviews, & More
Whether you've got a demanding boss, an exhausting job, or just love to sink into your couch after the day is done, you're looking for that perfect strain to clear your head and relax your body.
Enter Super Skunk weed — the Indica-dominant strain that will melt your worries away.
Learn more about the effects of Super Skunk strain and why you should keep this potent bud on hand at all times.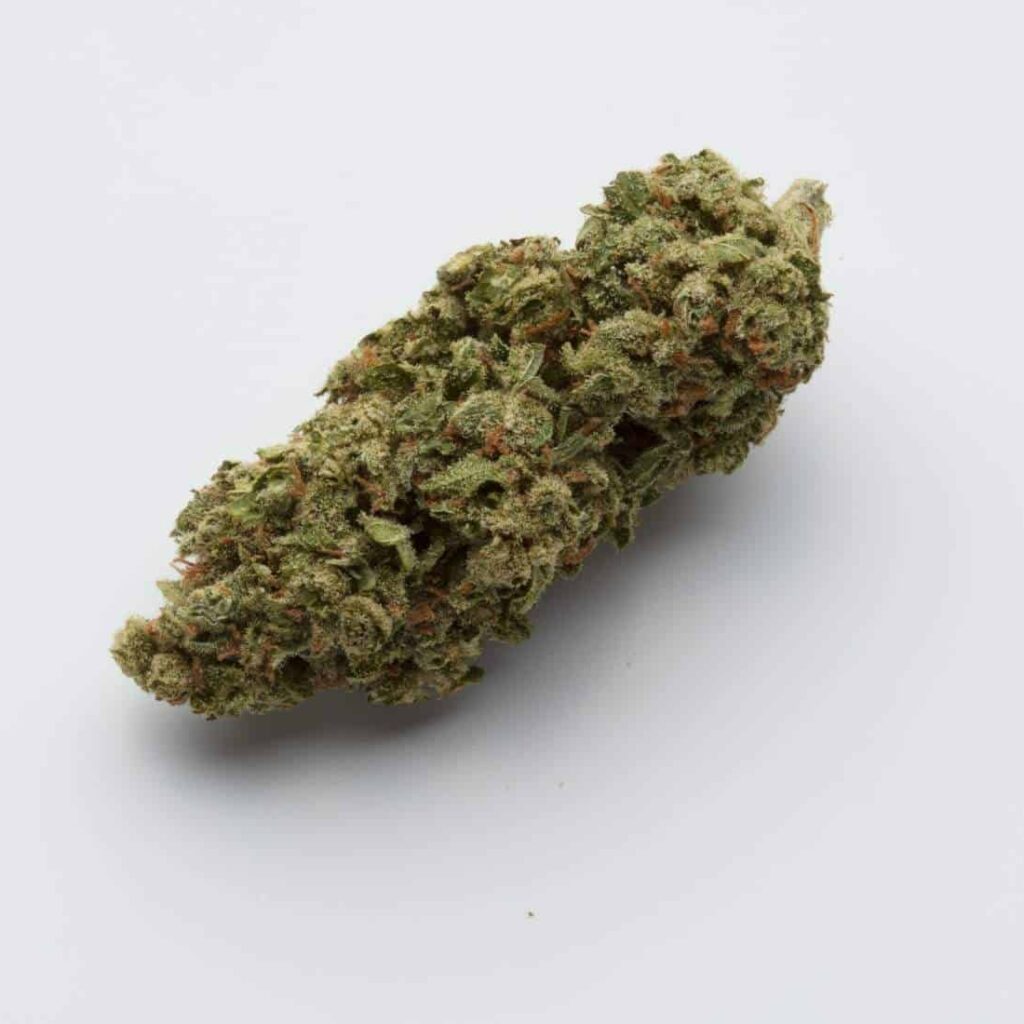 Everything You Need To Know About The Super Skunk Strain
Some reported effects of Super Skunk may include:
Calming 

Focused

Hungry

Relaxed

Sleepy 

Creative

Euphoric
Here's how we like to describe Super Skunk strain's effects:
No matter your tolerance level, Super Skunk cannabis is sure to please. Some report a full-body buzz with a tingling, cerebral high, while others can partake in the skunk during the day for creative and focused inspiration. Whatever you get from the high, you're sure to love the effects of Super Skunk weed.
Super Skunk strain has been known to help with certain medical conditions, such as:
Chronic pain

Anxiety

Chronic Stress

Depression

Insomnia

Lack of appetite
Things to Do While Enjoying Super Skunk Strain
This one hits a little differently for everyone, but the eventual couch-lock is pretty much inevitable. If you start out with a creative and focused buzz, now's your time to hit the music or art studio, or get some projects done around the house. 
But, don't get too ambitious. Soon that Indica will seep in, and your body will tell you to simply stop, sit, and grab a snack (or two). This is when you'll want to make sure you have your favorite pillow fluffed up and your remote control in hand.
Based on the overall relaxing effects of the Indica-dominant Super Skunk strain, many people steer away from strenuous activities — but, hey, we won't tell you what you can and can't do.
But, we can never, ever condone operating heavy machinery or driving while under the influence of Super Skunk strain, or any other strains for that matter.
Super Skunk Strain Terpenes
Terpenes give cannabis strains unique smells and flavors, and next to the strain itself, terpenes determine the type of high you can expect. 
The dominant terpene in Super Skunk is: 
Caryophyllene – Rich spicy odor, pepper, spicy
Super Skunk has an earthy, pungent aroma and a skunky flavor.
Super Skunk is a cross between Skunk #1 (Indica-dominant) and Afghani (Indica) strains. It was created by Sensi Seeds out of Amsterdam.
Skunk #1, known for its soothing body high, was born in the Netherlands and remains one of the most popular strains to date. 

Afghani is arguably the most popular strain of all time. With a euphoric and deeply relaxed high, it's been widely used as medical marijuana as well.
Super Skunk Strain Reviews
We took to the internet to find reviews. Here's what we came up with:
Really like this strain! A heavy hitter for sure. I usually go to cakes/cookies/gassy strains but this one is really a fantastic heavy hitter and "stinks" away the pain and agony I live in with my Multiple Sclerosis and nerve pain issues. – Allbud user
Super skunk is what I've hoped it to be. The buzz in your head makes the high stronger. The color of each bud is beautiful, it's mostly brown with some green. Some of the buds have small leaves which has a beautiful violet color. The smell from this strain is intense with a smell similar to a skunk. This strain has a marshmallow-like texture that is different than many other strains. Whenever I exhaled the smoke, it would be smooth not like other strains. – Wikileaf user
Super Skunk is strong!! The high was extremely cerebral and intense, not relaxing at all for me and quite active. This strain comes on fast and is noticeably much more potent than the pure indicas I've mainly been smoking recently. If you're prone to anxiety or racing thoughts this is a strain I'd avoid, but if you like a powerful THC punch you will love Super Skunk! – Leafly user
If you've tried Super Skunk strain, please leave a review below:
Super Skunk Strain Appearance
When you first lay eyes on the bud, you'll notice: 
Dense, light green buds

Slight orange undertones

A light dusting of trichomes

#1: What Is the THC Content in Super Skunk Strain Cannabis?
The THC content in Super Skunk strain weed averages from a very high 23-28% (though, this can vary). If you're looking for a strain with less THC, try one of these:
Easy Bud

Red Pop

Harlequin

Star Tonic

Catatonic; or

Any strains listed in the question below
Or if you're looking for other strains that are high in THC content, you can also try these:
Grease Monkey

The Toad

Purple Punch

Strawberry Banana

Super Lemon Haze

WiFi OG

GG4

And more

#2: What Is the CBD Content in Super Skunk Strain Cannabis?
Super Skunk strain weed contains only trace amounts of CBD. 
Are you looking for a weed strain high in CBD? Try one of these strains:
Skywalker OG

ACDC

Sour Diesel

Ringo's Gift

Sweet and Sour Widow

Elektra

Remedy

Sour Space Candy; or

Stephen Hawking Kush

#3: Is the Super Skunk Strain Indica or Sativa?
Super Skunk strain is an Indica-dominant hybrid consisting of 65% Indica and 35% Sativa. Super Skunk weed is best known for its calming Indica effects that produce a deeply relaxing body high.

#4: Does Super Skunk Strain Have Any Hybrids or Crossbreeds?
Super Skunk strain has been used in the making of many fine cannabis strains, including:
Guatemala Pot

Auto Super Skunk

Black Skunk Berry

UP Kush

Magic Power

Grimm White Shark

And more 
Where to Buy Super Skunk Strain Near You
Enter your zip code below to find dispensaries that offer the Super Skunk strain near you.
If you're hoping to get your hands on Super Skunk strain, give us a call at Hail Mary Jane. It's our life mission to curate, try, and review all kinds of cannabis products, and we'd love to help you find just what you're looking for.