Vanilla Frosting Weed Strain: Effects, Reviews, & More
You're picky about flavor and are looking for a weed strain that's known for its incredible taste. 
Well, if you're a fan of cheesecake with vanilla cream cheese frosting, you're in for a treat.
Here, we cover everything you ever wanted to know about the Vanilla Frosting strain, including where to go to pick up some of this decadent weed for yourself.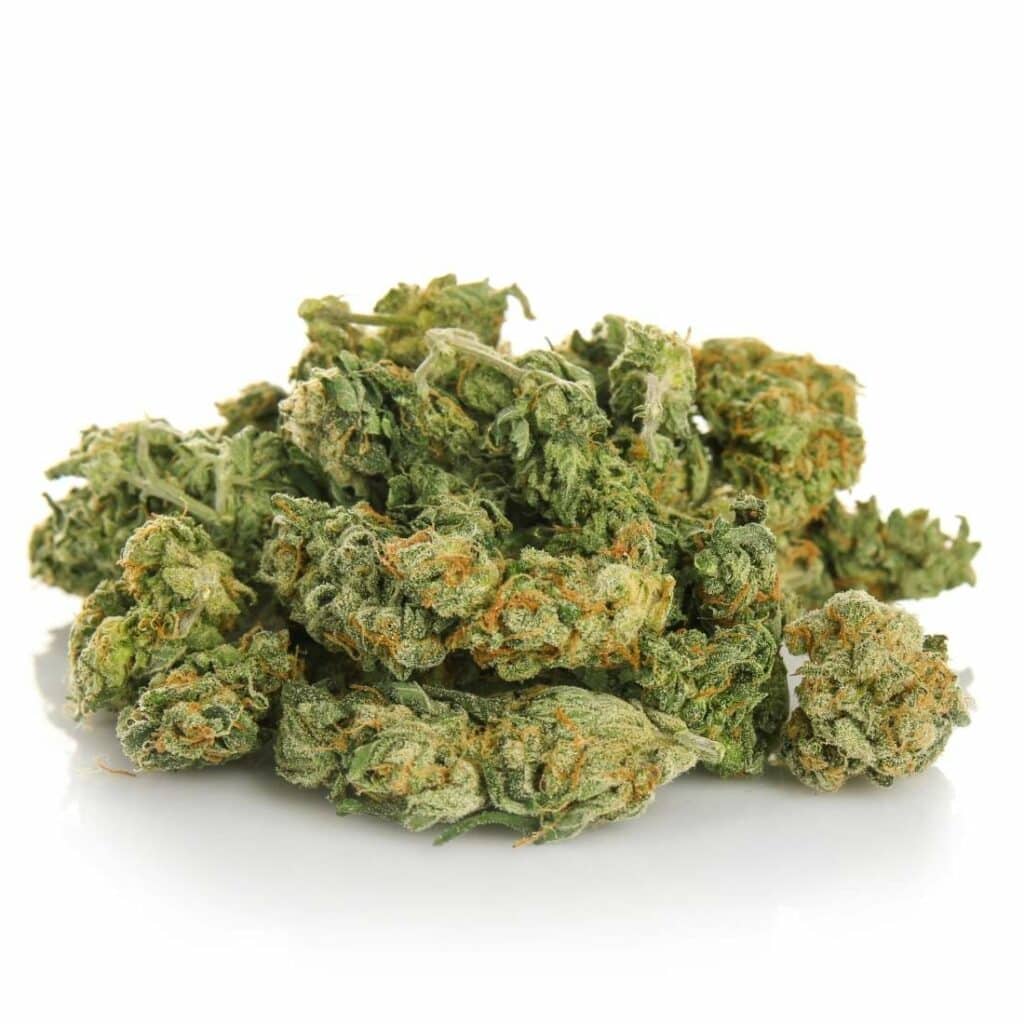 Everything You Need To Know About The Vanilla Frosting Strain
Vanilla Frosting Strain Effects
Users of the Vanilla Frosting strain say it brings on the following amazing effects:
Creative

Happy

Body high

Giggly

Focused

Cerebral

Relaxed; and

Uplifted
Here's how we like to describe the Vanilla Frosting strain's effects:
The calming, euphoric cerebral lift of the Vanilla Frosting weed strain will activate your body while relaxing your mind. A deep-bodied high with a mix of euphoria and joy will gradually melt into a sense of couch lock. 
The Vanilla Frosting strain is perfect for use as medical marijuana if you are needing to manage … 
Anxiety

Muscle spasms; or

Chronic pain 
… and is ideal for unwinding at the end of a long day or as an after-dinner snack before slipping off to dreamland.
Things to Do While Enjoying Vanilla Frosting Strain
Vanilla frosting weed strain tends to give you a boost of creative energy. It is the perfect strain to indulge in while engaging in your favorite creative pursuits. It is also great for helping you to wind down at the end of a tiring day, giving your mind the chance to chill, so you can drift into a peaceful night of sleep.
When you are under the influence of any form of weed, including the Vanilla Frosting strain, it is not recommended that you drive a vehicle or operate heavy machinery. 
Vanilla Frosting Strain Terpenes
Terpenes are what determine the taste and smell of weed and next to the strain, terpenes are the most important factor when it comes to the kind of high you can expect.
The dominant terpenes found in the Vanilla Frosting weed strain are: 
Limonene – Strong citrus tones with a bitter flavor

Caryophyllene – Rich spicy odor, with hints of pepper

Myrcene – Deep earthy flavor

Terpinolene –

Floral and herbal, with a refreshing piney note
This awesome combo of terpenes is what gives the Vanilla Frosting strain the unique flavor and smell that it is famous for. With hints of sweet vanilla and delicious spicy floral undertones, the palate of Vanilla Frosting weed strain is sure to become a fast favorite. 
The amazing scent is similar to a slice of homemade cheesecake with creamy vanilla frosting, with a heavy fuel finish, and is sure to become a favorite from your very first inhale.
Vanilla Frosting Genetics
Vanilla Frosting is a cross between Humboldt Frost OG and Gelato BX3 and was originally developed by Humboldt Seed Company. 
Vanilla Frosting Strain Reviews
Here are a few reviews that were written by Reddit and Leafly users about the Vanilla Frosting strain:
I smoked this out of my glass pipe, and you instantly smell and taste the vanilla … This is the first time in a while finding a strain so smooth & light, but also gives you a "Head-High" that sends you straight to the Moon! – Leafly

It's not a strong high, but it's very enjoyable if you don't want to be blasted. It's a good weed to smoke at any part of the day, hybrid high. It's really relaxing but not a couch lock, you still feel clear-headed.

–

Reddit

 
If you have tried the Vanilla Frosting weed strain, we would love it if you'd leave a review below.
Vanilla Frosting Strain Information & History
The Vanilla Frosting strain was first created by the Humboldt Seed Company. 
It's a 65/35 Indica-dominant strain.  
Vanilla Frosting strain tests out with THC levels as high as 25% and as low as 20%.
When you see the Vanilla Frosting bud, you will notice: 
Long, dense, grape-shaped nugs

Olive green color

Silvery green leaves with deep purple undertones; and

Sticky amber, white crystal trichome coating with orange hairs

#1: What Is the THC Content in Vanilla Frosting Strain Cannabis?
The THC content in Vanilla Frosting strain weed is around 20-25%. 
If you prefer a strain with a lower percentage of THC, try one of these:
Remedy 

Easy Bud

Haze Berry Automatic

Harlequin; or

Catatonic
If you're interested in other strains that are high in THC content, you can also try:
Strawberry Banana

Chemdog

The Toad

Godfather OG

Amnesia Haze

WiFi OG; or

GG4

#2: What Is the CBD Content in Vanilla Frosting Strain Cannabis?
Vanilla Frosting weed strain contains around 2% of CBD. 
Are you looking for a weed strain high in CBD? Give one of these a toke:
Cherry Wine

Charlotte's Web

ACDC

Lifter

Ringo's Gift

Elektra

Sour Tsunami

Sour Space Candy; or

Harle-Tsu

#3: Is the Vanilla Frosting Strain Indica or Sativa?
Vanilla Frosting strain is an Indica-dominant hybrid that is made up of 65% Indica and 35% Sativa.
Where to Buy Vanilla Frosting Strain Near You
Are you interested in giving the Vanilla Frosting strain a try?
Just enter your zip code below to find dispensaries near you that offer the Vanilla Frosting strain.
If you can't find the Vanilla Frosting strain in your area, just let us know!
We've got over 10 years of experience sampling, curating, and reviewing all types of weed products, and we'd love to help you find exactly what you're looking for.