Wedding Pie Weed Strain: Effects, Reviews, & More
The powerful and fragrant taste of Wedding Pie strain is enough to leave you wanting more. And not just for the delicious tasting weed strain — but for all of the background information on it, too.
You'll reach for the sweet, earthy, sour combination after learning everything there is to know about Wedding Pie.
Here we will cover Wedding Pie's:
Effects

Terpenes

Genetics

History

And more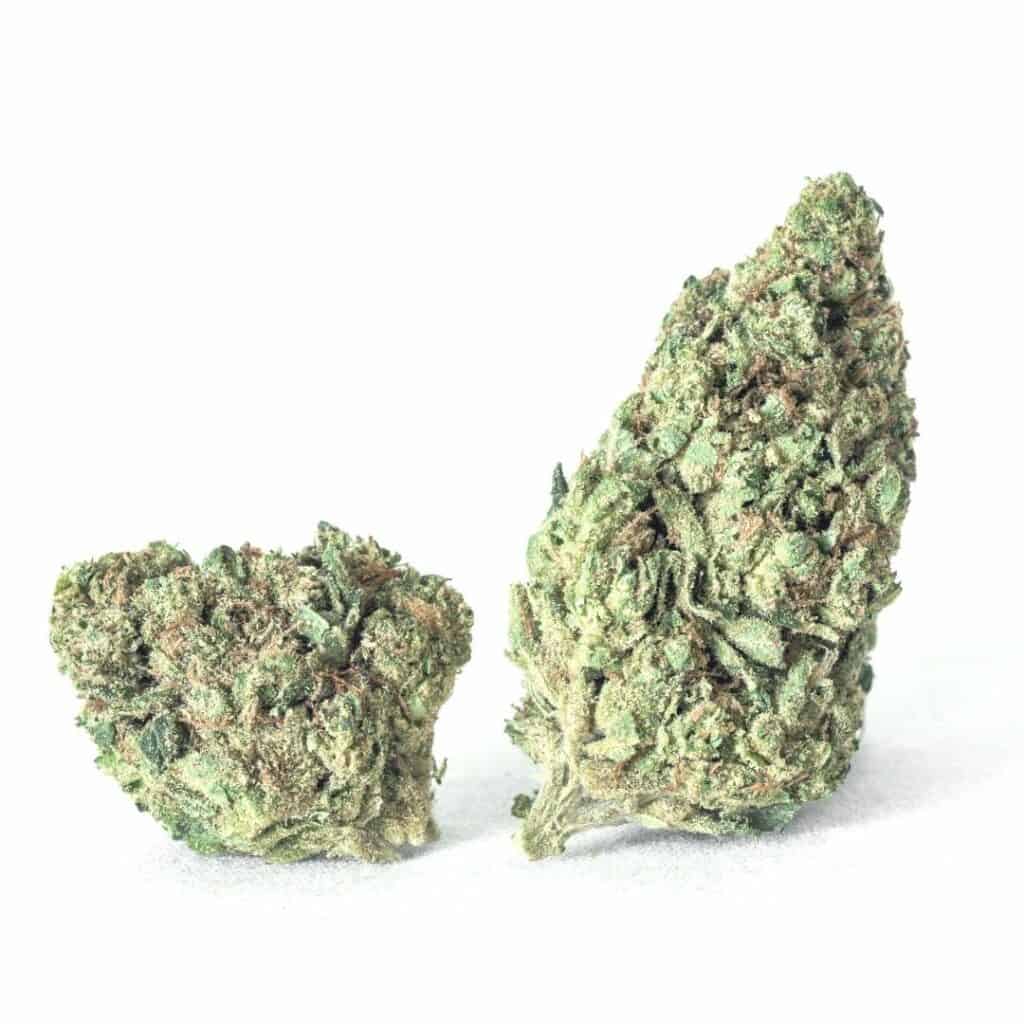 Everything You Need To Know About The Wedding Pie Strain
Wedding Pie Strain Effects
Wedding Pie strain can be strong, causing a slight psychedelic feeling. 
Additional reported effects of Wedding Pie strain include:
Calming

Relaxed

Tingly

Body high

Cerebral

Uplifted

Euphoria

Giggly
Wedding Pie strain can be known to make you feel like you are simply a spectator in a large crowd, even if you are actually the center of attention. Cotton-mouth and red eyes are common if too much Wedding Pie strain is consumed. 
Medically, Wedding Pie strain can help to control anxiety and depression with its euphoric effects. 
Because of its higher THC levels, Wedding Pie is commonly used as medical marijuana for:
Arthritis

Sciatica

Fibromyalgia

Lou Gehrig's disease
Things to Do While Enjoying Wedding Pie Strain
You definitely won't want to enjoy Wedding Pie before exerting too much physical energy. In fact, you'll probably want to gear up for just the opposite — doing nothing.
The deep calming effects of Wedding Pie leave you feeling relaxed, so if you aren't put right to sleep, there are some quiet activities you could enjoy:
A yoga class

Fishing on a tranquil lake

An afternoon at the spa

Listening to music

Sitting outside
It is not recommended that you drive or operate heavy machinery under the influence of marijuana, including the Wedding Pie strain. 
Wedding Pie Strain Terpenes
There are a few different terpenes abundant in Wedding Pie to help bring about the flavors and determine the type of high you might experience.
The most dominant terpene in Wedding Pie is myrcene, which creates an earthy and peppery aroma.
Also included in Wedding Pie are:
Limonene – strong and bitter citrus

Caryophyllene – spicy odor, peppery and spicy taste
Although the terpenes are rich and earthy, many people describe the aroma and flavors of Wedding Pie to be a sweet grape and berry taste.
The team at Cannarado Genetics have combined parent strains Wedding Cake and Grape Pie to create the slightly Indica dominant strain, Wedding Pie.
Wedding Pie also has a handful of crossbreeds that create other varying strains like:
Wedding Pie x Blueberry Syrup

Terp Town 

Jungle Pie

Candied Lemons; and

Fruit Pie
Wedding Pie Strain Reviews
Some popular Wedding Pie strain reviews state:
"This strain is one of the few strains I have found that eases the anxiety and paranoia that weed can sometimes give you. It's a great functional stoner strain, easy to function but good for sleeping too…" –

Allbud

"The weed has helped me get through so many depressive and anxiety episodes I've lost count. I always keep some handy to hit up whenever I feel low…" –

Askgrowers

"Man the lemony scent was a great addition to the smoky flavor" – Askgrowers
If you've tried Wedding Pie strain, please leave a review below:
Wedding Pie Strain Information & History
Wedding Pie strain is bred at Cannarado Genetics and is the mixture of Wedding Cake and Grape Pie strains.
The popular strain is slightly Indica dominant (60%/40%), shaded a deep green, and shaped like flat nugs. Although it appears sweet from the start, the earthy and peppery flavors leave a hint of spice towards the end.
Additional information about Wedding Pie strain include:
THC levels between 20-27%

Grape, berry, lemon aromatics; and

Orange pistils coated over the deep green nugs

#1: What Is the THC Content in Wedding Pie Strain Cannabis?
Wedding Pie strain is commonly known for its high levels of THC. Although the THC content can vary, it averages between 20-27%.
Oftentimes, cannabis users associate a higher THC level with a higher high, but this is untrue. The THC potency affects your blood concentration levels, but it doesn't necessarily leave you feeling "more high".
However, because many users believe this to be true, cannabis strains with higher THC content are often priced higher as a direct correlation.

#2: What Is the CBD Content in Wedding Pie Strain Cannabis?
Cannabidiol (CBD) is the second most prevalent and active ingredient in cannabis. In Wedding Pie strain, the CBD content is extremely low — only 0.1%.
What does this mean?
CBD does not produce a high and has very few side effects. CBD is meant to help with various medical conditions, including:
Seizures

Inflammation

Pain

Nausea

Depression

Anxiety

#3: Is the Wedding Pie Strain Indica or Sativa?
Wedding Pie strain is a hybrid that leans slightly more Indica dominant. Wedding Pie is 60% Indica and 40% Sativa.
Indica strains often give a relaxing and calming effect while Sativa strains are typically energizing and invigorating. This nearly balanced strain leaves calming effects that can easily put you to sleep but wouldn't stop you from an easy yoga class or fishing outing.

#4: Does Wedding Pie Strain Have Any Hybrids or Crossbreeds
Wedding Pie has a variety of crossbreeds:
Wedding Pie x Blueberry Syrup – Wedding Pie + Blueberry Syrup

Terp Town – Wedding Pie Pyxy Styx Cut + Birthday Cake

Cement Crunch – Wedding Pie + Cement Shoes

Jungle Pie – Wedding Pie + Jungle Cake

Candied Lemons – Wedding Pie + LarryOG probably, F8

Fruit Pie – Wedding Pie + L.L.O.A.
Where to Buy Wedding Pie Strain Near You
Having trouble locating the Wedding Pie strain, or any other strains, nearby? We can help.
The experts at Hail Mary Jane have tried, curated, and reviewed hundreds of cannabis products. We thrive on helping our customers find exactly what it is that they're looking for in a cannabis product. Contact us today.