White Buffalo Weed Strain: Effects, Reviews, & More
White Buffalo. You've heard about this legendary strain and want to know why it's so coveted by cannabis connoisseurs far and wide.
A strain as rare as the White Buffalo itself, this is one strain you want to get to know and we can help.
This guide shares everything there is to know about White Buffalo strain, information about its effects, and why it's so cherished in the world of marijuana.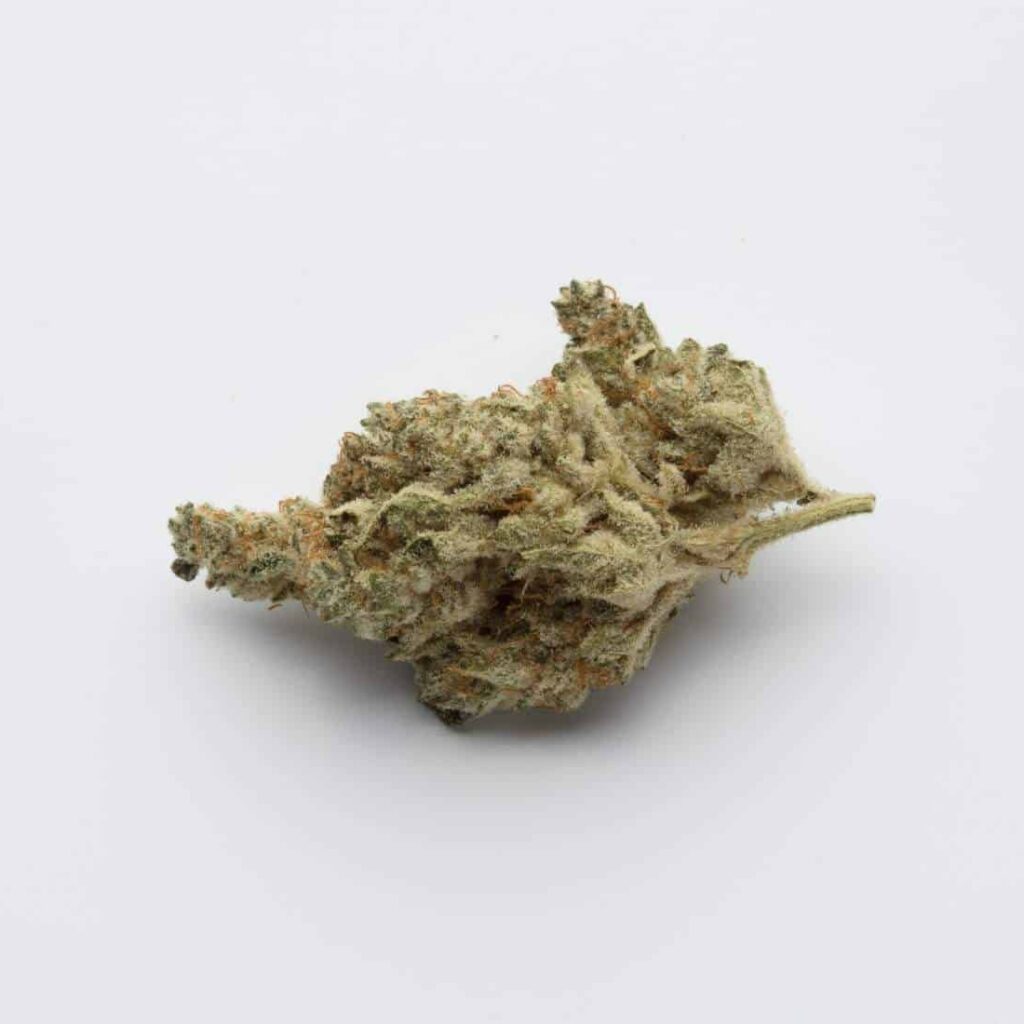 Everything You Need To Know About The White Buffalo Strain
White Buffalo Strain Effects
Some of the reported effects of White Buffalo include:
Giggly 

Euphoric

Energetic

Creative

Uplifted

Happy

Relaxed

Calm

Focused
Here's how we like to describe White Buffalo strain effects:
Hitting hard with an initial headrush, users may feel tingling in the face combined with a quickly passing dizziness. Soon, users start to feel more focused as ordinary thoughts sharpen, and details become clearer. Finally, users begin to feel a sense of euphoria, and possibly even creativity, as their body eases into total relaxation. 
But don't worry, this isn't the strain to send you to your couch for hours, but rather a strain that provides an energetic and uplifted high that will have you smiling, chatting, and giggling.
With a super high THC level, the White Buffalo strain isn't for beginners. Experienced users love it for daytime toking, and medical marijuana users consume it to help relieve symptoms of:
Insomnia

Depression

Stress

Chronic pain

Loss of appetite

Chronic fatigue
Things to Do While Enjoying White Buffalo Strain
White Buffalo strain is a wake and bake kind of weed. The strain is not always recommended for nighttime toking due to its tendency to cause users to feel wired and awake.
The pure energy and lucidity of White Buffalo makes it a perfect companion to your daily grind. Have you been putting off that garage tidy-up? Or maybe you've let your garden get into dangerous jungle territory. If so, White Buffalo will give you that boost you need to get 'er done — as they say.
If you're a social nighthawk, you may find White Buffalo to be the perfect accompaniment to your late-night game nights or just to stay up and socialize until the wee hours.
Whatever you do, we ask that you don't consume White Buffalo, or any other marijuana products, before operating a motorized vehicle or heavy machinery.
White Buffalo Strain Terpenes
Terpenes give White Buffalo strain — and every other strain — its flavor and aromas. Not only that, but terpenes also help drive the experience and high you can expect when you smoke.
The dominant terpenes in White Buffalo are: 
Caryophyllene – rich, spicy odor, peppery

Limonene – strong citrus and bitter taste

Myrcene – hoppy, earthy, peppery
These terpenes give White Buffalo the flavor and aroma that's somewhat musky and sour. With traces of berries, pine, and herbs. 
Careful, White Buffalo strain is known for inducing some coughing, as the smoke can be harsh. 
Expect an earthy and herbal exhale.
White Buffalo is a mix of Romulan and an unnamed cross of Blackberry Kush and Bay 1. Both the seeds and the flower can be hard to come by. 
Romulan is an Indica that is intensely cerebral, relaxing, and therapeutic. 

Blackberry Kush is a hybrid strain with medicinal effects and a strong body high.

Bay 11, a potent Sativa, is known for its relaxing, medicinal effects.
Overall, White Buffalo strain boasts an extraordinary heritage that has been hard to replicate. 
White Buffalo Strain Reviews
Here are opinions that some internet users wrote about the White Buffalo strain. All reviews are sourced directly from the web:
WB- Good Sativa. I love Indica's but I found that the White Buffalo Strain gives me "focused energy". It's calm, not anxious energy. This strain is great for detailed work or anything that would require a focused artistic flair. This is also a mood elevator! Positive vibes

 – Leafly user

Definitely will kill anxiety, depression! Can be consumed all day!

– Wikileaf user

I have been smoking this strain for the past 5 months because it has that great taste but more importantly, it gives me the clarity and creativity to get through the day and as the latter kicks in I truly enjoy the indica qualities it brings to the table. I have smoked a lot of sativas but this is always a winner and has yet to let me down. –

Allbud user
If you've tried White Buffalo strain, please leave a review below:
White Buffalo Strain Appearance & History
At first glance of the White Buffalo bud, you'll notice: 
Small to medium-sized spade-shaped bud

Minty green nugs

Thin, dark orange hairs; and

A white crystal trichome coating
Expect to break out your grinder for the White Buffalo strain, as the thick resin that coats the bud makes it sticky for separating the nugs.
The origin of White Buffalo strain is unknown to us at the time, but it's rumored to have been bred by Queen Bee.

#1: What Is the THC Content in White Buffalo Strain Cannabis?
The THC content in White Buffalo strain weed is debatable, with many dispensaries claiming as low as 15% and some as high as 30%. If you're looking for a strain with less THC, try one of these:
Easy Bud

In The Pines

Harlequin

Pennywise

Catatonic; or

Any strains listed in the question below
Or if you're looking for other strains that are high in THC content, you can also try these:
Chemdog

Lemon Meringue

Godfather OG

Laughing Buddha

Amnesia Haze

Silver Haze

GG4

And more

#2: What Is the CBD Content in White Buffalo Strain Cannabis?
White Buffalo strain weed contains less than 1% CBD. 
Are you looking for a weed strain high in CBD? Try one of these strains:
Remedy

ACDC

Lifter

Critical Mass

Cherry Wine

Elektra

Suzy Q

Sour Space Candy; or

Harle-Tsu

#3: Is the White Buffalo Strain Indica or Sativa?
White Buffalo strain is a Sativa-heavy hybrid consisting of 80% Sativa and 20% Indica. The strain gives users an energetic, uplifting, and creative high, while also offering the relaxing effects of Indica.

#4: Does White Buffalo Strain Have Any Hybrids or Crossbreeds?
White Buffalo strain crossbreeds are as follows:
White Buffalo x Platinum = Platinum Buffalo

White Buffalo x Goliath = The White Giant
Where to Buy White Buffalo Strain Near You
Enter your zip code below to find dispensaries that offer the White Buffalo strain near you.
Because of its rarity, White Buffalo strain can be quite difficult to find. However, we'll always do our best to source exactly what our clients are looking for, and if we can't get our hands on White Buffalo, we'd be happy to find something similar or possibly even better suited to your exact wants and needs.