White Gold Weed Strain: Effects, Reviews, & More
You're looking for a true hybrid. That perfect strain to give you that energetic lift when you need it, but that also has the calming effects to ensure a good sleep at night.
Look no further, White Gold strain is what you've been looking for.
Known for its powerful effects, great taste, and flawless finish, White Gold weed is loved by cannabis connoisseurs the world over. Keep reading to learn more.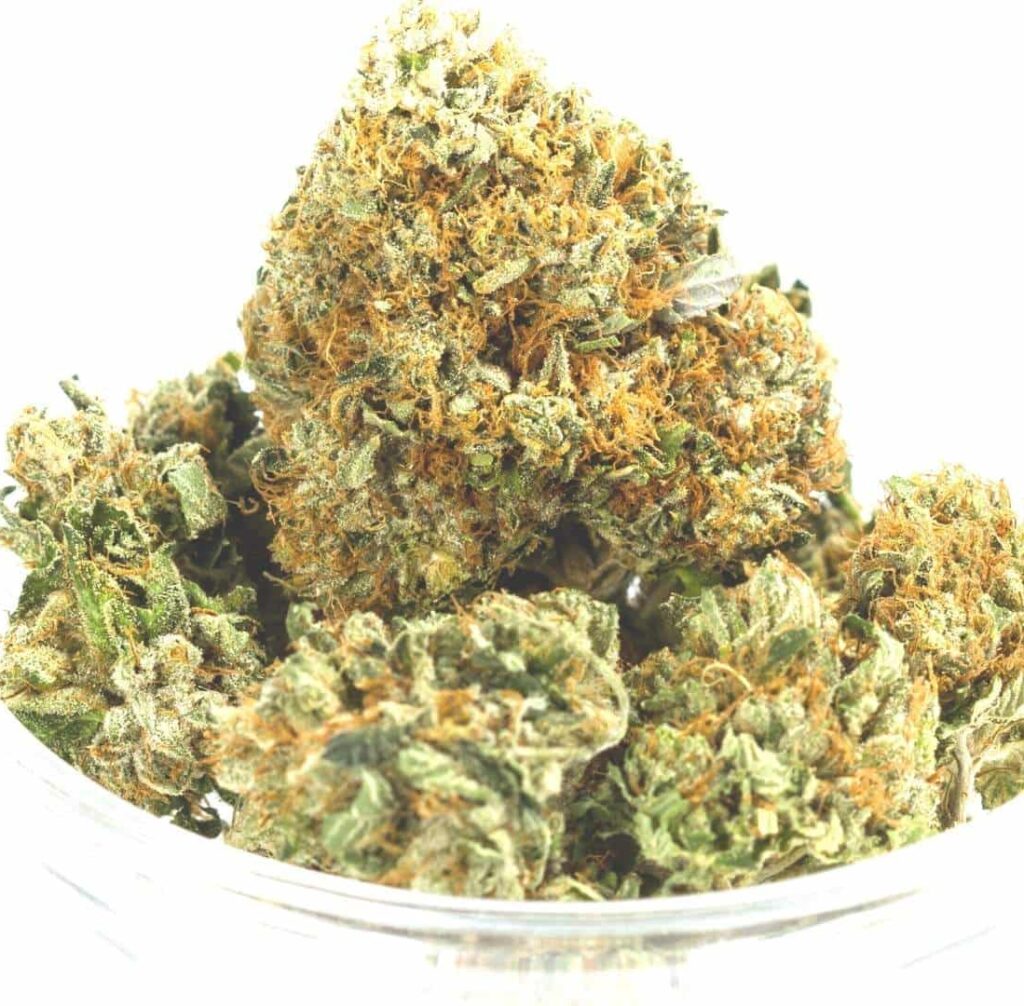 Everything You Need To Know About The White Gold Strain
White Gold Strain Effects
Some of the reported effects of White Gold include:
Relaxed

Happy

Talkative

Focused

Euphoric

Calming
Here's how we like to describe White Gold strain effects:
The White Gold high starts with a burst of energy and motivation. This immediate feeling of euphoria quickly morphs into a talkative and focused high. As the Indica settles in, a calming sensation washes over you, but you won't be sedated or couch-locked, just happily relaxed.
With a moderately high THC level, White Gold strain is perfect for use as medical marijuana and ideal for daytime toking. Some conditions that may benefit from the effects of White Gold include:
Anxiety

Depression

Chronic fatigue

Stress

Chronic pain
Things to Do While Enjoying White Gold Strain
The immediate dose of energy you'll feel from White Gold strain will stay with you throughout the high, but will quickly be accompanied by feelings of motivation and creativity. If you choose to harness the power of the Sativa, it's best to smoke in moderation throughout the day — you'll have that to-do list tackled in no time.
Or perhaps you're up for a night of socializing. Count on White Gold as your plus one. Talkative, sociable, and a little giggly, White Gold weed will have you feeling like the life of the party.
Just remember, if you want to remain on the motivated and talkative side of the high, it's best to take this one in small doses throughout the day or night.
Feeling a little on the lazy side? White Gold is still your friend. Go ahead and set yourself up for that Netflix binge and allow the effects of the Indica to wash over you, leaving you in a state of relaxed calm without losing functionality.  
Please refrain from driving or operating heavy machinery or power tools when under the influence of marijuana, including the White Gold strain.
White Gold Strain Terpenes
Terpenes are what determine the flavor and aroma of your favorite bud. They're also partly responsible for the type of high you can expect from a strain.
White Gold bud flavors are  …
Citrus 

Woody 

Fruity

Sweet

Skunky
… and the aroma is:
Pungent

Earthy

Fruity

Diesel
The dominant terpene in White Gold weed is:
Myrcene – spicy, earthy, musky
White Gold is a cross between White Widow and Himalayan Gold was first created by a breeder in the Netherlands known as Sensi Seeds.  
White Widow is a hybrid strain known for its creative, energetic, and talkative effects. 

Himalayan Gold is a hybrid strain that produces a euphoric and uplifted high.
We went to the internet to source reviews for White Gold strain. Here's what we found:
Let's just say this is very underrated! You get the happy, chill, focused high that's just perfect for getting your day started! 10/10 would recommend!

– Allbud user

Feel it right away, no nasty chemical-like taste after exhale, just goodness. Pleasantly surprised as I just picked this up on a whim at the local dispensary.

– Wikileaf user

Amazing, gorgeous, brilliant, awesome, perfect… I can use all the good words for this plant. You must try this!

– Sensi Seeds user
If you've tried White Gold strain, please leave a review below:
White Gold Strain Appearance
When you first lay eyes on White Gold, you'll notice: 
Long, lumpy buds

Long, dark, olive green nugs with purple leaves

Blood orange hairs; and

A thick, sticky trichome coating

#1: What Is the THC Content in White Gold Strain Cannabis?
The THC content in White Gold strain weed averages from 20-24% (though this can vary). 
If you're looking for a strain with less THC, try one of these:
Sour Tsunami

Haze Berry Automatic

Harlequin

Pennywise

Catatonic; or

Any strains listed in the question below
Or if you're looking for other strains that are high in THC content, you can also try these:
Kosher Kush

The Toad

Ghost OG

Strawberry Banana

Original Glue

WiFi OG

The White

And more

#2: What Is the CBD Content in White Gold Strain Cannabis?
White Gold strain weed contains only trace amounts of CBD. 
Are you looking for a weed strain high in CBD? Try one of these strains:
Charlotte's Web

ACDC

Sweet and Sour Widow

Ringo's Gift

Cherry Wine

Stephen Hawking Kuch

Sour Tsunami

Cannatonic; or

Harle-Tsu

#3: Is the White Gold Strain Indica or Sativa?
White Gold strain is a hybrid consisting of 60% Indica and 40% Sativa. The balanced strain gives users a mix of the motivating and energetic effects of Sativa (when used in moderation) and the calming euphoria of Indica strains.

#4: Does White Gold Strain Have Any Hybrids or Crossbreeds?
White Gold strain is available in feminized seeds, however, we are unable to find any crossbreeds of this strain.
Where to Buy White Gold Strain Near You
Enter your zip code below to find dispensaries that offer the White Gold strain near you.
Are you looking for White Gold strain? Give us a call! We've dedicated our entire careers trying, curating, and reviewing cannabis products for our customers and we know we can help you find exactly what you're hoping for in a cannabis product.