White Widow Weed Strain: Effects, Reviews, & More
The White Widow strain is an iconic and popular weed strain, but what is so special about it?
We are here to give you the inside scoop.
In this article, we will fill you in on everything there is to know about the White Widow strain, including its:
Effects

Genetics

Reviews

History

And more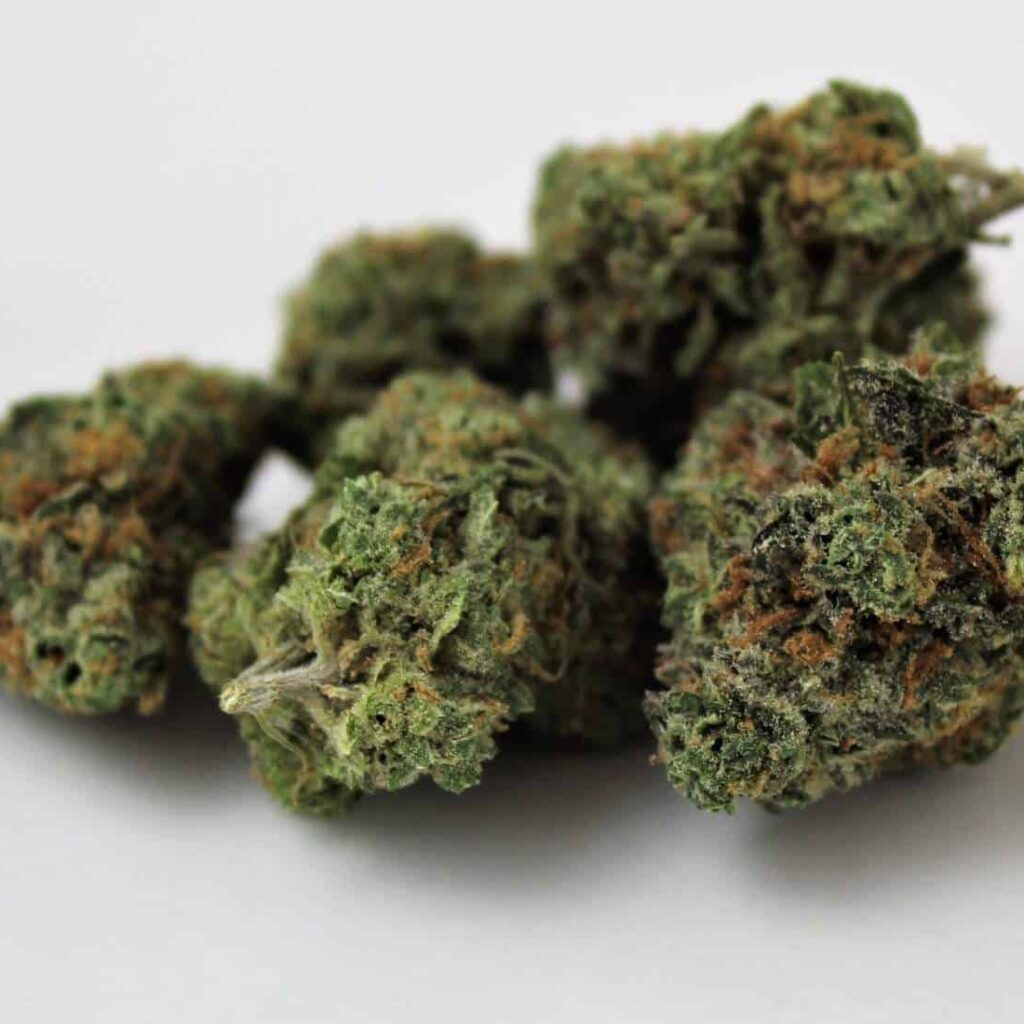 Everything You Need To Know About The White Widow Strain
White Widow Strain Effects
The White Widow weed strain produces unique effects. Users report experiencing the following effects:
Increased mental awareness

Talkativeness

Creativity

Euphoria

Relaxation
Here's a summary of what you can expect effect-wise while enjoying the White Widow strain:
The White Widow strain produces a cognitive-driven high that inspires creativity and mental clarity. Almost immediately, a state of euphoria washes over the body. While the effects of this strain are very Sativa-forward, there is also an underlying sense of relaxation caused by the Indica in this strain.
Things to Do While Enjoying White Widow Strain
Due to its mentally stimulating and euphoric effects, many users prefer to enjoy the White Widow strain while conversing and laughing with a group of friends. 
Many users also prefer to enjoy this strain in nature by taking a nice walk or stroll on the beach.
Note: Hail Mary Jane does not condone or recommend the use of the White Widow strain, or any weed products while driving or operating the use of heavy machinery.
White Widow Strain Terpenes
The terpenes in the White Widow weed strain are responsible for producing this strain's signature taste and smell. 
The main terpenes in the White Widow strain are:
Myrcene

Caryophyllene

Pinene
The culmination of these terpenes creates a sweet, lemony flavor and a citrus and peppery aroma.
White Widow History and Genetics
The White Widow strain has had a global reputation as a fan favorite since the early 90s. Walk into almost any coffee shop in Amsterdam and you'll likely see it on their menu. Influences like the show Weeds and popular rap songs have only helped bolster the notoriety of this strain.
While the original creator of the white widow strain is unknown, we do know the genetics of this strain. The White Widow strain was created by cross-breeding these two strains:
Brazil Sativa

South Indian Indica
White Widow Strain Reviews
You're interested in trying the White Widow strain, but want to read experiences from other weed users first.
We've got you covered.
Check out these reviews from Allbud and Leafly users:
"This has got to be my favorite strain that I ever smoked. It gets me moving.. I'm not too lazy, I feel happy. I can get things done for sure. I'm not paranoid AT ALL. I actually feel NORMAL! Smoking White Widow is like taking medication for me. It's the perfect weed. Seriously." – Leafly User
"Great strain. For me, it first mellows and motivates. Then it relaxes and focuses my attention on the task at hand. Finally, it knocks me out. I'm talking, have heavy eyes, yawning, sit down, head nodding, and lights out. Great for the end of the day. Makes you happy and stress-free, just realize that the more you smoke, the faster you'll hit that pillow." – Allbud User
"If you're looking for that perfect hybrid balance, and are okay with being spaced out for quite a while, you've found the perfect strain. This herb is a light and fluffy bud, green with whitish hues in color, and covered in delicious little trichomes. When smelling from the container, it has a woody and slightly herbal smell, but when it's smoked it gives a more earthy and woody flavor. This strain is perfect when you need a little creativity boost as well as a great strain for going on walks or hikes because it greatly enhances the colors and details of any setting around you. A word of warning: newbies take caution, if you aren't accustomed to some potent effects and a strong feeling of spacing out, this strain may bring a little anxiety and paranoia, otherwise, if that's not an issue with you, have at it and have fun. Peace out." – Leafly User
Have you tried the White Widow weed strain? If so, leave your review below!
White Widow Strain Appearance
The White Widow strain was named after its appearance, as its buds are covered in white crystals.
These crystals help produce a sugary smoke that is initially light and expands during inhalation. This can lead to heavy coughing, making this strain more suitable for more experienced smokers.

#1: What Is the THC Content in White Widow Strain Cannabis?
The average THC content for the White Widow strain can range from 18% to 25%. 
If you're interested in more strains with a similar THC content, check out the following strains: 
Sour Chem

White Fire OG

Lemon Cake

Lemon Skunk

Purple Haze

And more

#2: What Is the CBD Content in White Widow Strain Cannabis?
The White Widow strain only has an average CBD content of 1%.
If you're looking for weed strains with a higher CBD content, we'd recommend the following strains:
Lifter Plus

Secret Sauce

Cherry Creme Brulee

Elektra

Hawaiian Haze

And more

#3: Is the White Widow Strain Indica or Sativa?
White Widow is a hybrid strain consisting of 60% Sativa and 40% Indica.

#4: Does White Widow Strain Have Any Hybrids or Crossbreeds?
The White Widow strain is responsible for creating the following crossbreeds:
White Rhino

Moby Dick
Where to Buy White Widow Strain Near You
Are you ready to try the White Widow strain for yourself? Enter your ZIP code below to find dispensaries with the White Widow strain in stock near you.
If you have trouble finding the White Widow strain near you, contact us. We can use our experience of over 10+ years trying, curating, and reviewing cannabis products to help you find White Widow products or the next best thing available.