Zaza Weed Strain: Effects, Reviews, & More
You've probably heard about the relaxing high you get with Zaza. Add to it the fruity flavors of blueberry, lemon, pine, and diesel — and you've got a match made in heaven.
Want to find out if the Zaza weed strain is right for you?
You've come to the right place!
Read on to learn everything you ever wanted to know about the Zaza strain, including where to pick some up, so you can try it for yourself.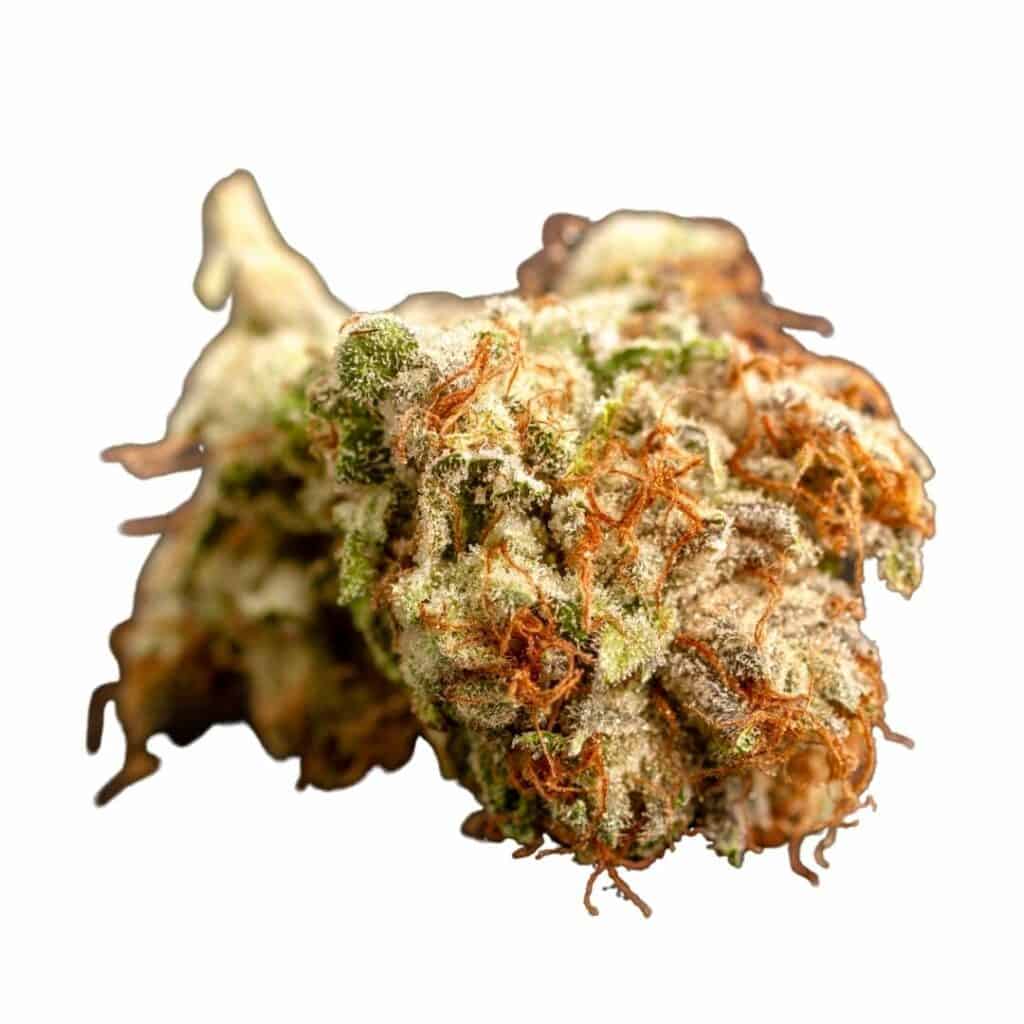 Everything You Need To Know About The Zaza Strain
Some of Zaza weed strain's reported effects include:
Euphoric

Happy

Hungry

Relaxed

Sleepy

Calming
Here's how we like to describe the effects of Zaza strain:
Famous for its long-lasting and super sleepy high, the Zaza weed strain is dreamy for those who need a little nudge to fall asleep at night. With your first inhale, the happy lift of Zaza's slow-building high relaxes your mind and leaves you without a care in the world. Soon your entire body is enveloped in a gentle, sedative, long-lasting couch lock. 
With its 19 to 21% average THC level, Zaza strain is a great option if you suffer from:
Stress 

Depression 

Anxiety

Insomnia

Loss of appetite; or

Nausea
Things to Do While Enjoying Zaza Strain
Zaza strain gently draws you into a state of relaxation. 
You may feel hungry, so be sure to have some of your favorite munchies on hand nearby.
Mostly, though, you'll be chilling on your couch as you feel your anxiety and stress melt away.
Just to be safe, don't make any over-ambitious plans like exercising, or doing physical labor after toking Zaza. And since Zaza marijuana has a higher percentage of Indica, be sure to take it slow to avoid a weed hangover the next day.
As always, when under the influence of any weed, including the Zaza strain, it's not recommended that you drive or operate heavy machinery. 
Terpenes determine what kind of high you'll get from weed and are the key factors in the overall experience and taste.
When you're experiencing real Zaza strain, you can expect a lemony taste that grows stronger when you exhale. You'll also notice some sour and pine notes, and the aroma of Zaza will make you think of lemon with an overtone of diesel.
The dominant terpenes in the Zaza strain are: 
Linalool:

Linalool is the terpene to be on the lookout for if you want weed that will melt away your stress. It smells flowery, and you'll also find this aroma in other strains, including Mint Chocolate Chip and Starfighter.

Pinene:

Pinene gives an earthy flavor and is great for getting rid of:
Besides making an appearance in Zaza strain, you'll also find this terpene in Blue Dragon and Alien Cookies.
Limonene

:

Limonene is known for its lemon aroma and taste, as well as its anti-inflammatory properties. If you're looking for other strains that contain limonene, you'll want to check out Purple Urkle and

Dolato.

Myrcene

:

Known for its earthy taste, myrcene helps quell anxiety, and boosts your ability to fall asleep — and stay asleep. Wonka Bars and Rocket Fuel also have good levels of myrcene. 
The Zaza strain is a 70/30 Indica-dominant hybrid cross between Blue Dream and Rare Dankness. 
Blue Dream

offers a balance high and is known for giving a combo of physical relaxation and creative motivation. And with its blueberry taste, it's amazing for baking.

Rare Dankness

comes in with THC levels up to 24% and has no trouble living up to its name. If you're opting for this strain, don't make any plans. Highly sedative, just a few tokes of Rare Dankness take you into a hazy state of relaxation that you won't be coming out of any time soon.
If you are consuming Zaza weed for the first time, you'll want to keep plenty of food and drinks handy. Having the munchies is a given with Zaza strain, and it is even used medically to boost the appetite in some patients. 
The strong Indica effects in Zaza can easily put you to sleep in no time, making it the perfect choice for winding down after a long day. 
Wondering what others have to say about the Zaza weed strain? Here are a few comments from Allbud users:
I'm on it as I write this. One of the most potent strains I've tried …  I feel trapped between sleep and partying. The head high is intense, but so is the body. Definitely for partying, but only with friends. 👍. Definitely grade A.

Was smoking it, start feeling it 15 minutes after immediately I felt locked to the couch but was on my bed laughing, smiling, and sleepy.
If you've tried Zaza strain, please leave a review below:
Zaza Strain Information & History
You probably know that the best weed is often referred to as Zaza. 
But where did the name come from?
When you take a look at social media and the lyrics to rap songs, Zaza is often an abbreviation for the word "exotic." So, besides being a strain, Zaza also refers to any especially exotic and amazing weed.
The word Zaza has taken the rap culture by storm. You don't have to think long to come up with a rap or hip-hop song with the Zaza in the lyrics, like when:
21 Savage

lets on that he was, "Smokin' on Zaza" in his hit "Runnin."
         And 
Trippie Redd

sang, "I smoke Zaza I'm in La La off them trees" in "Weeeeee."

#1: What Is the THC Content in Zaza Strain Cannabis?
The THC content in the Zaza weed strain ranges from 19 to 21%. 
With its relatively high THC percentage, Zaza strain can sometimes prove overwhelming for newbies. If you've indulged for a while, you'll find Zaza's THC to be just right. 
If you're wanting a strain with a lower percentage of THC, try one of these:
Harlequin

Easy Bud

Haze Berry Automatic

Catatonic

Remedy; or

Any of the strains listed in the question below
Or if you're looking for strains that are high in THC content, you might want to try:
WiFi OG

Godfather OG

Chemdog

The Toad

Strawberry Banana

Amnesia Haze; or

GG4

#2: What Is the CBD Content in Zaza Strain Cannabis?
Zaza strain weed contains only a low level of CBD. 
Are you looking for a weed strain high in CBD? Try one of these strains:
Cherry Wine

Charlotte's Web

Sour Space Candy

ACDC

Lifter

Ringo's Gift

Elektra

Sour Tsunami; or

Harle-Tsu

#3: Is the Zaza Strain Indica or Sativa?
Zaza strain is a hybrid that consists of 70% Indica and 30% Sativa. 
A cross between Blue Dream and Rare Dankness, Zaza strain is perfect for relaxing after a busy day at work.
Where to Buy Zaza Strain Near You
Enter your zip code below to find dispensaries that offer the Zaza strain near you.
If you are unable to find the Zaza weed strain near you, reach out to us. We have over a decade of experience when it comes to curating, using, and reviewing cannabis products for our customers, and we're sure to help you find exactly what you're looking for.