THC gummies are one of the most delicious ways to consume marijuana edibles. If you've ever been to the dispensary, you've probably noticed that there are gummies in all sizes, shapes, flavors, and potency levels. Some have CBD, others have THC. Today we're going to talk about THC gummies and provide everything you need to know about how they work, how to best consume them, how to figure out how many to eat at a time, plus some of our favorite brands that can be delivered right to your doorstep.
THC gummies are gummy candy that is infused with tetrahydrocannabinol, the psychoactive compound in the cannabis plant that gets you high. 
Gummies are a popular way to consume cannabis in an "edible" form, especially if you don't want to smoke your herb.
THC gummies tend to replicate the classic gummy bear, with flavors ranging from classic fruit essence to mint, citrus, or natural herb flavoring from the cannabis extract. Some gummy brands sell small square gummies, which are made using a mold that ensures each square has an equal distribution of THC. You'll also find some gummies that are coated in sugar for extra flavoring. As THC gummies become a more and more popular option for cannabis consumers, you can expect to find a larger, more creative variety in your local dispensary.
THC gummies can contain anywhere from 5mg of THC to 100mg or more of THC. Before you eat a gummy that contains any form of cannabis, it's crucial that you read the packaging and find out how much THC is in the product, so you know exactly how much of the product to consume. It's easy to consume too much when they taste like delicious candy.
If you're buying a pack of 10 or 20 gummies, chances are each gummy contains around 5 or 10mg of THC, which is a good dose to start with. Most people go for 10mg per dose, which provides a full experience that can last several hours on someone with a low or average tolerance level.
If you are consuming one large gummy, make sure you read the packaging to see how much is in the full gummy. Some large gummies will contain as much as 100mg of THC, so if you eat a full one you better plan on spending the day on the couch.
Bottom line: Read the labeling and make sure you know how much THC is in each gummy, even if you assume you know the answer.
There are hundreds of brands making THC gummies, but not all are created equal. Here are some of our favorite trusted brands that will deliver to you via the Eaze app.
Camino Blood Orange THC Gummies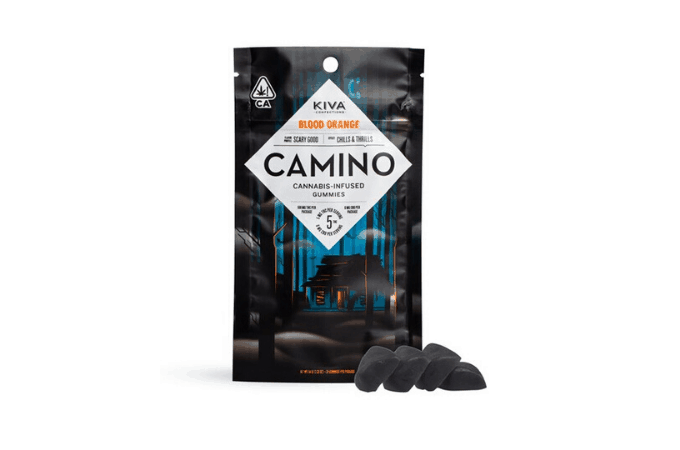 Since 2010, Kiva has been one of the leading names in the cannabis edibles industry. These Camino Blood Orange THC Gummies are infused with blood orange and activated charcoal for a sweet fruity flavor paired with a uniquely rich black color. Each gummy contains 5mg of THC from a sativa-dominant plant, plus all the naturally-derived terpenes for maximum potency and absorption. Grab a pack of 20 via the Eaze delivery website.
Emerald Wild Berry THC Gummies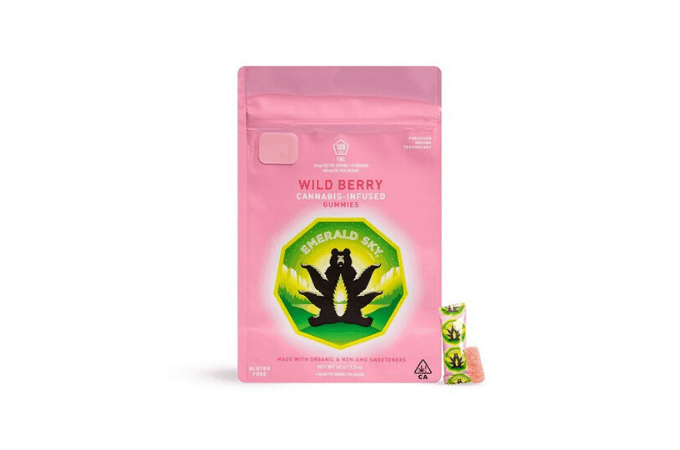 These wild berry THC gummies by Emerald Sky are perfect for winding down after a busy day. Each gummy is infused with 10mg of flavorless indica-dominant THC, and each package contains 10 gummies. Take one an hour before bed and gently ease your body into a restful night of sleep.
PLUS Rainbow Sorbet THC Gummies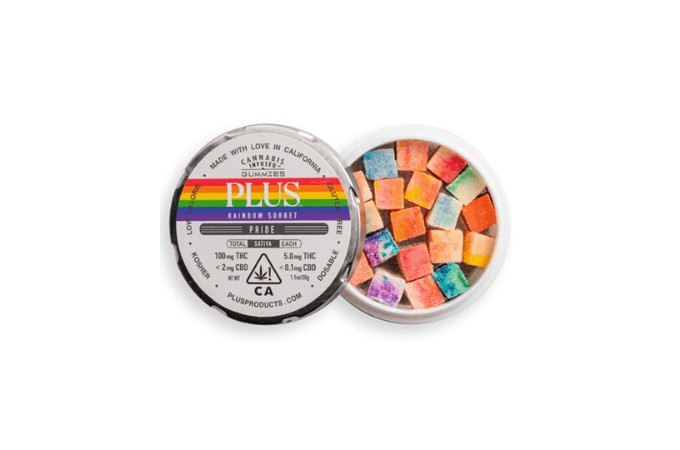 For a THC gummy that gives back, these PLUS limited edition rainbow sorbet gummies are proudly made in the Bay Area and contain 5mg of THC per gummy/20 gummies per container. With every purchase of these gummies, PLUS donates a portion to the SF LGBT Center in support of the LGBT community.
Camino Watermelon Lemonade THC Gummies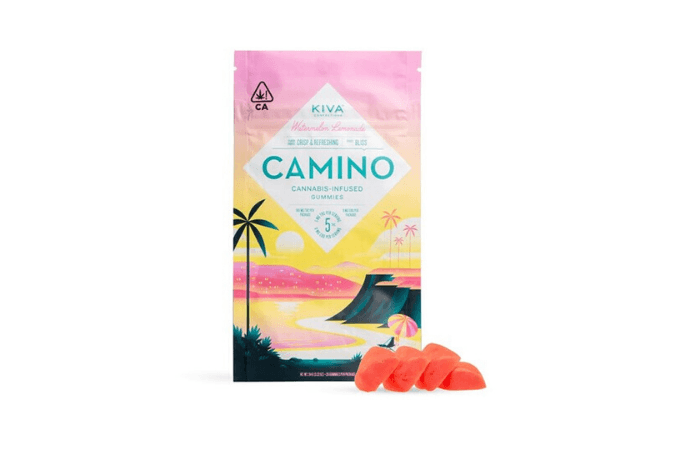 Kiva's Camino Watermelon Lemonade Gummies were made to put you in a "California state of mind." Each watermelon and citrus-flavored gummy contains 5mg of THC with a blend of both sativa and indica terpenes, designed to keep you feeling blissful and relaxed any time of the day. Grab a pack of 20 via Eaze.
Where To Buy THC Gummies Online?
Whether or not you can buy THC gummies online will depend on whether or not cannabis is recreationally or medically legal in your state.
If your state has recreational cannabis, anyone over the age of 21 can purchase THC gummies. In California and Oregon, our favorite place to buy THC gummies is via the Eaze delivery service. You can check out their on-demand delivery app here to see if they serve your area.
If you're not local to California or Oregon, download the Weedmaps phone app to check for local dispensaries and view their current selection of products. If you live in a state that only has medical marijuana and not recreational, you will need a state-certified medical marijuana card in order to purchase THC gummies online.
THC gummies are made by infusing a gummy recipe with oil that contains THC.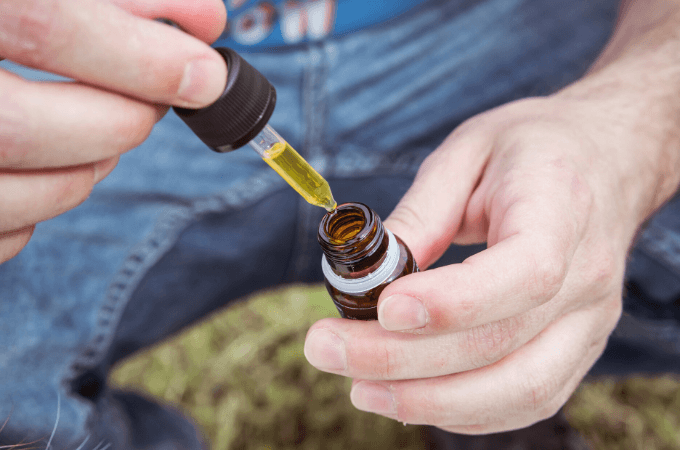 The first step to making THC gummies is to make your THC oil, which you can do with an herbal extractor like the Magical Butter machine. Since THC is fat soluble, you will need something like butter or coconut oil as a base, which will extract the cannabinoids and terpenes from the plant.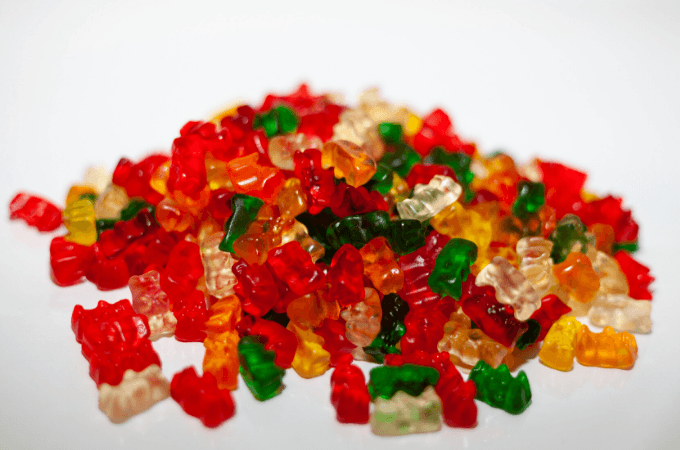 Once your THC oil has been made, you can follow any gummy recipe and replace the oil in the recipe with your THC-based oil. If you have a Magical Butter machine, they provide all the recipes and ingredients you need in order to make THC gummies yourself.
The most difficult and risky part of making your own THC gummies is controlling the dosage. When you extract your own THC, it's hard to know exactly how many milligrams of THC each ounce of oil contains. When this is the case, you could end up with extremely potent or weak gummies, which ends up being more of a waste of weed than anything.
To make it easy, we highly recommend using a machine and guide like the Magical Butter, which will ensure your experience is as foolproof as possible.
THC Gummies Effects and Benefits
The effects and benefits of THC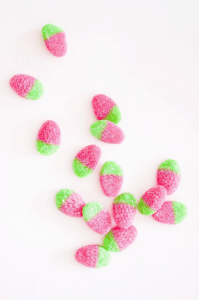 gummies will depend on your tolerance level, your experience with cannabis, the current state of your endocannabinoid system and its deficiencies, and other biological factors.
For the most part, the high you'll experience from THC gummies versus smoking THC is similar, but will be more intense with edibles because more of it is ingested through your gastrointestinal system. The effects take longer to kick in with edibles due to the fact that it has to make it through your digestive system before entering your bloodstream, but once they do kick in, tend to be more potent and last longer than smoking.
With edibles, expect the high to last a couple of hours, and expect to feel it more in your body than your head, although the effects will ultimately depend on the specific strain.
The intensity of THC gummies is why it's recommended to start low, around 5mg per dose, before making your way into larger dose levels.
How Long Does THC Gummies Stay In Your System?
When you consume THC via any edible product, the THC will stay in your system just as long as it would if you were smoking or vaping. Once THC hits your bloodstream, it takes anywhere from 4-6 weeks for it to completely leave your system. That doesn't mean you'll be high the whole time, just that you will test positive for THC up to 6 weeks after consuming it.
Most frequent questions and answers