The evolution and improvement of vaporizers have helped change how many cannabis enthusiasts consume their herb nowadays. Some vape manufacturers try to attract attention and loyal followers with gimmicks and slick packaging.
But true weed enthusiasts don't care about such tricks; you care about consistent efficiency and quality in every sesh. You crave smooth hits that deliver potent effects with very little worries about high maintenance.
The Air II (sometimes written as Air 2) is a portable vape device from Arizer, a vaporizer company located in Canada – and if you're looking for excellence absence gimmicks and slickness, this may be the portable vape you're looking for.
The Unboxing of Arizer Air 2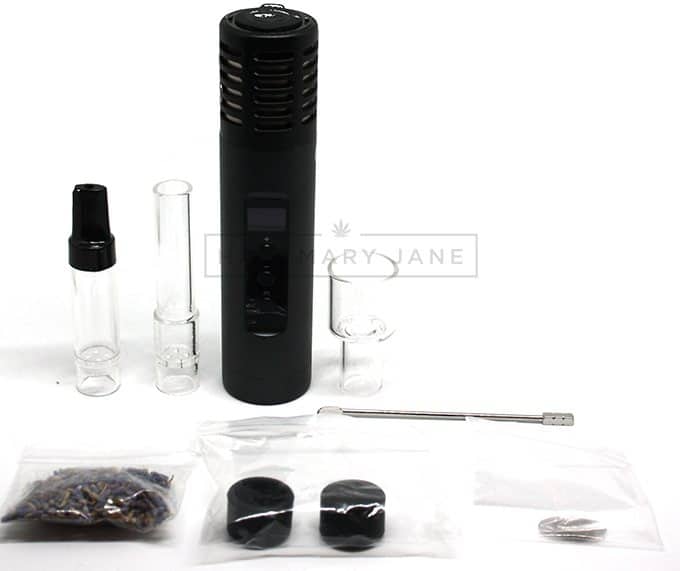 The Arizer Air II arrived in a brown box only a few days after the order was placed. Inside were a simple black box and a black t-shirt (we're not sure if this was simply a promotional gig or if this is normal – and we couldn't find a definitive answer).
Upon opening the box, we were treated to a compact packaging of the following:
Owner's manual
AIR II Micro-Heater
Battery
Charger/USB/Power Adaptor
70mm Glass Aroma Tube
70mm Tipped Glass Aroma Tube
Glass Aroma Dish
Silicone Stem Caps (2)
Belt-Clip Carry Case
Stainless Steel Stirring Tool
Stainless Steel Filter Screens (4)
Sample of Aromatic Botanicals (we got lavender → good for aromatherapy and deodorizing)
Discount Voucher (good for use on a future purpose)
It is basically the same size as the previous iteration of Air, yet it has a longer-lasting performance with a battery that's interchangeable, has a verifiable 50% higher capacity, and heats up even faster than before. It has excellent portability and settings that are easily customizable.
Let's take a closer look at what the device has in store.
About Arizer Air 2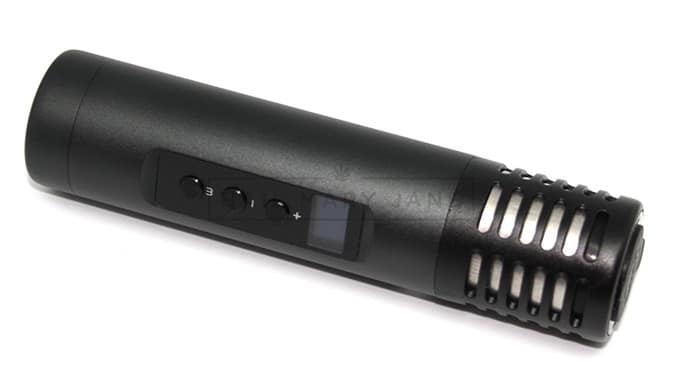 The Air II is available in two attractive colors – Mystic Blue and Carbon Black (ours came in black) – and features the following:
PURITY
The device has an isolated vapor path made of boro-silicate glass for superior vapor that's pure and flavorful every time. The air path is unobstructed so that you can take either quick, short pulls or lung-busting rips worthy of going viral. The high-quality glass does not rob your sesh of its flavor and aromas.
POWER
The battery has a 50% higher capacity for faster heat up to get your sesh going more quickly. It comes with a USB charger that allows you to continue your sesh even while charging for limitless use wherever and whenever.
OPPORTUNITY
The device comes with two tubes that can be preloaded with weed. This, along with the purchase of a spare battery, makes the Air 2 portable and perfect for freedom of choice any time your sesh is on the go.
You always know the functions of the Air II: the temperature at which you're smoking, remaining battery life, level of heat, time left until automatic shut-off, and more. Armed with this knowledge, each sesh is yours to create how you wish.
CONVENIENCE
The beauty of the Air 2 is that it's simple, personal, and gimmick-free. It requires virtually no maintenance and comes with precision temperature control settings that can be customized for a unique sesh every time. You can charge the device anywhere – desktop, laptop, car, charging stations, etc. – so you never worry about your sesh running out of time.
The Control Panel has easy to read icons for indicating:
Battery level
Audio alert
Brightness
Level of heat
Temperature
Auto-off Timer
Power On Delay
QUALITY
The Air II is durable, reliable, and crafted with high-quality components. It also comes with a 2-year warranty and customer service that's rated highest in industry.
Arizer Air 2 Design and Features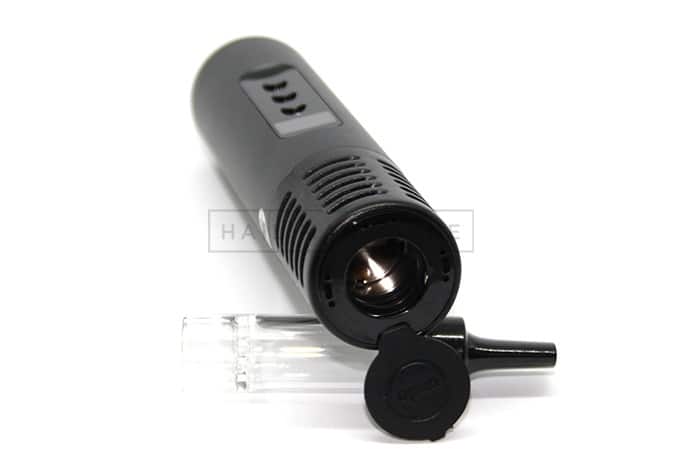 The Air 2 takes the foundation that made the original Arizer Air so popular and made them even bigger and better.
The easy-to-read Control Panel has 3 buttons:
Menu: (m)
Plus: (+)
Minus: (-)
The panel display shows all information clearly and readily.
The Air II is small and compact, easily fitting into a pocket, carrying case, or backpack. The aluminum exterior is nice to the touch and feels durable. The glass aroma tubes are sturdy, yet removable for easy replacement and/or cleaning.
The side of the battery is where to insert the cable for charging, which can be completely done in 2-3 hours from a completely dead device.
Here are important specs that the Air 2 features:
Price Range: $200-250
Dimensions: 6 x 6 x 6 inches (152 x 152 x 152 mm)
Weight: 1 lb.
Compatible with: dried herb
Source of heat: battery
Voltage: 110v
Simply put, the Air II design is simple, elegant, and effective.
Arizer Air 2 Control Panel
Audio / No Audio
Just like with your smartphone, the Air II comes with a choice of sound or no sound while being powered on or while you scroll through the controls.
If Audio is selected, a beep that comes in three volume settings can be heard each time you scroll through and customize your pen's settings. And you can even customize this: turn off the sound and use your Air II with complete discretion.
Turning On the Arizer Air II
Turning the pen on is a breeze – hold the Menu (m) and Minus (–) buttons simultaneously. However, the pen doesn't turn on immediately, which is a beautiful aspect of this pen.
For safety's sake, the pen has a Power-On Delay feature, which virtually assures that you won't accidentally turn on the device. The delay feature comes in four different settings:
2 seconds
4 seconds
6 seconds
8 seconds
The default setting is 6 seconds, which is clearly counted down on the OLED display on the Control Panel.
The Arizer Air II even has a personality, as it greets you with a "Hi" once the pen is powered on (although it's not as personable when you power off, as you get only an "Off…" sign-off).
Arizer Air 2 Temperatures
Once the pen is on, it automatically starts warming up – you can track the progress as the display shows the temperature as it heats up to the settings from the previous sesh (when we turned the Air II on the first time, it went to its preset temperature of 200°C).
The desired temperature setting is reached very quickly (under 30 seconds was our experience) and can be adjusted in increments of 1 degree or 10 degrees:
press the Plus (+) or Minus (–) button once to increase or decrease by a single degree
press and hold the Plus (+) or Minus (–) button for 3-4 seconds to raise or lower by 10°
The Air II has an optimized heating system that provides a wide range of temperature settings from which to choose – the range goes from 50°C (122°F) to 220°C (428°F). This is perfect for creating customized seshes.
Fahrenheit or Celsius?
When we say the Arizer Air II is customizable, we mean it. You have the option of choosing to read the temperature in Fahrenheit or Celsius.
The default setting is Celsius, but it's easy to switch. Press the Menu button (m) until you reach the °C/°F display and then switch using either the Plus (+) or Minus (–) button.
Brightness Display
The device also allows you to choose how bright you want the Control Panel to be – low, medium, or high.
Simply scroll through the display options using the Menu button (m) until you get to the brightness option, which is set automatically as Medium. To change, simply press the Plus (+) or Minus (-) button.
Automatic Timer for Powering Off
This safety feature matches the safety feature when powering on the pen and helps save battery life. It can be adjusted in 1-minute increments from 5 to 15 minutes.
The default setting is 10, and changing is as simple as other changes – pressing the Plus (+) or Minus (-) button.
Powering Off Manually
It's as simple as powering on the pen, though you need only press one button –the Menu button (m) for 2-3 seconds.
How to use? – Arizer Air 2 Manual
Fill the Glass Tube
Grind up the herb or botanicals and load them into the glass aroma tube. To take advantage of the tube's easy maintenance and excellent performance, don't pack it too tightly.
One of the great things about Air II is that you can preload the glass tubes so that you're always ready for a mobile sesh – or a sesh anytime!
Power On and Heat UP Air II
Press and hold the Menu (m) and Minus (-) buttons to power the unit on. Set the desired vaping temp and wait for the unit to heat up.
Taking a Hit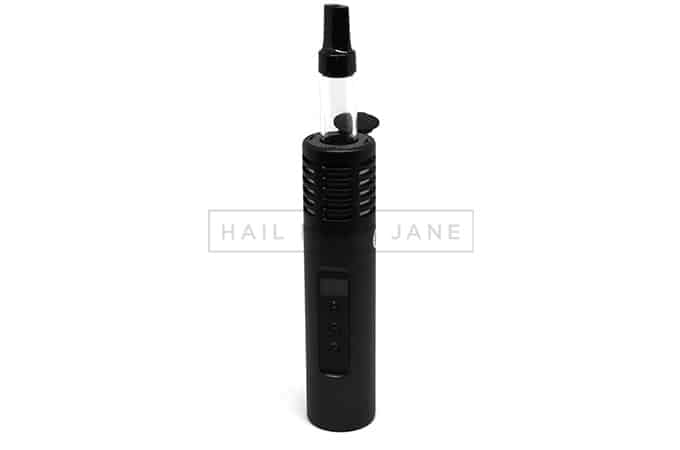 Pulls from the Arizer Air 2 are smooth and easy. There is very little draw resistance, but, for best results, our pulls lasted 5-10 seconds and came with a potent hit.
Vapor
For many vape enthusiasts, this is the most important aspect of any vaporizer. The Arizer Air 2 produces vapor that is thick and billowy. We chalk this up to the fact that the tubes through which you take the pull are made of high-quality glass.
The flavor of the pull is excellent at first, but it does taper off as you continue the sesh; however, the flavor lasts longer than it does from other vapes.
Turn Off
You have two choices to shut off the Arizer Air II:
It will shut off automatically after a time that you designate – Ranges from 5 to 15 minutes (default is 10 minutes)
To shut off manually, click the Menu (m) button
Maintenance and Cleaning
The Arizer Air II is virtually maintenance-free, though if you're picky about cleaning, you may still clean it after every use. However, it's designed to be as free of trouble or cleaning as possible.
When the battery is low, recharge it or swap it for a backup. And because the Air II comes with two glass aroma tubes that are easily interchangeable and pre-loadable, you're always ready for the next sesh. Simply keep the tubes loaded.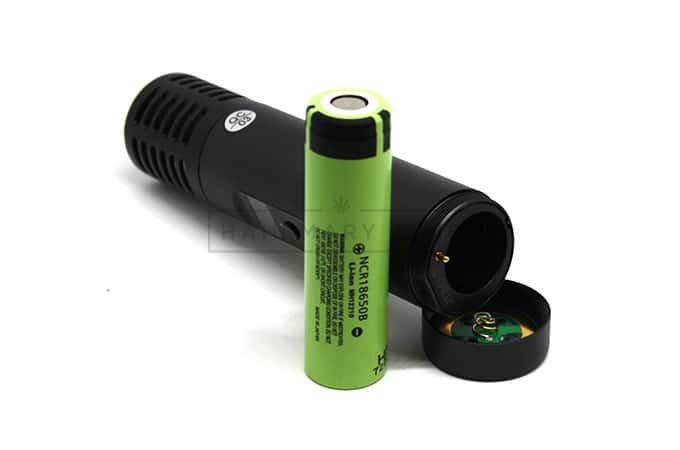 Unless you're a cleaning fanatic who wants to clean the tubes after each sesh, you can clean the tubes every couple of seshes – and it's effortless. Simply, soak them in rubbing alcohol (isopropyl) for a few hours and then rinse with hot water. This should almost always be enough, though afterward, you'll want to ensure that the tubes are completely dry before you use again.
We didn't clean after each use even though we're somewhat obsessive about good hygiene. However, even after 2-3 seshes, we didn't notice a drop-off in the quality of hits; they were smooth, clean, and potent.
Unlike other vape pens where the chamber must be cleaned, the herbs or botanical never touch the inside of the Air II chamber; this makes cleaning even easier.
Aromatherapy with the Arizer Air 2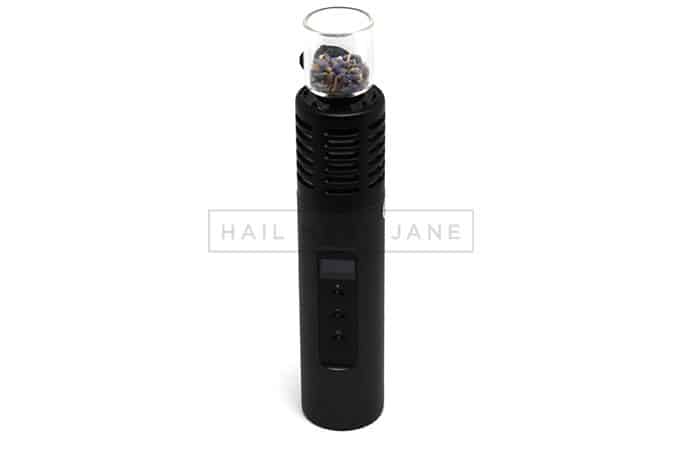 Yes, this is a review about a portable pen for vaporizing marijuana, but many smoke veterans will understand the connection between aromatherapy and smoking weed. Very few seshes are complete without the burning of incense to mask the dank smell of weed or to complement it.
This is a substitute for burning incense – and it's in the same device!
Try it yourself – before, during, and especially after a sesh (if the smell of weed or weed smoke is problematic), the Arizer Air II functions very well as a method of aromatherapy.
It's simple:
Load the aroma dish with dried botanicals (Air II comes with a sample, as referenced above)
Insert the dish
Power the unit on
Adjust to the recommended aromatherapy temperature of 122°F (50°C)
Inhale the pleasant aroma of the botanicals being warmed and relax!
Arizer Air 2 Accessories
Arizer has several accessories that make each sesh with the Air 2 unique:
Glass Aroma tube (70mm, 90mm, 110mm size choices)
Curved Glass Aroma Tube
Tipped Glass Aroma Tube
Replacement Mouthpiece Tip
Frosted Glass Aroma Tube
Glass Aroma Dish
Carrying Case (soft-shell, hard-shell, or belt-clip)
High-power Li-ion replaceable battery
And more
Each accessory is extra and can be seen here.
The Final Hail Mary Jane Word on Arizer Air 2
The Arizer Air 2 has a host of benefits:
Benefits
Easily Portable
Durable
Produces good, thick vapor
Control Panel ease of use
Wide range of temperature settings
Customizable in temperature increments of 1 or 10
Quick, consistent heating
Over 60 minutes of continuous use
Virtually maintenance-free
Easy to clean (when needed)
Automatic shut-off
Ideal for beginners
Great Customer Service
Drawbacks
Price
Gets hotter than you might want or expect
Weed taste is not consistent as the sesh continues
Hard to get in touch with
   -No Twitter presence
   -No Customer Service Phone Number
   -All correspondence was inconveniently through email
Hail Mary Jane Arizer Air 2 Conclusion
The Arizer Air 2 is excellent for beginners, weekend users, and full-blown expert smokers alike. It's durable, sleek, easy to use, portable, and highly enjoyable. One of our contenders for the best marijuana vaporizer of 2019.
For those who like to taste your weed as you smoke, you should be happy with the glass devices that make pulls smooth, clean, and tasty.
The pen should be good for use by both medical patients and recreational users, as the Air 2 is potent enough to deliver the punch you need.
Overall, the Arizer Air 2 is an excellent vape pen – it earns a solid score of 4.5/5.
Where to Buy the Arizer Air II