Bath bombs and CBD are two big buzzwords in the wellness and self-care industries, which is why it's probably no surprise that CBD bath bombs are a popular way to unwind and give your skin some cannabidiol goodness at the end of the day.
But what exactly are CBD bath bombs, and are they worth the hype?
Well, it might just be something you don't want to live without.
In this post, we'll go over the basics of what to look for in a CBD bath bomb, how to use them, how to make them, and the brands we recommend and trust if you would rather buy your own.
CBD bath bombs are bath bombs made with baking soda and essential oils that have been infused with CBD oil, similar to what would be used in a topical CBD product.
Bath bombs are designed to fizz and dissolve in your bath water, often filling your tub with fun colors, smells, and ingredients blended to soothe and relax your body.
CBD is also known to aid in relaxation, soothe sore muscles, reduce inflammation, and help relieve pain, so when combined with a warm bath, it's the perfect combination for soothing self-care.
Can CBD Be Used As a Bath Bomb Ingredient?
Bath bombs have become increasingly popular in recent years as a relaxing way to practice self-care. 
The company Lush Cosmetics invented these fizzy bath drop-ins back in 1989 and saw a huge resurgence in sales starting in 2015. In three years they saw sales explode — pun intended — by 71%. 
These little indulgences have become a must-have not only because they're fun to use and look at, but they're also good for you. 
They can:
Soften your skin

Give you a nice glow; and

Help you rejuvenate or relax with aromatherapy
Plus, they're nice and pampering and feel like a small luxury in your day.
But have you ever considered that your bath bomb could also contain CBD if you want? 
You probably already know about the many benefits of CBD oil, so just imagine those combined with a soothing bath bomb for ultimate tranquility.
You can buy bath bombs that already have CBD in them, or you can make them yourself and customize them to your preferences. 
That may sound intimidating to you, but it's actually super easy! Let's look into how it works.
How to use a CBD Bath Bomb?
CBD bath bombs are super easy to use. All you have to do is run your bathwater, drop in a CBD bath bomb, and watch it fizzle as it dissolves and fills the tub with its ingredients. Some bath bombs may have recommendations for how often to use them, when to use them, or the benefits you can expect, but for the most part, all you have to do is drop it in the tub and enjoy.
Are THC Bath Bombs A Real Thing?
Most bath bombs contain only CBD, but some companies like Kush Queen do have the option of splitting the 50mg and using a combination of 25mg of THC and 25mg of CBD. These are not sold online, however, so you will have to visit your local dispensary to find bath bombs containing THC.
Whether or not THC provides more benefits depends on your body chemistry, so you'll ultimately have to test a few products and see what works best to help alleviate your symptoms.
How To Make CBD Bath Bombs
If you're the crafty type, it's actually pretty easy to make your own CBD bath bombs. Making a bath bomb is a simple and fun home activity that will give you a great end result. Most bath bomb type of products are made with products found in most people's kitchens, like baking soda and cornstarch. 
There are all sorts of bath bomb recipes available online; in order to infuse yours with CBD, you'll have to replace the vegetable oil you'd normally use (like coconut oil) with CBD oil.
You can use either a CBD oil you've purchased online or at the dispensary, or even one you've made yourself with something like the Magical Butter machine. Here's a simple recipe for CBD bath bombs.
Ingredients:
4 oz baking soda

2 oz cornstarch

2 oz citric acid — this is what gives the bath bomb its fizz

2 oz Epsom salt — you might choose a variety that is already scented or contains essential oils instead of adding those separately

1.5 tsp water

1 tsp

essential oil

of your preference

¼ tsp CBD oil or tincture —

visit Hail Mary Jane to get recommendations for the best

Whatever fun stuff you might want to add to jazz up your bath bomb — glitter, food coloring, mica colored powder, dried flowers, etc.
Materials:
Large bowl
Whisk
Small jar or bowl
Silicone molds that hold 12-18 bath bombs
Directions:
Combine the Epsom salt, baking soda, citric acid, and cornstarch together in a large bowl.
Combine the wet ingredients in the jar and shake them up until thoroughly combined. This is also when you'll experiment with the scent by adding a drop of whichever oils you choose, so be careful before overdoing it. This is also when you'll add the food coloring. It's recommended to stick to one color to keep your bath water pretty instead of looking like dirty dishwater.
Add the wet ingredients to the dry ingredients slowly, about one teaspoon at a time. If it starts to fizz, you're moving too quickly. It should look like damp sand by the time everything is combined.
Immediately transfer into your molds by pressing the mixture down firmly into each mold before it dries.

Let the bath bomb set for at least 30 minutes, then gently unmold.

Allow them to dry for 12-24 hours (we recommend giving it a day to be safe) before enjoying in your bath.
The amount of CBD in your final product bath bomb will depend on the potency of the CBD you blend into your ingredients. If you use 2.5 tablespoons of a bottle of oil that contains 1000mg of CBD, your bombs will be more potent than bombs made from a bottle of 300mg CBD.
This will yield one CBD bath bomb depending on the size of your mold, so increase the recipe depending on how many you'd like to make at a time.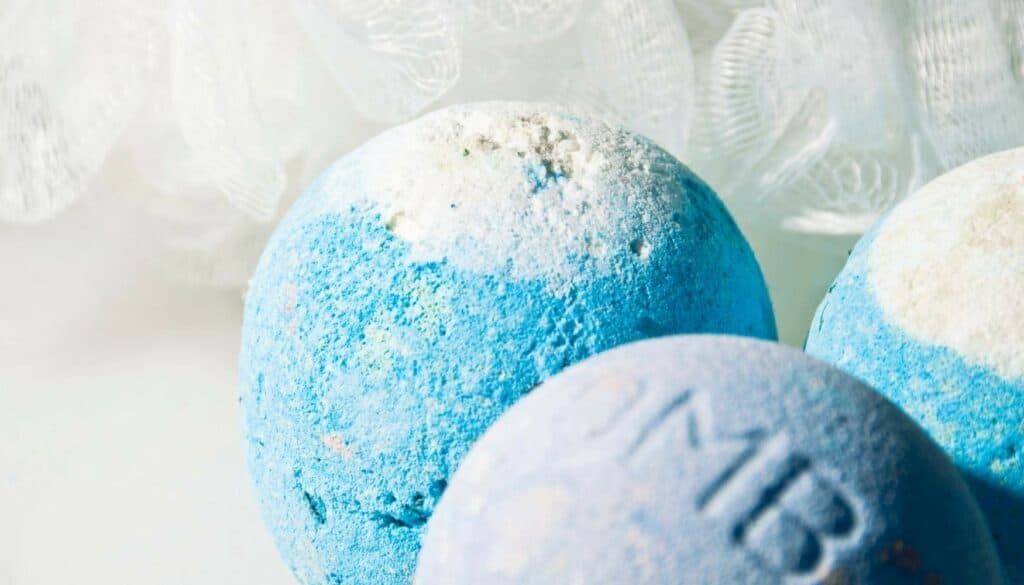 How Much CBD Should Be in a Bath Bomb?
To maximize the calming effects of CBD and optimize its effects on your skin, you should use a bath bomb with about 100 mg of CBD in it. 
If you're following the recipe above that may mean you need to adjust your levels based on the strength of the CBD you have, but you can always add more or less water to balance it out.
Do CBD Bath Bombs Actually Work?
There are no specific studies on CBD bath bombs that prove they work. 
But besides the calming and relaxing effects a bath bomb has, we also know that using CBD relieves stress and improves skin. So what's the harm in trying it out in your bath?
How Long Do You Soak in a CBD Bath Bomb Bath?
Since you can't overdose on CBD, there is no harm in using one of these bath bombs every day. 
About 30 minutes of soaking time per session is ideal to achieve maximum benefits. And think of how zen you'll be after all that relaxation time.
5 Benefits of Taking a CBD Bath Bomb Bath
When used topically, CBD can have great skin benefits. 
Although CBD is known to be … 
Stress-reducing

Relaxing

Anti-inflammatory; and

A great sleep aid
… using it topically will not necessarily give you these effects the same way ingestion would.
CBD helps heal ailments and wounds on the skin and can protect the skin from environmental harm. Let's look at the specific ways CBD can help your body and your skin.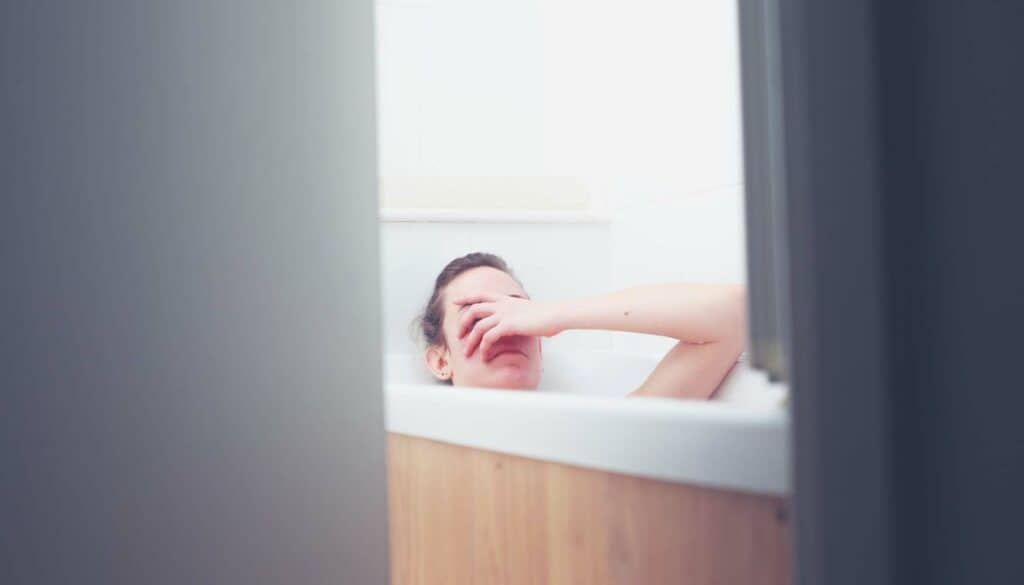 CBD gives aging a one-two punch by increasing the good stuff that keeps you looking young and decreasing the bad stuff in your body that causes you to appear older. 
Read below to explore how.
How Can CBD Help with Anti-Aging?
Scientists have found that CBD increases collagen production, which firms the skin and muscles and strengthens connective tissue and bones.
CBD also contains antioxidants that prevent damage to cells and DNA and can protect against environmental toxins and pollutants that harm the skin and speed up the aging process.
#2: CBD Is Anti-Inflammatory
Chronic inflammation can wreak havoc on all systems of your body and should be controlled in any way possible, including the use of CBD.
How Can CBD Help with Inflammation?
Research suggests that CBD works to control inflammation in the body by affecting the endocannabinoid receptors. 
This could be helpful with conditions such as:
Osteoarthritis

Rheumatoid arthritis; or

Acute injury
Soaking in a hot bath is already helpful for these types of ailments, but adding CBD oil in may provide added benefits.
#3: CBD Naturally Treats Blemishes
When you think of blemishes your mind probably goes right to acne — or at the very least, a random pimple or two. 
But skin blemishes can also include scarring and discoloration and diseases like eczema and psoriasis. And CBD can help with all of it.
How Can CBD Help Treat Blemishes?
CBD fights acne by reducing the production of sebum in the skin, which prevents clogging and allows the skin to clear.
Other skin blemishes are improved by the highly moisturizing nature of CBD oil. 
Applying the oil topically is a great way to improve the skin, but adding it to a bath will also give these benefits.
#4: CBD Can Help Prevent Infections
Since CBD is known to protect against bacteria, it is a powerful weapon to help prevent infections. 
Let's look at how that works.
How Can CBD Help Prevent Infections?
Studies have shown that CBD is remarkably effective in killing bacteria, especially those that are drug-resistant. 
This news provides hope in the battle against the variety of infections that have become difficult to treat with antibiotics over the years.
As the CDC reports:
"Antibiotic resistance has the potential to affect people at any stage of life, as well as the healthcare, veterinary, and agriculture industries, making it one of the world's most urgent public health problems."
So the fact that CBD may be a tool in fighting this problem is huge and could have lasting positive ramifications.
#5: CBD Is Calming and Relaxing
A hot bath on its own is calming and relaxing, but adding CBD can take it up to the next level. 
Since CBD is often used to relieve anxiety and promote holistic well-being, it only makes sense that adding this substance to your bath would make it that much more effective.
Why Does CBD Have a Calming and Relaxing Effect?
As CBD goes to work on your body, it targets receptors in the endocannabinoid system that run all through your nervous system. 
It is believed that CBD modifies the activity of those enzymes in a way that soothes racing thoughts and anxious ideas and allows full relaxation.
As with most CBD-related products, not all CBD bath bombs are created equal. Some are made with low-quality ingredients and some don't even contain any actual cannabidiol at all, so it's important to make sure you're buying CBD bath bombs from a brand you can trust. We've worked with lots of CBD companies with a wide variety of products, so these are our top recommendations when buying CBD bath bombs.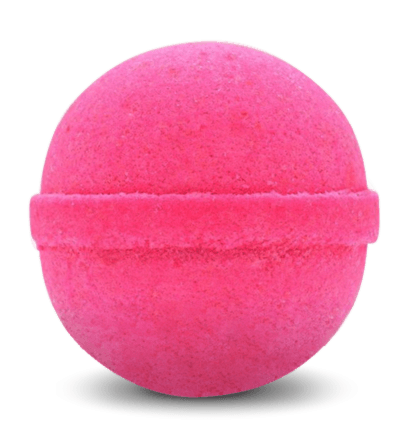 CBDMD
6 Natural Scents Available
CbdMD's bath bombs come in a variety of different scents intended for different purposes like frankincense for romance, lavender for relaxation, and eucalyptus for rejuvenation. They can be purchased individually or in gift packs that combine your favorite scents. Each bomb contains 100mg of grade-A premium full spectrum cannabidiol along with natural essential oils for scent. They recommend setting aside 30 minutes for your CBD bath to give your skin a good soak and take in all the relaxing effects. If you want to know more about the brand, you can also check our cbdMD reviews.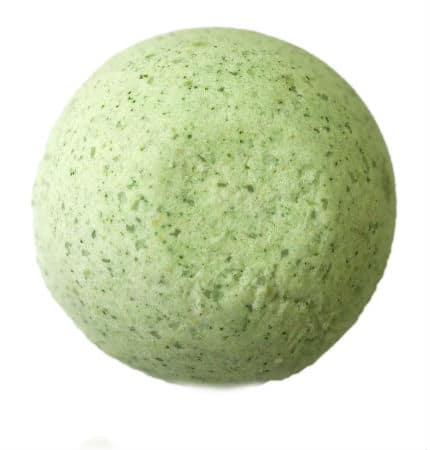 BLUE RIDGE
Eco-friendly, Vegan and NON-GMO
Blue Ridge Hemp's CBD bath bombs contain 60mg of high-quality cannabidiol paired with essential oils that target different symptoms. Choose from their CBD bath bomb made for calm and relaxation, for joint care, or for muscle care depending on your needs.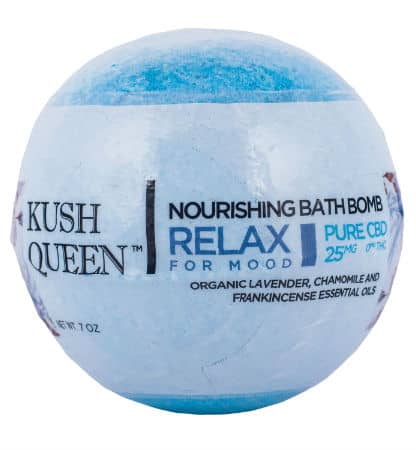 KUSH QUEEN
Available in 25 or 100mg of CBD
Kush Queen's CBD bath bombs are some of their most popular products, with each bath bomb containing 25mg of high-quality CBD. These are larger than your average bath bomb and are available in different scents made with essential oils that target different needs: clove for pain, lavender for sleep and relaxation, and peppermint for energy. The immunity bomb is a great choice if you have a cold; it contains clove, eucalyptus, lemon, and rosemary. They even have seasonal scents like pumpkin spice and peppermint latte, so these are perfect if you'd like to give out CBD bath bombs as gifts.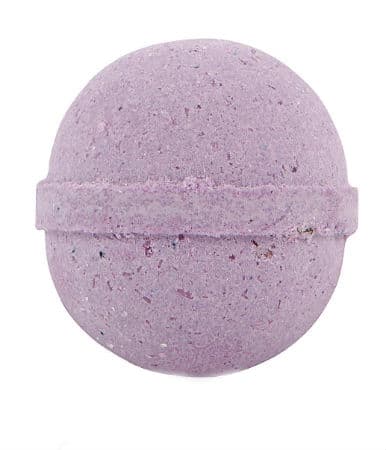 MIRAI
3 Different Scents Available
Described by Refinery29 as "the next best thing to an orgasm," Mirai Clinical makes some incredibly popular and delicious smelling bath bombs. Each bomb contains 35mg of high-quality cannabidiol, is free of sulfates or preservatives, and is cruelty-free. Choose from three scents including eucalyptus, lavender, and lemongrass.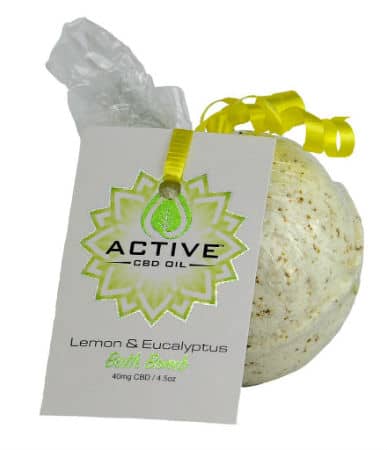 DISCOVER CBD
40mg of CBD per Bath Bomb
Discover's CBD bath bombs are made with a combination of natural herbs and 40mg of high-quality CBD oil. Invigorate your senses with the aromatherapy of lavender, peppermint, lemon, and eucalyptus while soothing achy muscles and joints with hot water and CBD. Reviewers love these for relief from menstrual cramps and say it's the perfect addition to any spa day at home.
The Cannabis Experts at Hail Mary Jane Can Help You Find the Best Ingredients for Making CBD Bath Bombs
After reading all this information, surely you are convinced that CBD bath bombs will provide the ultimate in relaxation and self-care. 
If you'd like to try your hand at creating your own CBD bath bombs and need to find a superior CBD oil or tincture, look no further than Hail Mary Jane.
We've been around since 2008 doing all the research and work to help you find the best cannabis products on the market. We love the community we've built and want you to have access to exceptional CBD oils to help with whatever your needs may be.
So whether it's …
Creating the ultimate CBD bath bomb

Finding the perfect vape pen and juice; or

Getting a recommendation for a subscription box
… Hail Mary Jane has you covered with expert recommendations and suggestions. 
Check out what we have to offer today.