by Eileen Holliday for Hail Mary Jane
Baltimore, Md. – Tetragram CEO and founder Otha Smith III knows the secrets to launching a successful business are "always hustling" and understanding "time is our most valuable commodity." 
Launched in 2020, Tetragram is a mobile app for cannabis consumers to keep track of their products purchased, rate the effectiveness of products, and share their personal reviews with a connected cannabis community.
Recognized by Marijuana Venture Magazine as the 40 Under 40 – Rising Stars in the Cannabis Industry, Smith began building his first business in high school detailing cars. The young entrepreneur would go on to Bowie State University and graduate with a bachelor's degree in marketing. Smith would then spend the next few years working in the corporate sales industry earning a six-figure salary.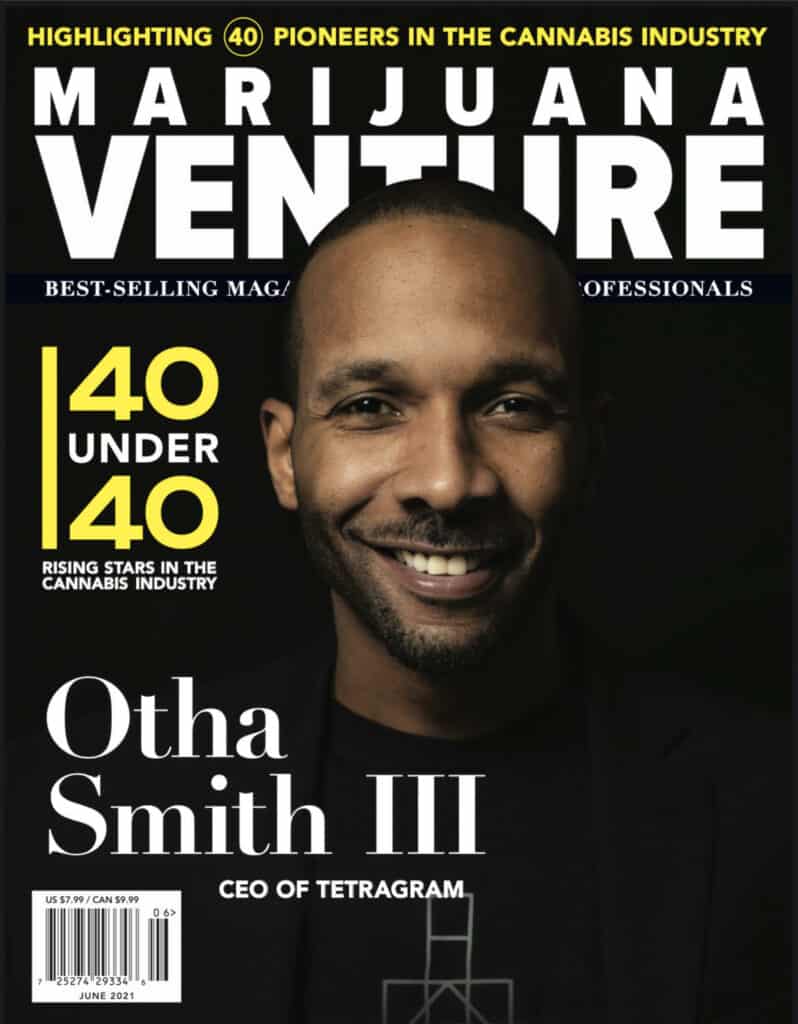 Through his years of business experience, Smith knows the keys to success are about having a regimen.
"Ultimately what motivates me, regardless of accolades or momentum, it is always hustling like it's day No. 1. "
Smith's day starts with meditation and a trip to the gym to organize his thoughts and clear his mind. This is his time to not think about Tetragram and to immerse himself in music with a workout playlist that is based on his tasks ahead. 
"If it's a tough day of meetings, I listen to hard core rap, like Ice-T, Scarface, and Dave East. If it's a more laid back day, I will listen to The Weeknd or J Cole – something more inspirational."
Smith's gym routine includes a 2-mile run in 14 minutes to get his heart rate going. 
After his 74-year-old father's death of a brain aneurysm about six years ago, Smith realized he didn't have any way of coping with his untimely passing so he started running and focusing on his own health. 
"I realized tomorrow is not promised. He worked out every day. He walked every day. He was in fantastic shape. His death was out of the blue. It made me realize, time is the most valuable commodity we have and I don't waste a minute of it anymore."
After years in development, Tetragram was officially born in 2020. In the first year, the app usage far exceeded the company's projected goals especially during the COVID-19 pandemic. In 2020, tax revenue generated from medical and adult recreational marijuana topped more than $2 billion. 
As medical and legal recreational cannabis usage increases, the spike in cannabis-related businesses has also jumped. That is where Smith sets Tetragram apart from other cannabis startups.
"We are part of the culture. We are grassroots and have credibility. We are tapped into the vibe of the real industry. We have the respect of the OGs in the industry. We are not building tech to get rich, we are building to improve people's lives. We are here for the people. Our goals are for people who look like me to have a place in this industry."
For Smith, the creation of Tetragram began after he nearly died in a 2003 car accident. After the crash that left him with severe head injuries, Smith was prescribed opioids for the pain he was suffering. He quickly knew that was not a solution for his pain and he turned to medical marijuana for relief.
Finding it difficult to remember what strains helped with types of pain and had what effects, Smith would again begin building another business. He and his fellow cannabis users and Tetragram co-founders, Lucas Roe and Julius Moore, created an easy-to-use app to track, rate, and discover cannabis. 
Tetragram was recently named one of the best cannabis apps by Cannigma.
Smith, who also happens to be a member of MENSA, talks about terpenes and cannabinoids like most discuss sports, movies, or music. Smith has truly educated himself about marijuna strains and their effects for pain relief. But more importantly, Smith understands the importance of data and sharing information between cannabis retailers, producers, medical marijuana professionals, and consumers.
Working with dispensaries, investors, and his team, Smith never stops taking the next steps to propel his cannabis start-up to a much higher level and provide cannabis users with a way to journal their marijuana experiences.
The next version of Tetragram is scheduled to launch by the Q1 of 2022 with added functionality, including integration with dispensary QR codes and visual data. 
Read More About Tetragram:
Cannigma
What are the best cannabis apps?
As co-founder Otha Smith said, "through data, we aim to empower not only cannabis consumers, but the entire industry." Smith said the company believes that the data can help cannabis retailers, producers, and medical marijuana professionals communicate directly with consumers, with the goal of developing better cannabis products.
Buds Feed
How It Started: Enhancing Your Cannabis Journey with Otha Smith III, CEO & Founder of Tetragram
As part of our "How It Started" interview series, we had the pleasure of chatting with Otha Smith III, CEO and Founder of Tetragram, a smart, digital platform that helps you get the most out of medical cannabis.
Capital Gazette
Bowie resident, other Maryland grads launch Tetragram app to journal the chemical composition of medical cannabis
Otha Smith III has so much energy he would bottle and sell it if he could, so when he uses cannabis he knows to avoid plants which have been bred to contain a lot of alpha-pinene, the energy-promoting compound that is also found in pine trees and rosemary.
Green Market Report 
Tracking Medical Cannabis Strains with the Tetragram App 
After a few years in the sales industry, Smith proposed the idea of the app after his struggles to remember his medical cannabis products. Smith is supported by two additional co-founders, G. Lucas Roe, CDO, and Julius Moore, CTO, who both use medical marijuana to help with chronic pain.
Maryland Leaf
Stoner Owner series: Otha Smith, Tetragam 
Although Otha used cannabis recreationally in his youth, in 2003 he was in a life-changing car accident that ejected him 100 feet from his car and landed him on his head and neck.