German company, Storz and Bickel released the handheld Crafty vaporizer in 2014. Many critics had some issues with its battery life, so the producers have since released versions that have addressed this issue. This hybrid convection style vaporizer definitely cramps in all the benefits of Storz and Bickel's Volcano desktop into a small unit. It isn't pretty, but it's a pretty good vape.
Get 15% off using our Storz and Bickel Coupon codeCrafty Vaporizer Review
Crafty+
Brand: Storz and Bickel
Model: Crafty
Size & Weight: 4.3" x 2.2" x 1.3", weighing 135 grams
Temperature Range: 104 – 410℉
Heat production (Convection/conduction): Hybrid convection/conduction
Heating time: ~2 minutes
Oven Size: .25 grams dry herb
Battery (duration and average charging time): ~1 hour, charging from empty to full in about 2 hours
Colors: black
Warranty: 2 years
CRAFTY
20% OFF with Code: SUMMER20
What's in the box? – Crafty Unboxing
The Crafty vaporizer kit includes:
1 Crafty vaporizer
1 USB charger and power adapter
1 set spare seal rings
3 spare screens
1 liquid pad
1 filling aid (for packing in your herbs)
1 Herb grinder
1 Dosing capsule
1 Cleaning brush
1 plastic stirring tool
An instruction manual
Crafty Vape Size and design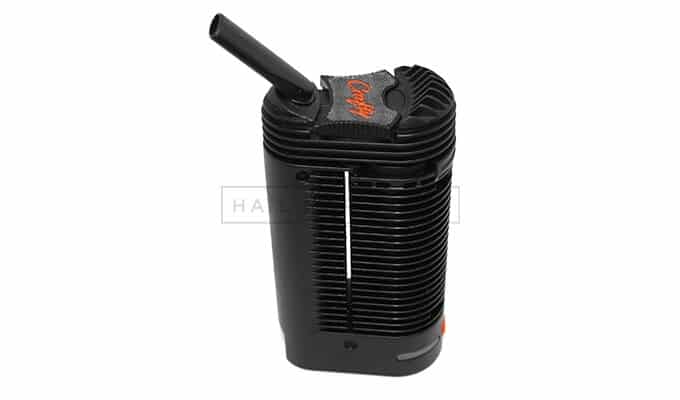 Upon looking at the Crafty vaporizer, it's a bit of an eyesore. It looks like an old school walkie talkie. But that doesn't mean it's not a good vaporizer. And the functionality of it definitely makes up where it lacks in aesthetics.
The exterior material used to make the Crafty is plastic. While that might sound a bite lame compared to its market competitors, the way it is designed helps your hand not to get hot while you're using it. There's actually quite a bit of distance between your hand and the heating element, so there isn't a lot of heat transfer happening to your hand instead of to your buds.
Weighing in at 135 grams, it's not a particularly heavy vaporizer. And that's probably because it's made out of plastic rather than metal! It can easily be palmed to get away with on-the-go vaping and easily slips into a pocket or bag. This vape is pretty discrete except for the mouthpiece which sticks out of the top. However, the mouthpiece swivels so that it doesn't get in the way when it's in your pocket.
It isn't quite as small as say, the Pax 3, the Arizer ArGo or the Davinci IQ, but it's much easier to clean than these vapes and still offers functionality and a good overall vape. Don't let the look of this design fool you into thinking it's no good!
Heating, temperature and vape quality
What really makes the Crafty is its enormous heat exchanger. This, coupled with its hybrid convection/conduction style heating provides a quality vape and consistent temperature throughout your session. And as we talked about, it doesn't start to fry your hand because of the way it has been designed.
If you're using the Crafty as is, there are only two temperature settings. The default is at 356℉ and there is a "boost" setting at 382℉. If you use it in conjunction with its smartphone app, then you have the full temperature range of 104-410℉.
The oven is essentially a screen that your buds rest on, from which they're being heated by the heating element from underneath. The mouthpiece is also made out of plastic, which lacks in feel compared to the Arizer Solo 2 or Arizer Air 2 borosilicate glass mouthpieces. Coming from Storz & Bickel, we are sure that this kind of plastic is safe to be vaping out of!
The vape quality is overall smooth, with very little resistance on the draw. It doesn't seem to matter whether you're using a half packed oven or a full packed oven, it's consistent just about every time. That makes the Crafty pretty nifty because it means you can use it for any kind of session.
How to use it
The Crafty is almost unmatched in terms of how easy it is to use. If you just want to get a good vape in without having too many settings or options to choose from, this vaporizer is extremely easy. If you're not using the app (which isn't necessary really), then there's just one button to use. Pressing the single button on the crafty once turns it on to the default temperature. Pressing it twice turns it on to the "boost temperature". After about 2 minutes, the Crafty will vibrate to let you know it has done heating up.
If you download the smartphone app, then you have the ability to select the exact temperature you want to use.
Storz and Bickel have also decided that packing your herb in should also be pretty easy, so they included a grinder and a packing tool. The packing tool fits right into the oven so that you can just scoop it in without any spillage. A small piece of plastic also lets you press it down a bit so it doesn't fall out when you pull out the packing tool. Then just twist the lid back on, and you're ready to rock and roll.
If you need to stir your herbs at any point during your session, the included tool is plastic. Which is not something we're really a fan of. But that's easily mitigated by using another stirring tool you might have lying around.
After 60 seconds the Crafty has an auto-shutoff function. This is to stop the device from draining battery during a session. It vibrates to let you know it's done that, so you can just press the button to turn it back on.
There's almost nothing else (except for a few things in the smartphone app) in terms of customization for this vaporizer, which some will find annoying and others will see as a welcome simplification to vaping.
Smartphone app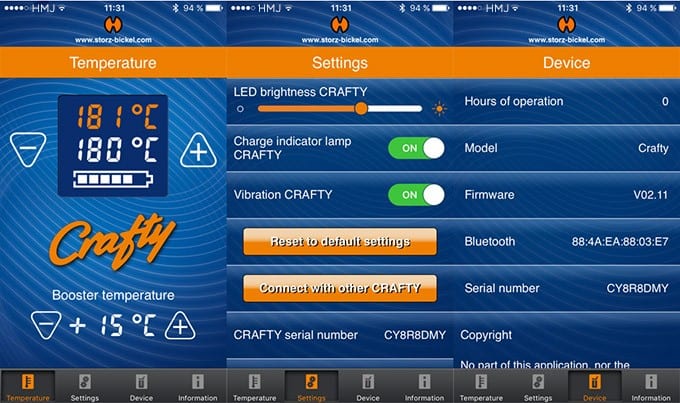 To unlock the full potential of the Crafty vaporizer, you kind of need to download the smartphone app. Most vaporizer enthusiasts know which temperature they like to vape at, or at least want the flexibility for changing the temperature throughout their session. But with the Crafty, that's only possible if you download the smartphone app.
From the smartphone app you can select the exact temperature you want your Crafty to heat up at, so long as it ranges from 104-410℉. As soon as you switch on the Crafty, your smartphone should be able to recognize it. And when it does, it will display the default temperature, from which you can set it. It will also show the temperature in real time as well as the remaining battery life.
You can adjust a couple of other things from the smartphone app, such as the brightness of the LED light on the Crafty. You can also switch off and on the vibration alerts.You can also see the total hours of operation you've had with the Crafty.
Battery life
One of the biggest criticisms of previous models of the Crafty was its terrible battery life, which was around 30-45 minutes. The newer versions of the Crafty have 20% more battery life, giving the user about 1 hour of solid vaping before it dies.
The battery is charged via USB and there is a wall adapter included. However, the USB cable makes it extremely easy to charge just about anywhere using any external battery. It also allows you to use the Crafty while it's charging as long as it has about 20% charge on it.
When charging, the Crafty displays a flashing blue LED light which turns solid when it has fully charged. It takes about 2 hours from empty to full, as long as you're not using it.
Cleaning
The Crafty is pretty easy to clean because you can basically just take it apart and wash all the pieces. To get inside the mouthpiece, you can use a cue tip that has been soaked in some rubbing alcohol. Use the brush to clean the oven and if you have to, you can use rubbing alcohol. But make sure you cycle the Crafty through a few heating rounds before using it to make sure that you don't go inhaling any alcohol vapor.
Crafty Accessories
Storz and Bickel have some nifty accessories for sale that you can use with the Crafty Vaporizer. If you're super organized about dosages, you can purchase something that looks like a firearm magazine that has 8 dosing capsules in it. It makes loading up the vaporizer a dream and it looks pretty cool, too.
Unfortunately, there are no water pipe attachments to use with the Crafty, although the feel of the vape and the consistency of it don't leave you screaming for one.
Final thoughts, should you buy the Crafty Vaporizer?
Don't judge a book by its cover: that's the ultimate lesson when it comes to the Crafty. I bet that there will be many vape rookies out there who will end up with a Pax 3 or Firefly while the vape veterans will be laughing while holding on to their Crafty. It doesn't look like anything special and it's made out of plastic for God's sake. And the battery life is nothing to rave about and neither is the 2 year warranty. But that's not the point. What's happening while it's on and you're using it is pretty remarkable for a handheld vaporizer. The Crafty doesn't disappoint on smoothness and consistency, which in the long term, is anything a real vaporizer enthusiast actually cares about. Plus, all the cool gadgets that you get in the box make it overwhelmingly worthwhile to try it out!
Get 15% off using our Storz and Bickel Coupon code