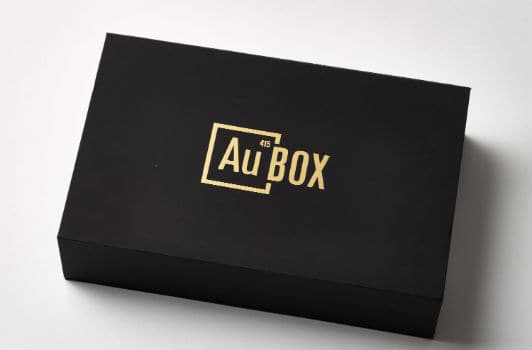 The Au subscription box is the business. Unlike other subscription boxes, this one doesn't feature the paraphernalia for using weed. Rather, it is the subscription box that sends you the most essential thing you need as a stoner: cannabis products themselves.
To subscribe to the Au box, you need to be a medical marijuana patient and live in San Francisco. Au has really covered all the bases in terms of why you might be using medical marijuana and compacted them into the perfect monthly subscription. Let's see what it's all about.
Box review
Firstly, for a company that is actually delivering marijuana to you, the packaging is perfect. It is elegant, beautiful and of course, extremely discrete. It is a simple black box with the Au logo on it. For those who don't know, Au refers to gold on the periodic table of elements. Very chic and very suggestive.
No one will suspect that this box is housing marijuana products. They might think there's some high end lingerie happening in there, but it definitely doesn't look like the packaging for medical marijuana.
The products inside the Au box all come from San Francisco, and claim to be the best marijuana products coming out of the city. Obviously, Au doesn't ship all over the world – the day will arrive eventually! This product is only available to those who live in the city of San Francisco. The rest of the USA will be envious of this delivery service.
All of the subscriptions work the same way. Each box can be purchased for $99/month if you subscribe for an entire year. If you subscribe for 6 months, you pay $120/month. If you subscribe for 3 months, you pay $140/month and if you just want a one off, you pay $150 for it.
The Sampler Box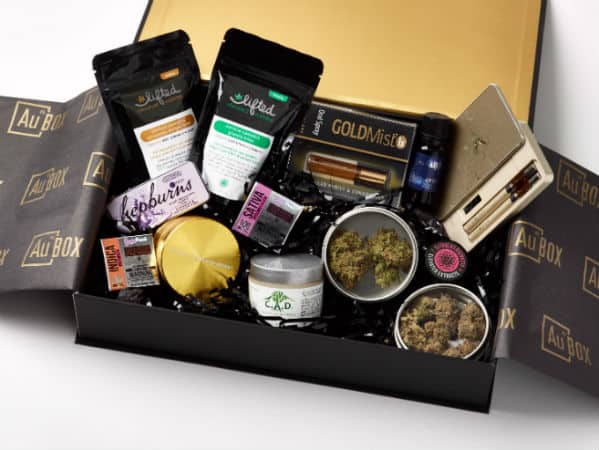 This box of goodies is made for someone who likes to mix it up. While some stoners always know what they want, the buyer of the Sampler box just likes to have different experiences. In this box, you receive 7-8 consumable items to give you a range of different marijuana experiences.
It includes some floral products as well as pre-rolls, wax, shatter and edibles. Some of the products will be indica, some will be sativa and some will even have high CBD content. Au gives the advice to try them in different situations and surroundings to see which has the "flavor" that you like.
Au promises that all of the products inside the box are high quality, A grade marijuana products fresh out of California.
The Beauty Box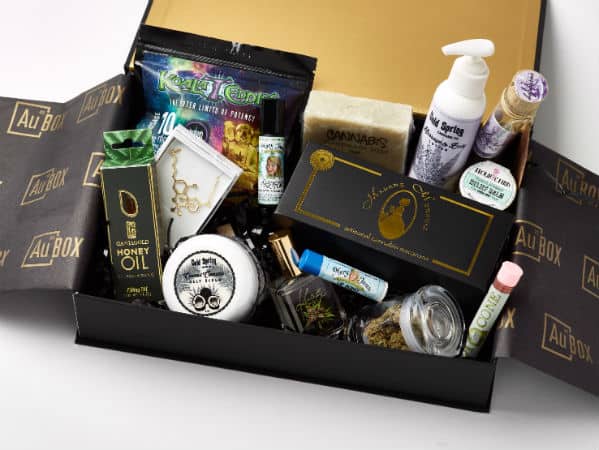 For those stoners who always need their beauty sleep. The Beauty Box is for cannabis users who are high maintenance! Because smoking weed is not enough. Au understands that it's important to look and feel good while you're doing it, too.
The Beauty subscription box will feature products that encourage the health and beauty of the human body. Strains will have powerful anti-inflammatory effects which are great for the skin. The box will also include topical products that can be used to beautify, such as bath bombs and hemp lotions.
It's probably safe to say that the Beauty Box will be mainly targeted at women, because they also promise to include some health products by Foria – specifically made for menstruating women.
Of course, there will still be flowers, pre-rolls and concentrates included in the Beauty Box. Au promises that each month the box will contain different beauty products so that each delivery feels like a new gift.
The Man Box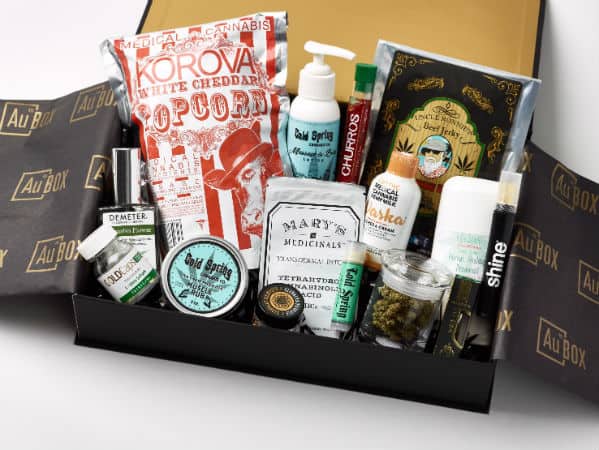 The perfect counterpart to the Beauty Box, the Man Box subscription is designed for the discerning stoner man. It contains all kinds of cool products that you might like if you're a pot-smoking businessman.
There are some essentials in there, of course, such as buds, waxes, concentrates and oils. But Au has really thought about their marijuana men, including cannabis infused protein shakes and bars. But it doesn't end at big muscles and healthy edibles. They also promise to include man beauty products, such as salve for the skin and beard oil.
Cannabis can be a part of just about every part of your day and lifestyle, according to Au, and they are determined to bring all of the products to you. As with the Beauty Box, they promise that the Man Box will always contain something new and different so that it always feels like Christmas.
The Day And Night Box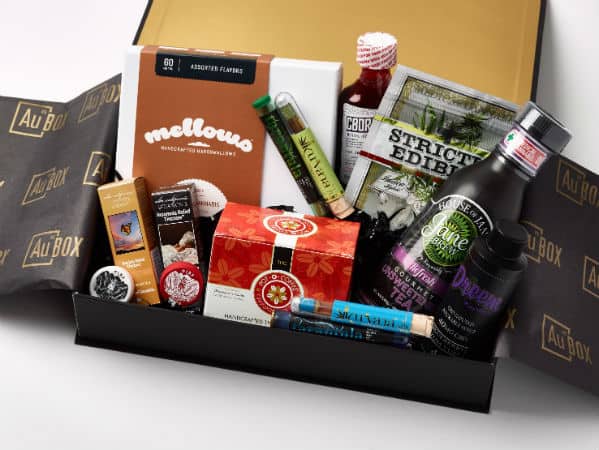 This subscription box by Au is made for those who like to get stoned around the clock. If you're that kind of stoner, you know there's an appropriate weed to have with your coffee and an appropriate weed to have as a nightcap. Au has you covered.
They have carefully chosen high quality sativa products to keep you creative, energetic and social for your day use. For night use, this subscription box will feature heavy indica products to ensure you have a good night's sleep.
The products will range from coffee to pre rolls to honey and hot chocolates. This is a great box for those who like to experience how different your cannabis experience can be from morning to night.
The Edibles box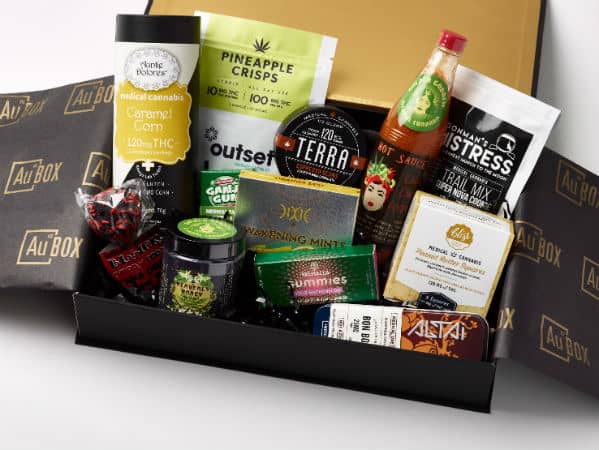 Au has kept in mind that some people don't really like smoking! That's why they created the Edibles subscription box. This box will come with 7-8 different edible products. It could be chocolates or popcorns or even liquid consumables such as sodas.
Each month is a different mix of edible products to keep the taste buds guessing.
The Intimates Box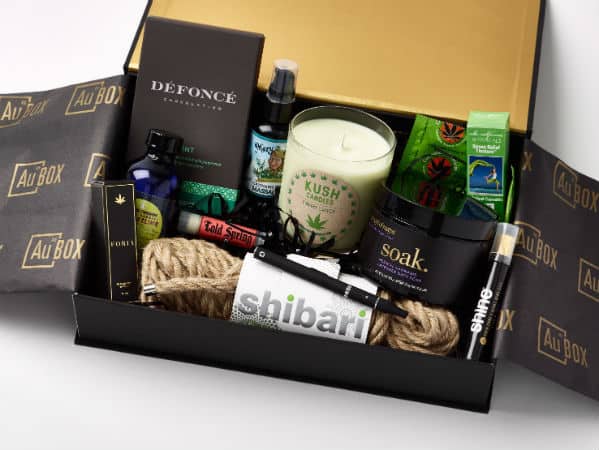 This box is for those who like to include marijuana in their romantic affairs. It's kind of cool. They don't just include the obvious marijuana products, but also included some things that can be used for kink – you can get hemp rope, lubricant and cannabis inspired sex toys included. Au says that this box also features cannabis infused massage oils.
The Pet Box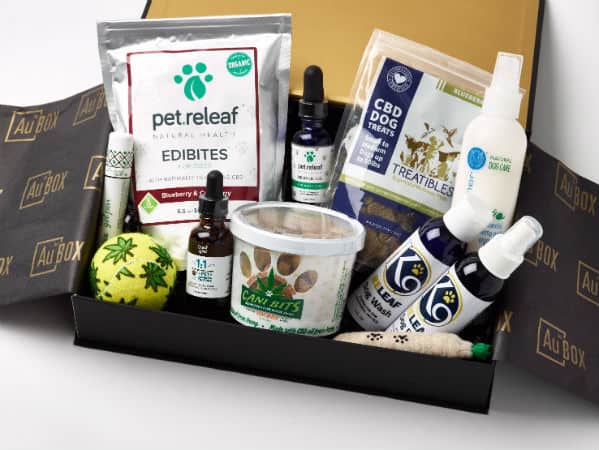 Yes, believe it or not, Au even has your pets covered with the Pet Subscription Box. The products in this box will be non-psychoactive doggie treats that are rich with CBD. They also promise to feature heaps of other products your pets might love, such a shampoos and oils for their hair as well as hemp toys to play with!
Final thoughts
Well, this subscription box isn't your traditional set of papers, lighters and a glass pipe, is it? It's definitely not for those who want to save money by any stroke of the imagination. Au has obviously designed their products for those who love to use cannabis, but don't want the hassle of having to go shopping for it.
It's hard to say anything about the value of their subscription boxes. They are still on pre-order, so the volume of the products isn't well known. But if you only ever spent $100 per month on weed, would that be so bad? If you were well smoked up for the month, then it's probably great value. And it gets delivered to your door. And it's a variety!
This has the potential to be a great service from Au, setting people up with a whole new way to use and experience marijuana. It helps people avoid having to have the conversation in a dispensary, but instead choose their subscription based o what kind of experience they want to have.
It's also cool that Au has an A La Carte menu, incase you want to buy some of the products on their own. There's also the chance to "build your own" box with Au.